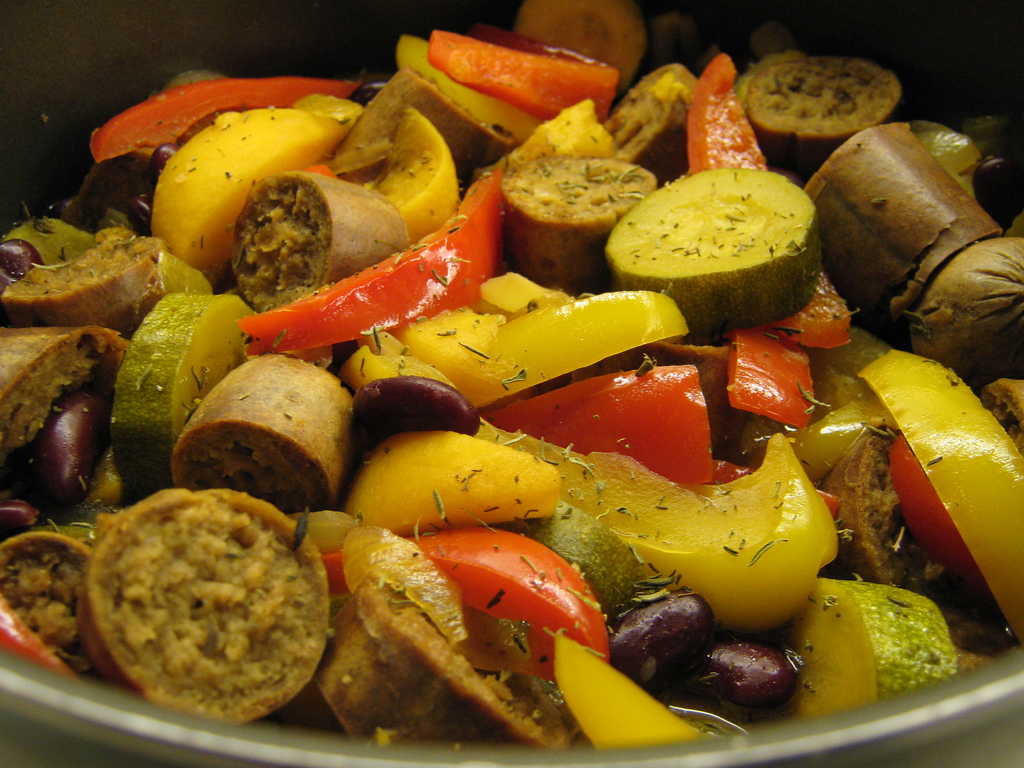 Redbrick's Laura Mosley reviews and rates the supermarkets current best offers for vegetarian alternatives to sausages
2019 seems to be the year of vegan with supermarket chains, cafés and restaurants releasing meat-free products faster than ever before. As Sainsbury's recently reported, 91% of people in the UK are choosing to cut down their meat consumption, following flexitarian diets or more.
As anyone with a tenuous awareness of veggie cuisine would know, Linda McCartney vegetarian sausages are often the go-to for people wishing to switch to meat-free options. But there's far more to veggie food than Linda McCartney, and more to veggie sausages than this staple. This is why I have chosen to rate and review alternative brands of vegetarian and vegan sausage, so whether you are a keen vegan, extending Veganuary or just fancy a change for your palate, there will definitely be something for you. 
Sainsbury's 'Love Your Veg! Vegan Cumberland Shroomdogs' (£2.50 for 6)
These sausages are described as 'vibrant and peppery' and are made of 26% mushroom. What struck me most about cooking with these is how much they resemble real, meaty sausages. The texture is firm, and they fry in a pan like real sausages – I even tricked one of my house mates into thinking they were real meat sausages which is incredibly impressive. The flavour is mild without being underwhelming so don't let the mushroom content put you off if you're not a fan of the vegetable, as this is not the central taste. Overall, these sausages are incredibly versatile with a perfect texture and whilst they may not be the cheapest on the market, they are worth every penny if you're looking for a delicious dupe.
Rating: 5/5
Aldi 'Masala Roast Cauliflower Sausages' (£1.49 for 6)
If there's one thing Aldi has always been lacking, it is a good range of vegetarian food. But 2019 seems set to change that and with the release of their own deli range of vegan sausages in February, Aldi have joined the battle! Though having released two flavours of sausage, the other being 'Red Pepper & Butternut Squash,' this review will focus on the sausage flavour listed above.
My first impressions were mixed, whilst the rich smell of curry and spices was enticing, the texture was not so much, since it began falling apart in my hand. I had to perform the manoeuvre from packet to pan swiftly to ensure the structure remained sausage-like rather than a cauliflower mush. Once cooking, the sausages became firmer and fried fairly well but it was pretty clear that this product isn't trying to resemble sausages in any form apart from its shape. I enjoyed the flavour, but I think it is very distinct and would only work with certain types of meal rather than as a versatile sausage.
Rating: 3/5
Quorn 'Lincolnshire Sausages' (£1.59 for 8 in Aldi)
Quorn is a classic in most peoples' fridge-freezer collections, as its protein-heavy branding makes it appealing to veggies and meat-eaters alike. These sausages are frozen, therefore firm and compact when putting them in the oven, but their exterior, whilst sausage-like also resembles a frozen log. These sausages are delicious in a fry-up, but their frozen nature makes them stay slightly hard and crunchy, rather than soft and juicy, so once again, they may not be suited to every meal. They also don't have any additional flavouring and may require extra components to ensure they aren't bland. Nonetheless, these are a great freezer staple if you don't think you're going to eat these frequently enough. Although just to note, these are vegetarian and not vegan.
Rating: 3/5
Sainsbury's sausages are a definite winner, and in my opinion better than Linda McCartney's sausages. Give them a go!