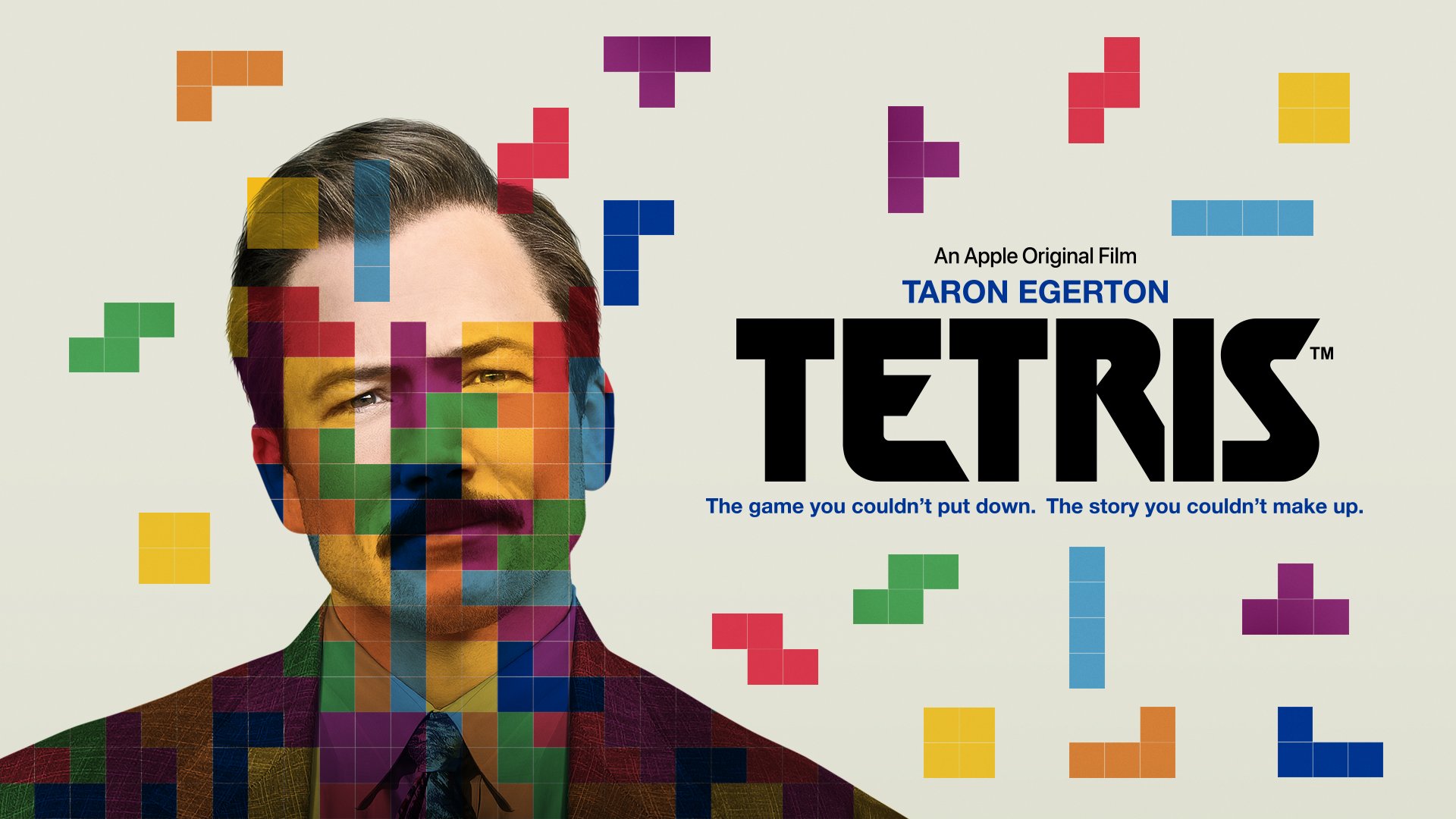 Film Editor Jess Parker praises Tetris for its nostalgic themes and impactful score
Released directly to Apple TV+ with a limited theatrical run, Jon S. Baird's Tetris takes a gruelling true story about contractual conflicts in communist Russia and turns it into nearly two hours of comedy devoted to an unadulterated love letter to four blocks. In a time where game-screen adaptations are certainly not hard to come by (consider The Mario Movie and The Last of Us), Noah Pink's screenplay takes a different approach, favouring a true-to-life retelling of the game's conception opposed to a fictionalisation of the game's narrative content.
Tetris follows optimistic entrepreneur Henk Rogers (Taron Egerton) as he embarks on a gruelling journey to Russia to secure the global distribution rights to Tetris on videogame consoles. Rogers' mission comes to a halt when he enters Russia and learns that the country has no intentions of licensing the game outside of the USSR. Up against rival entrepreneur Robert Stein (Toby Jones) and media proprietor Robert Maxwell, Henk joins forces with Soviet-born video game designer Alexey Pajitnov (Nikita Efremov) to navigate cold war politics and the corrupt dealings of Tetris' global distribution.
Taron Egerton's performance is expectedly a standout. Although his New York accent is perhaps a little too nonspecific, this is overshadowed by the comedic chops the actor employs. His character is comparable to Egerton's in Eddie the Eagle (2016), making Henk an entirely likeable character that audiences are rooting for from start to finish. By playing a subplot of family upset and responsibility against the film's central narrative arc, Tetris is able to present Henk as a fully rounded character, allowing Egerton to put in an energetic and multi-faceted performance.
Tetris' entire ensemble is cast surprisingly accurately to their real-life counterparts. The film's credits feature images and recordings of the real people involved, and many of their appearances are uncanny. Perhaps the most impactful lookalike in the cast is that of Mikhail Gorbachev (Matthew Marsh). Although the final leader of the Soviet Union has very minimal screen time, Marsh's likeness to Gorbachev is second glance-worthy, adding to the overwhelming sense of cultural change that the film carries throughout its runtime.
From Henk's singalong to 'Eye of the Tiger' to the car chase through Moscow to a Japanese rendition of 'Holding Out for a Hero', Tetris' integration of 1980s classics cements the narrative in its history. Composer Lorne Balfe's score, however, is the most nostalgic feature of the movie; it includes new arrangements of the Tetris theme song that both lend to the film's theatrical drama and evoke treasured memories with the eponymous game across generations.
At times, Tetris' inclusion of Scott Pilgrim vs. the World (2010) -esque integrated videogame graphics felt like they were there for the sake of simply being there. For the most part, the eight-bit stylisation was useful when creating title cards or scenes that marked a swift change in time or location. Overuse of this feature eventually made it feel forced and somewhat corny, especially against the stark backdrop of 1980s Moscow's blanched colour palette.
Tetris' biggest disappointment is how limited its release has been. With an incredibly short and scarce theatrical run, Tetris is available to most audiences exclusively through Apple TV+, a streaming service that is still struggling to find its footing among giants like Disney+ and Netflix. The film would certainly benefit from being viewed on the big screen, and with an actor of Egerton's calibre at the helm, it feels unfortunate that Apple decided to keep the film predominantly to themselves.
Verdict
For a film about contracts and communism, Tetris is a thoroughly enjoyable watch. Egerton's performance is memorable and the entire cast felt dedicated to telling Tetris' story through both comedy and drama. The movie feels like a cinematic Wikipedia deep dive but in the best way. Through the feel-good charm of an underdog narrative, Baird's film really does Tetris's outlandish conception justice.
8/10
Tetris is now streaming on Apple TV+
---
For more recent streaming reviews, check out these articles from Redbrick Film:
Review: Somebody I Used To know