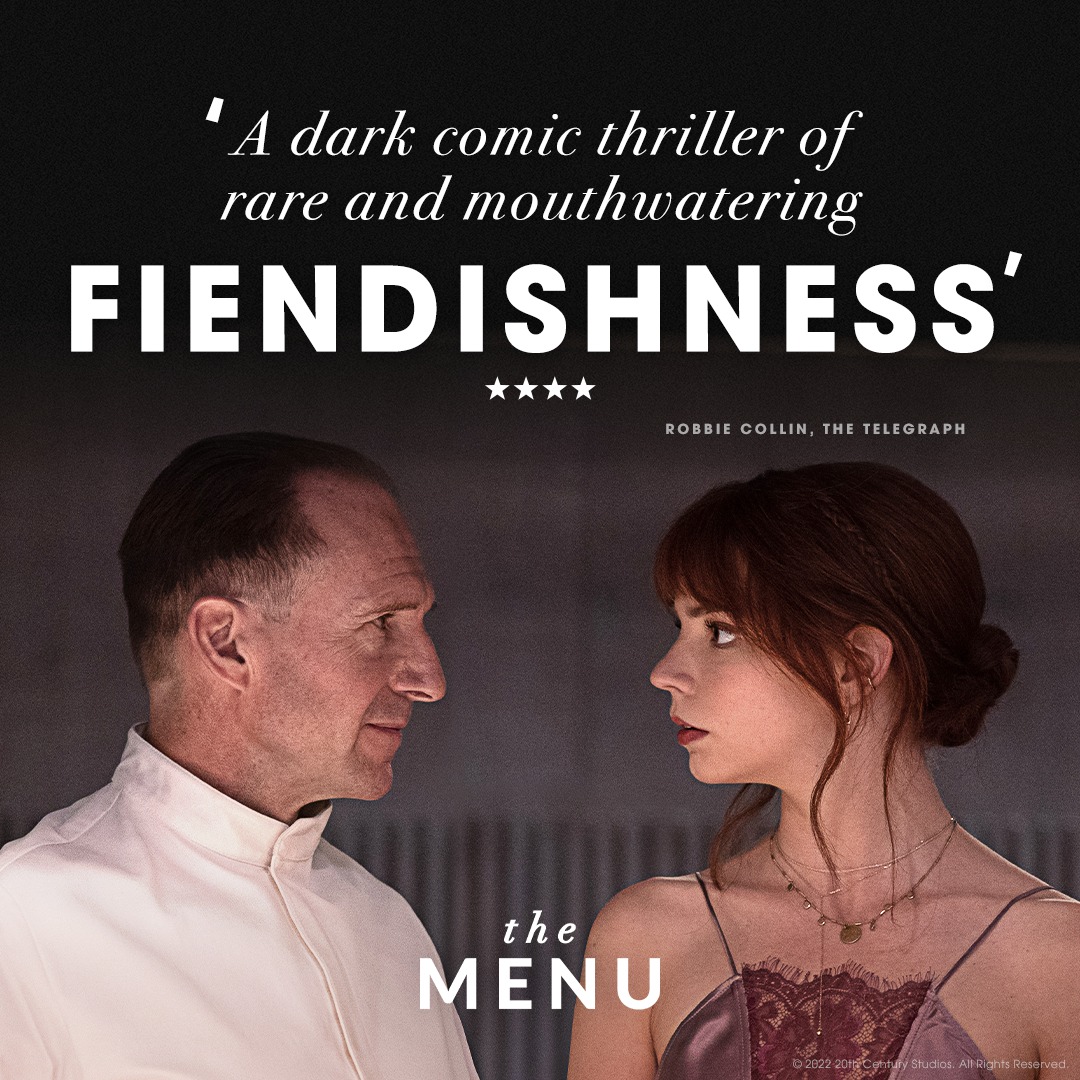 The Menu is a fun take on the 'Final Girl' trope, finds film critic Alice Weltermann, but its muddled tone and messages keep the film stuck in one place.
Mark Mylod's The Menu is a black comedy turned psychological thriller that is not afraid to 'skewer' (Mylod) society's elite. It certainly works, with clear notes of Ari Aster's Midsommar and Bong Joon-Ho's Parasite leaving it a tasteful, if somewhat contrived, teardown of the upper class.
Early in the film, Elsa (Hong Chua), the menacing restaurant host, sums up nicely the punishment the rich are about to get, and why: 'you will eat less than you desire and more than you deserve'. Their consumerism, underlit by the not-so-subtle metaphor of food, is a solid critique and take on the torture-the-rich narrative, made believable by some masterful performances.
Margot is a compelling protagonist, and Anya Taylor-Joy brings her to life with signature vivacity. Last-minute date for Nicholas Hoult's Tyler, Margot is swept up in a dinner 'experience' costing no less than $1,250 a head, a night Tyler has reportedly been waiting for months. On the secluded island of Hawthorne, Chef Slowik (Ralph Fiennes) has invited an array of intended victims to complete his 'Menu': a fading actor (John Leguizamo), his assistant (Aimee Carrero), esteemed food critic Lillian Bloom (Janet McTeer), an affluent older couple (Reed Birney, Judith Light) as well as a table of business tech-bros (Rob Yang, Mark St. Cyr, Arturo Castro) make up a tableau of privilege. Shot on location, the island of Hawthorne gives a sense of isolation, with production designer Ethan Tobman and cinematographer Peter Deming uniting to imbue the restaurant with a sharp, underlit modernity that Margot, with her bright red hair and cigarettes, does not fit into. She contrasts Tyler's and the restaurant-goers' alienation, the mystery of her presence intriguing as her presence and identity are repeatedly questioned.
The film (and the guests' torture) is structured by courses, a tasteful title card of 'Amuse Bouche', 'First Course', etc., parodying that of cooking programmes- think MasterChef. The film dances between genres, aware of cooking shows already embedded in pop culture and, like almost everything in this film, 'skewering' them. Notes of comedy punctuate these title cards, such as 'Tyler's Bullsh*t' and 'S'more', levelling out the film's slight ridiculousness. It seems Mylod is also playing with his previous credits on Succession and Game of Thrones with his exploration of the family dynamic. The cult-like Hawthorne kitchen would not be amiss duelling over bloodlines or fighting over the family company.
Mylod balances tones well. Margot is absolutely necessary to ground the plot in the film's final moment of catharsis. The pompousness of all courses is subverted as Margot takes a bite from the most enticing cheeseburger ever to grace a screen. She is a Final Girl in conversation with modernity, being from a working-class background and standing up for herself, sometimes even taking part in Slowik's tear-down and conversely indulging Tyler's 'bullsh*t' when necessary. She flits between two sides, outlined by Slowik as the 'haves' and 'have-nots', a much-needed conduit in a world where class is made to be so binary.
This is where the film's aims don't really come to fruit – is everyone bad? Despite Fiennes' solid performance, Chef Slowik seems confused. His character doesn't make sense – we want to secretly be on his side, and he invites us yet rejects us. He wants the rich to suffer, yet allows them to destroy him.  His penchant as a tortured artist is intriguing; culinary art is not often considered so deeply in long-form media, and it makes for an interesting metaphor. Food itself being so transient, Slowik seems so unsatisfied that he must turn to controlling the most transient life forms of all: people, and wealthy ones, who can consume endlessly. Yet he seems too confused, too contrived, his revenge arc slightly too camp for the clean-cut sharpness of Hawthorne. The change in tone as Margot seizes the power dynamic and tears Slowik down is needed, yet shifts the film slightly too much. Departing suddenly from its torture of the rich, it devolves into a mutually assured destruction of both sides. This is certainly powerful, but the transition in Slowik's decisions doesn't quite work.
Verdict:
Although The Menu is an enjoyable and at times thrilling romp, it doesn't quite lean into its horror enough to stick in the mind as Parasite and Midsommar do, and its class critiques seem a little muddled as neither the 'haves' or 'have-nots' are likeable or all-together justified.  It seems slightly forgettable, which is disappointing as there are some stellar performances. The tone and messages overall seem too contrived and muddled to last in a viewer's mind, especially when there are already films that do this (and better). Like its guest, the film seems slightly stuck in a place where no theme can be fully explored.
Rating: 6/10
The Menu is in cinemas now. 
---
Enjoyed this? Check out these other articles from Redbrick Film:
Review: Black Panther: Wakanda Forever | Redbrick Film
Indiana Jones 5: Does Cinema Need Another Indiana Jones Movie? | Redbrick Film
Redbrick Rewind: Mike Bassett: England Manager | Redbrick Film