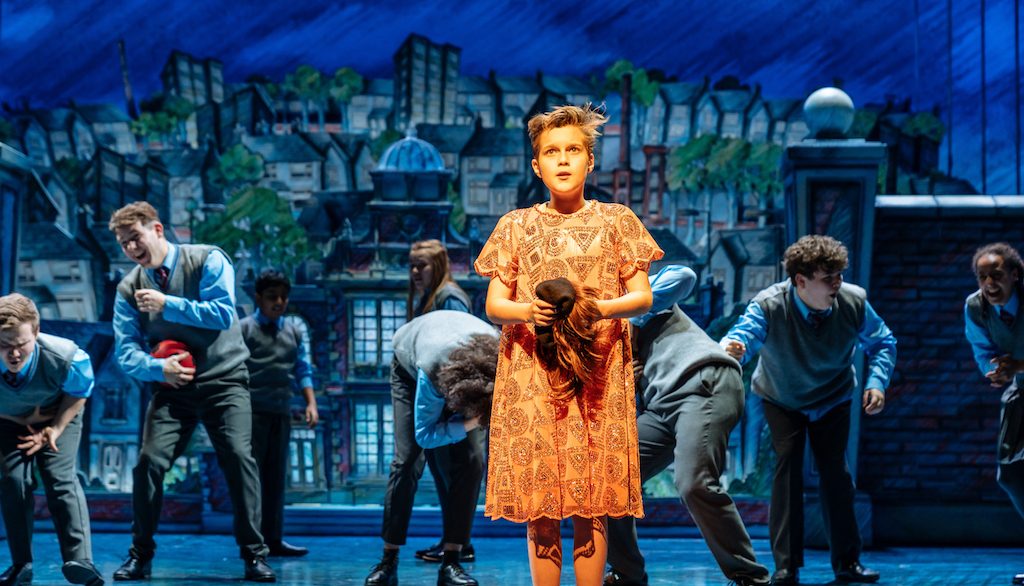 Culture Critic Ben Johns reviews the hit musical, The Boy in the Dress, adapted for stage from David Walliams' award-winning novel
The RSC struck gold with their musical adaptation of Roald Dahl's children's classic, Matilda. It's little wonder then that the company shoots for a second shot at victory with The Boy in the Dress. The combination of Britain's current king of children's literature, David Walliams, and music written by pop favorites Robbie Williams and Guy Chambers makes the show well primed to emulate the RSC's previous musical success.
Dennis is an extraordinary football-mad twelve-year-old boy, living with his ordinary Dad and Brother, in an ordinary town filled with ordinary people leading ordinary lives. After this number, Dennis' Mum leaves the family and never returns. All he has left to remind himself of her is his favourite photo, one of her wearing a yellow dress. When he sees a model rocking a similar frock on a front cover of Vogue he is spurred on to purchase a copy and his desire to don dresses is born.
The story in itself is nothing revolutionary, with 'boy triumphing over adversity' being a theme in popular British musicals such as Billy Elliot and more recently Everybody's Talking About Jamie. However, The Boy in the Dress is buoyed with such enthusiasm and passion that even the most hardened of cynics would be forced to substitute any negativity to the bench for the two-hour and twenty-minute run time.
For this performance, the role of Dennis was played by Toby Mocrei and he leads the pack of a set of very talented performers. He had authentic chemistry with all of his co-stars, and he was able to balance the amusement that came with fancying the most beautiful girl in the school, Lisa James (performed on this occasion by Tabitha Knowles), with the underlying sensitivity of their emerging friendship. His vocals were equally as fantastic and his rendition of 'If I Don't Cry' stood out as the most touching moment of the night.
Natasha Lewis was excellent as Darvesh's Mum, a character who acted as the force of encouragement for most of the show. Similarly, Charlotte Wakefield as Miss Windsor perfectly encapsulated the wishy-washy caricature of modern language teachers. Forbes Masson gave his all as evil headmaster, Mr. Hawtree, yet the character is just not as sadistic or sinister as it could have been, and as a result, his redemption arc feels a tad rushed and underdeveloped.
The music and lyrics may not win over those seeking more intellectually stimulating compositions, but Williams and Chambers have channeled their knowledge of great pop music into the show. The Girl Gang number 'A Girl Who's Gonna Be Me' was firmly fresh, and never teetered into twee territory, and 'A House Without A Mum' captured boyish behaviour and the sadness that comes with an absent family member.
Robert Jones' set appears to be just as alive as the cast, and fused with Aleta Collins' choreography made some truly magical moments. The recurring football matches were more intricate ballets than simple ballgames, and 'Disco Symphony' packed such camp, glitz, and glamour that it would have made Studio 54 look like a Working Men's Club.
The Boy in the Dress is a real delight and well-deserving of taking its seat at the table of feel-good and thought-provoking British musicals. It's a celebration of the importance of accepting differences and the perfect antidote for all that's going on outside the theatre walls.