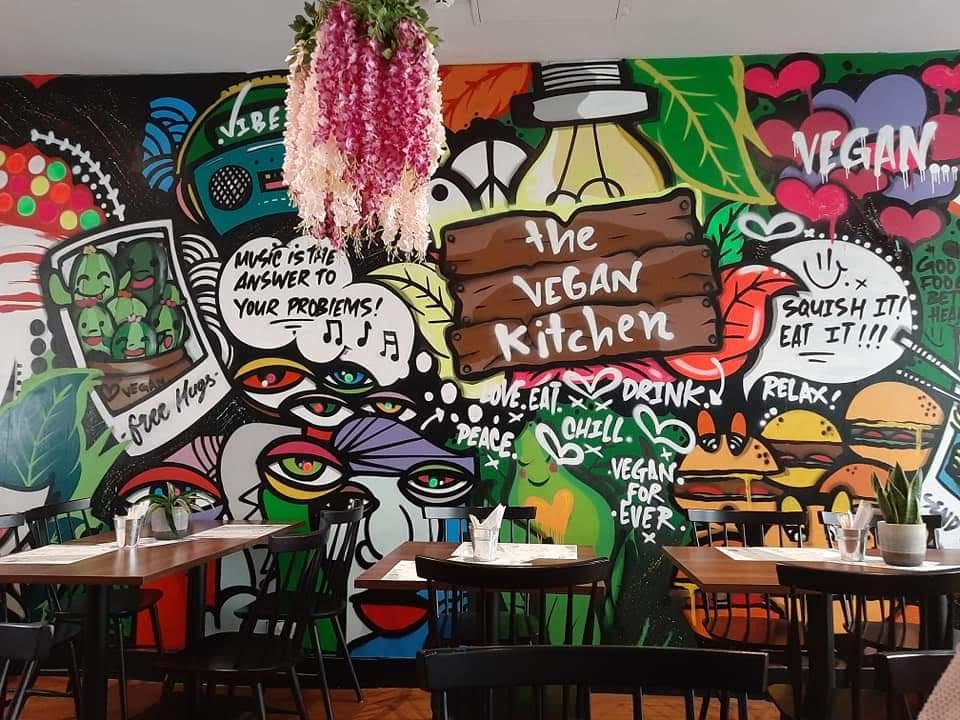 Food&Drink Editor Cara-Louise Scott and Digital Editor Tamzin pay a visit to The Vegan Kitchen, remarking that their extensive menu choice is a dream for both vegetarians and vegans alike
This was our first time visiting The Vegan Kitchen, and it certainly will not be our last. The Vegan Kitchen is a new restaurant situated in the Great Western Arcade, tucked away from the hustle and bustle, but still remaining a short walk away from Grand Central. The menu is entirely vegan, and with both of us being vegetarians, it meant we had the rarity of looking through a menu and knowing we could choose any option on it. The menu was packed with mouth-watering food, from loaded chips, hotdogs and burgers – so many options to pick from.
The restaurant was on the smaller side, with less than 15 tables altogether, including upstairs and downstairs. We were seated upstairs where the wall in front of us was coated with quirky street art. We found that this added to the appealing aesthetic of the restaurant, as well as the beautiful flowers on the stairs, walls and hanging from the ceiling.
I could have quite happily eaten anything from the menu but I decided to go for the 'Barbie Q New Kid' burger. The burger contained a meatless patty on a brioche bun, with melted vegan cheese, 'non' bacon slices, onion rings, shredded lettuce, onions, BBQ sauce and mayo. It was simply the best burger I have ever had.
It was bursting with flavours, and every bite was divine with all the flavours of the ingredients combined together. As the burger just comes on its own (although it is worth it in its size and flavour for £8.50), I got some 'cheezy' chips on the side with some sweet chilli mayo. The chips were just as flavoursome, and as someone who does not usually like vegan cheese, this was really tasty cheese. It made the already delicious chips even more tasty.
Cara-Louise Scott
---
I absolutely loved everything about The Vegan Kitchen; the atmosphere was amazing, the food was divine, and the staff were super friendly. There was nothing not to like. As soon as we walked in, we were greeted by a friendly waiter (who informed us that it was his first day – we could not tell) and were directed to our seats upstairs.
We really did not have to wait long for our orders to be taken, deciding to go for a glass of cola, 'BBQ Cauli Bites' and the cleverly named 'Katsu Funguy Burger.' The menu selection made a lovely change from the limited vegetarian and vegan options available at most popular restaurants – we had the menu at our oyster.
Admittedly, we had to wait for about half an hour before we were served our food, but this was all worth it; the way the food was presented made me so excited to delve into it. I completely understood why we had to wait a little bit longer than expected.
I always tend to go for the cauliflower bites when looking for a vegetarian dish so of course my eyes immediately turned to the 'BBQ Cauli Bites' on the menu, priced at £5.50 (extremely worth it). These did not disappoint, being some of the best I have ever had the pleasure of tasting; the sauce combination of BBQ with a drizzle of sour cream danced in my mouth. 
I then moved onto my burger which was so big that I did not know the best way to eat it without making a mess.The burger consisted of a brioche bun filled with a crispy, mushroom patty, onions, lettuce and katsu curry sauce. I had honestly never tried anything quite like it in my life; usually vegan options at restaurants are very basic and bland, but everything about this dish screamed flavour.
I especially loved how the katsu curry sauce was not too overpowering so that I could still appreciate every single layer of the burger. The burger cost £8.50 which was worth every penny; I would have paid even more for another substantial vegan meal of such high quality.
Everything about The Vegan Kitchen was welcoming and as a result, we left with a huge smile on our faces and extremely satisfied stomachs. This restaurant truly is a hidden gem that deserves all the praise in the world.
Tamzin Meyer
---
Has this tickled your tastebuds? Look at what we've been cooking up:
Recipe: Tomato, Pesto and Mozzarella Gnocchi
A Guide for Freshers: Being Gluten-Free at UoB