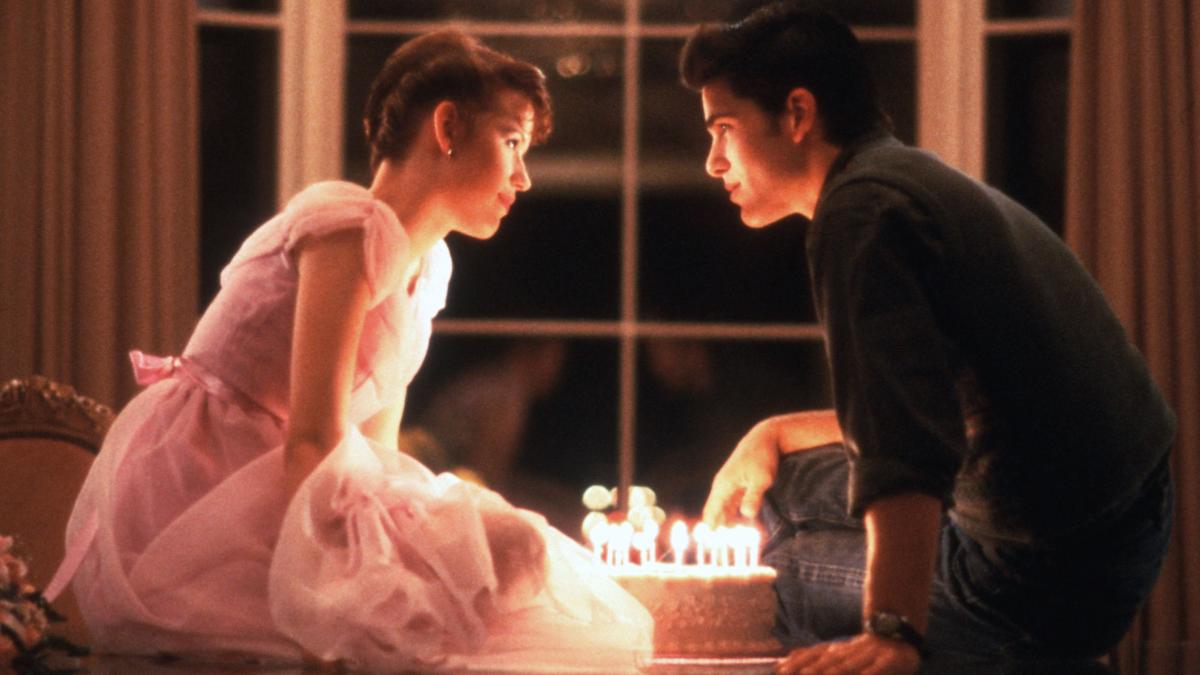 Film Critic Romana Essop looks at John Hughes' landmark 80s rom-com, and finds many problematic elements in it from a modern viewing
Content warning: contains brief reference to sexual assault.
Sixteen Candles is one of the top movies displayed when one searches 'John Hughes movies', and is arguably the film which catapulted the director and screenwriter to his esteemed status as a key figure in popular 80s teenage culture. Starring 80s icon, Molly Ringwald, and her later The Breakfast Club co-star, Anthony Michael Hall, this movie has been firmly cemented as a Hollywood classic and a pioneering teenage rom-com. As a self-confessed rom-com addict, my avoidance of this film for almost two decades is nothing short of a miracle. When I finally got around to watching Sixteen Candles earlier this year I had very high expectations as a result of its esteemed reputation. Yet, following my first viewing, I was left disappointed and hurt that such a worshipped production could be so problematic.
Firstly, Sixteen Candles is overly reliant on typical American high school tropes and stereotypes. The Geek. The Jock. The Princess. We all know that John Hughes was well aware of these tropes and loved to make use of them to fit and twist his audience's expectations. But, unlike The Breakfast Club, this earlier film is not an exploration of these stereotypes, and Hughes' passively accepts and includes these caricatures in their purest and most predictable form. With Anthony Michael Hall literally credited as the unnamed 'Geek' and the film doing little to reveal the complexities and individuality of teenagers, Hughes only succeeds in depicting a questionable picture of adolescence which quickly becomes a messy, warped vision of reality. The scenes conveying the wild party hosted by senior jock, Jake Ryan, are particularly unrealistic, and ambiguous satire leaves viewers confused as to the extent to which they can or should take the characters and their actions seriously.
Jake's party, whilst ridiculous at times, proves essential to the movie as a whole, acting as a time-wasting event to distract from an ultimately weak and unbelievable romance plot. Despite being categorised as a romance and praised for its love story, the premise of Sixteen Candles is far-fetched, shallow and unimpressive. The film's heroine, Samantha Baker, quickly becomes obsessed with senior, Jake, and confesses her obsession with him in an anonymous 'sex questionnaire' which he looks at without her knowing. Subsequently, Jake becomes much more interested in the quiet and socially invisible Sam, and the two separately strive to win each other's attention whilst warding off interest from unwanted secondary characters. Over the course of one busy day, Sam grows certain that her feelings for Jake can only be described as love, and Jake becomes committed to seeing Sam alone despite neither of them ever having actually conversed with one another. The tale is so clearly one of lust and infatuation that it's impossible not to question why it is still so often seen as a benchmark for young romance on-screen. Even John Hughes himself seemed aware of the idea's insufficiency, as he casts it aside as a subplot for the entire middle section of the film.
1986 brought on a third production starring famous redhead, Molly Ringwald, as an object of male affection in Pretty in Pink, the screenplay for which Hughes was responsible. It is not difficult to see the plot similarities between this movie and the one in question, as viewers again see Ringwald pursued by not one but two boys at her school, one of whom is disregarded almost immediately and the other very much desired because of his looks and social status. Whilst reviews and criticism suggest that most dismiss Pretty in Pink as an unimpressive remake of Hughes' original teenage success, I believe this second attempt is far more successful, as it improves the main romantic journey and is less reliant on tropes and ridiculous antics of supporting characters.
Given that over three decades have passed since Sixteen Candles was released, some examples of political incorrectness are perhaps to be expected as society has taken huge strides towards equality and acceptance since 1984. However, the presence of Chinese exchange student, Long Duk Dong, makes the film's racial insensitivity one of its defining and most memorable traits for modern audiences. This issue is highlighted in one of last year's most well-received teen romances, To All The Boys I've Loved Before, in which the protagonist criticises the racist portrayal of the character, but quickly dismisses this in favour of Sixteen Candles' iconic status and attractive love interest. Despite having been warned of this racism, I was unprepared for the shocking extent to which Long Duk Dong's culture and experience is mocked throughout the film. He is frequently used as a form of comic relief from Sam's difficulties with her crush, but encompasses far too many offensive stereotypes to make truly laughable content. Whilst his character's reception may have been very different in 1984, modern audiences are made uncomfortable in Long's scenes, and with alternative comedic successes elsewhere in the film, his contributions are largely unwelcome.
Equally, attitudes towards women in Sixteen Candles are hugely problematic, and it is this which makes the film most difficult to swallow as it perpetuates rape culture and romanticises the male gaze. Worryingly, it is the hero, Jake Ryan, who proves to be the most disrespectful towards his female classmates. He uses rape as a threat in attempts to prove his masculinity and social status to the inexperienced 'Geek' and treats his girlfriend as an object to be bargained away whilst she is drunkenly unconscious and vulnerable. Even after watching Jake display this misogynistic and predatory behaviour, viewers are still expected to swoon over him and support his pursuit of Sam.
Thankfully, receptions to Sixteen Candles have become more aware and questioning in recent years. Not only does the aforementioned Netflix rom-com draw attention to the film's xenophobic and racist portrayal of East-Asian culture, but Molly Ringwald herself has since admitted that she feels uncomfortable with the issues of race, homophobia and sexual harassment that her collaborations with John Hughes convey. It is comforting, therefore, to see that the new generation of viewers are being increasingly warned and educated on the imperfections of Hughes' work, and they are no longer idolised as they once were. The successes of more recent teenage movies also gives us hope that the likes of Sixteen Candles will continue to fall in popularity, replaced by new productions which hopefully present a more realistic and sensitive message for their young audiences.