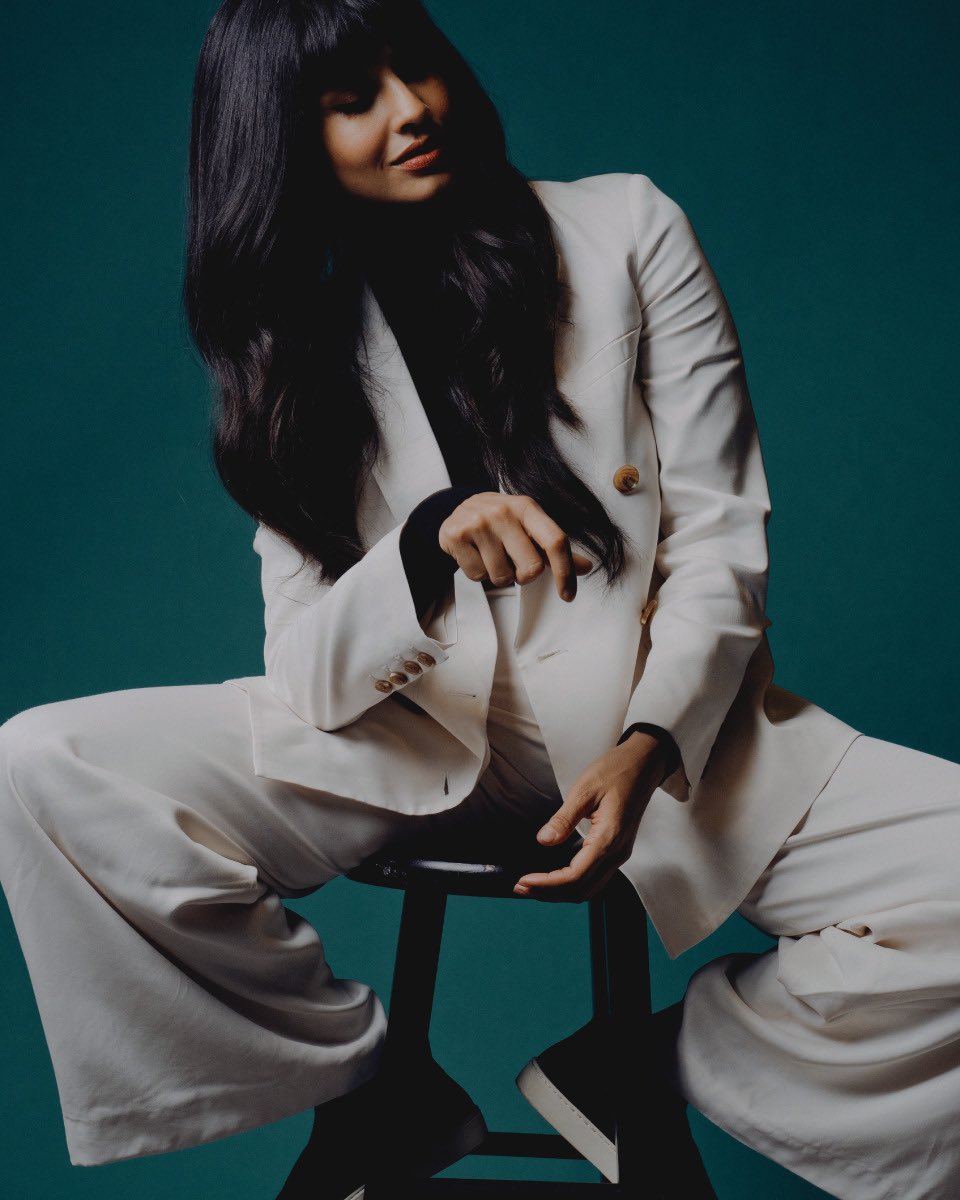 Jameela Jamil exposes the sexism behind celebrity photoshoots, Life&Style Writer Amy Larsen argues
Radio presenter, actress, writer, model and activist, Jameela Jamil, was featured in Playboy's Spring 2020 Speech Issue, which she guest-edited. Jamil's photoshoot includes images of her in front of a bold background, wearing an off-white suit as well as pictures of her in black and white, dressed in a black suit and tie, whilst posing on a stool. Jamil's interview with Playboy touched on the controversy surrounding her activism, her mental-health movement @iweigh and her growing ability to ask for what she wants.
On 12th March 2020, Jamil shared some photos from the shoot with her Twitter followers, stating 'I wanted to be shot like a man. No retouching, hi res, loose, comfortable clothes and completely unsexualized'. The images Jamil posted included black and white photographs of her laughing and resting her head on her hand, whilst staring confidently down the camera lens. Her desire to be shot in this non-sexualised and unretouched way highlights an important issue when it comes to the depiction of men and women in the media. For example, the presentation of men and women ageing differs greatly. Men will often be photographed proudly showing off their wrinkles and greying hair, this is praised and viewed as ageing gracefully. Their interviews will often focus on the work they are doing and what they have achieved, rather than the way they look. However, many magazine covers continue to retouch images of women and ageing is almost seen as something that needs to be hidden or ashamed of, rather than embraced. This involves airbrushing any facial lines and smoothing out their skin. The retouching of women's photographs creates unrealistic and unreachable beauty standards for females and sends a harmful message that blemishes, acne and wrinkles are imperfections which should be covered up.
Jameela Jamil has expressed in the past how strongly she feels about the topic of airbrushing images. She recently shared a post to her Instagram from the Vouge India photoshoot she took part in and explained in her caption that the magazine allowed her to do her own makeup and didn't retouch the photos. Jamil also emphasised that despite not being retouched, 'beautiful lighting' and a 'great photographer' were used during the shoot. This portrays how she is keen to make it clear that the image she shared of herself is not a realistic representation of how she looks on a daily basis.
In her interview with Playboy, Jamil discussed how she has developed her confidence in her ability to ask for what she wants. She explained how this began slowly, 'with coffee orders' and feeling able to tell someone if they got her order wrong. From here she became bolder, to the point of asking for more money on projects where she felt this was deserved and claimed she was able to get 'equal pay with all the men I would be working with'. Outspoken in her support for feminism in the past and describing herself as a 'feminist in progress' in her social media bio's, Jamil is determined to keep pushing for equality.