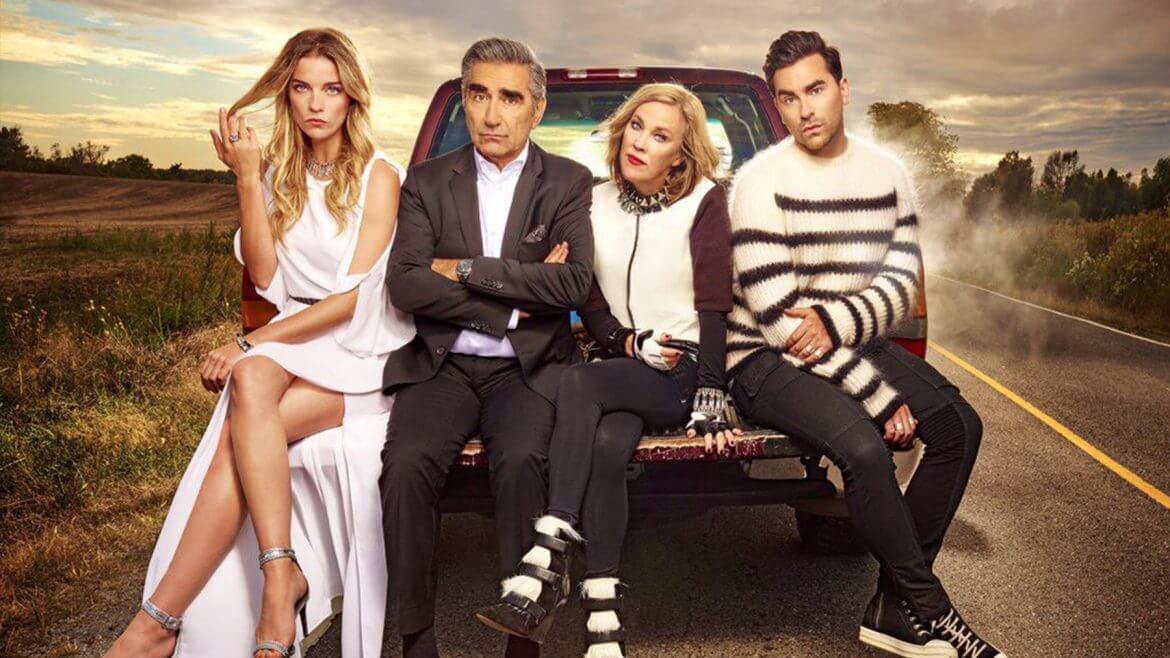 TV Critic Rebekah Birch is pleased that the show is finally getting the credit she believes it deserves
Anyone who has spent any time on the internet recently has probably heard people talking about Schitt's Creek. The Canadian comedy, viewable on Netflix, is in its fifth year but has only recently come to most people's attention. I discovered Schitt's Creek about a year ago, when I was desperate for a new comedy to watch—three days later, I'd watched the entire show twice through and introduced it to both my sisters.
But what makes this show so special? From the outside, it looks like a stereotypical fish-out-of-water story — it follows the once-affluent Rose family who lose their fortune and are forced to move to Schitt's Creek, a small town they bought as a joke. The name is not particularly appealing, and the premise is one everyone's seen before. But this show is unique — it has perfect dialogue, hilarious performances, and much more representation than you'd expect from a show set in a rural Canadian town.
Ask anyone who's seen Schitt's Creek and they'll mention one of two things: the brilliance that is Moira Rose, the family's matriarch played by Catherine O'Hara, or the refreshing depiction of David Rose's sexuality. Both exemplify what's best about the show.
Moira, a former soap star, is undoubtedly the funniest character on the show, if not television in general. From her ridiculous accent, to her dramatics, to her wall of wigs, she steals every scene she's in. In the very first episode, when Moira thinks that her earrings were stolen, she dramatically opens a drawer to look for them, pulls out a lightbulb, and screams — if this seems ridiculous, it is, and it is played to perfection. Inexplicably, she sleeps in pyjama waistcoats and consistently wears wigs and over-the-top outfits, even if she's just going to the local diner. Her indescribable accent — the way she pronounces 'enchiladas' cannot be explained and simply must be heard to be believed — is the icing on the cake of an already-perfect character. Simply put, it's worth watching Schitt's Creek for Moira alone.
If Moira isn't enough to convince you, the show excels when it comes to the Rose children, particularly David (played by creator/writer Dan Levy). In an early episode, David explains his pansexuality with a simple metaphor — 'I like the wine, not the label' — and the show never questions it. Despite being set in a small, rather backwards, town, normally associated with closed-mindedness, there is no judgement or prejudice. This is purposeful. It was Levy's decision to not include any homophobia in the show, instead imagining a more perfect world where there can be LGBT stories that don't revolve around discrimination.
The show goes one step further too — David's love-interest, Patrick, is introduced as his straight-laced business partner, who had previously only been in relationships with women before meeting David. Despite this, there is no real confusion. Instead, they are a happy, normal couple portrayed as a happy, normal couple. Nothing about their relationship is different because of their sexualities. In a world where LGBT characters are still pretty rare, and happy LGBT characters are virtually non-existent, it is refreshing to see David and Patrick be written so unceremoniously. They are allowed their romantic moments — like Patrick serenading David with 'Simply the Best' in front of the entire town — and their relationship is perfect in its simplicity.
As a show, Schitt's Creek is fast-paced and hilarious, but at its heart, it is kind. The characters may be spoilt and ridiculous, but you love them. You root for David, and his sister Alexis, as they settle into the town and into relationships. The show is perfect because it has everything a feel-good comedy should—love, laughs, and kindness.