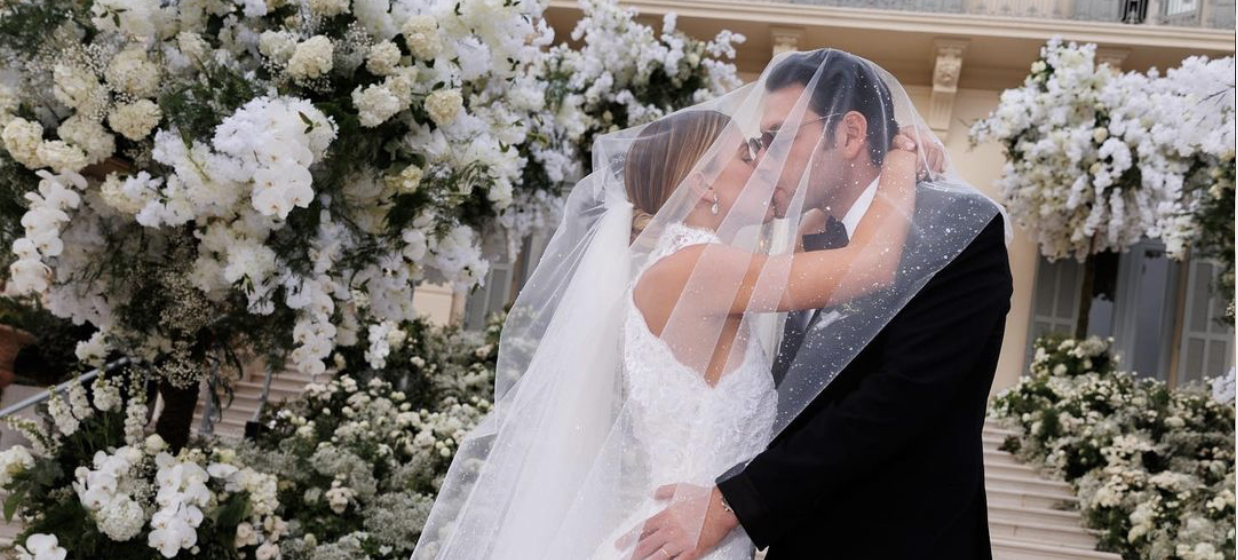 Life&Style's Maria Bastan-Sarabi questions whether Sofia Richie's 'Old Money' style wedding is simply a passing trend among wealthy celebrities, or whether it is here to stay
Sofia Richie Grainge has become TikTok's latest muse thanks to her recent opulent and minimalist outfits. The youngest daughter of singer Lionel Richie and so-called 'nepo baby' (short for nepotism), swapped her sexy Californian-girl wardrobe for modesty and elegance as she served a string of timeless couture wedding pieces. Sofia's newfound style has been seen to exemplify the 'old money' aesthetic. But what exactly does 'old money' and 'quiet luxury' mean?
Glamour Magazine defines 'old money' as 'wealth that has been inherited rather than earned'. Within the fashion realm, 'old money' is characterised by understated pieces from high-end fashion brands, such as Chanel and Proenza Schouler.
Interest in Sofia's style was sparked on social media during the lead up to her wedding to music executive Elliot Grainge in the South of France. The vows took place at Hotel du Cap-Eden-Roc in Antibes, with Sofia describing the event as 'a revolving door of glam' to Vogue Magazine.
Over the wedding weekend, Sofia wore three custom-made Chanel couture dresses. Her first dress, worn for the rehearsal dinner, was a re-creation of a hand-beaded gown worn by Stella Tennant in Chanel's 1997 couture fall show. For the big day, Sofia opted for a lace-embroidered halter gown featuring a long train inspired by Chanel's 2023 fall collection. Sofia's chic look continued into the night, ending her wedding with a re-creation of the iconic 90s Claudia Schiffer corset mini dress.
When describing her bridal gowns to Vogue Magazine, Richie said 'I just wanted it to feel timeless: I don't want to look back in like 20 years and be like, 'She's a glamazon". There is no doubt that Sofia achieved a timeless and elevated aesthetic, with these vintage inspired bridal looks already standing the test of time.
TikTok users have commented that the 'Sofia Richie effect' has come into play with a line of A-list celebs swapping excess for subtly and refinement in their outfits. The most surprising rebrand has come from Kylie Jenner, who was recently spotted sporting an array of minimalist and monochrome looks. Vogue's Alex Kessler noted that 'While Kylie's wardrobe typically leans directional and maximalist (think sheer printed Jean Paul Gaultier maxi dresses and Margiela sweatshirts with built-in gloves)', in Paris, Jenner's look 'took a minimalist…turn'.
Kylie's unlikely turn towards sophistication took place in her recent trip to Paris, where she was seen experimenting in 'the simplicity of French-girl style', according to Vogue's Alexis Bennett. Jenner was first spotted head to toe in Bottega Veneta, wearing a black midi dress, a black leather Sardine tote bag and black leather Lanvin pumps. Jenner's most surprising look arrived when she emerged from her hotel in a white cotton Alaïa halter-neck maxi dress, accessorised with a white leather The Row top handle Margaux bag and white leather Loewe sandals.
Although many users have excused Kylie of ''copying' Sofia's 'old money' aesthetic, Sofia is not the pioneer of 'quiet luxury', but merely a suitable modern poster girl. Indeed, models such as Rosie Huntington-Whiteley and Jasmine Tookes have been sporting minimalist and elegant looks long before Richie's rebrand. While Richie and Jenner have captivated media attention, their rebrands and style changes have most likely, as Vogue's Alexis Bennet has deduced, become a 'reflection' of their 'growth' as women, or even come at the influence of 'the irresistible pull of the quiet-luxury movement'.
Glamour Magazine's Laura Hampson has questioned how achievable the 'old money' aesthetic is for the average person. While the likes of Richie and Jenner can afford high-end fashion brands and custom Chanel pieces, the average individual unfortunately cannot. However, that is not to say that one cannot adopt this classy and timeless style on a budget. Through the widespread attention around minimalism and elegance in fashion, many high-street affordable brands have begun curating simplistic and sophisticated pieces. These pieces may not be couture, but they allow the average person to experiment with the 'old money' aesthetic at a much more affordable cost. As Laura Hampson suggests, although this aesthetic is 'salivated over by TikTok', don't waste your money on it as 'time and trends move on too quickly to keep up with everything'.
---
Read More from Life&Style:
The Best and Worst of the Met Gala
'Dressing Down' or 'Dressing Dull': What is Coachella telling us about festival fashion?