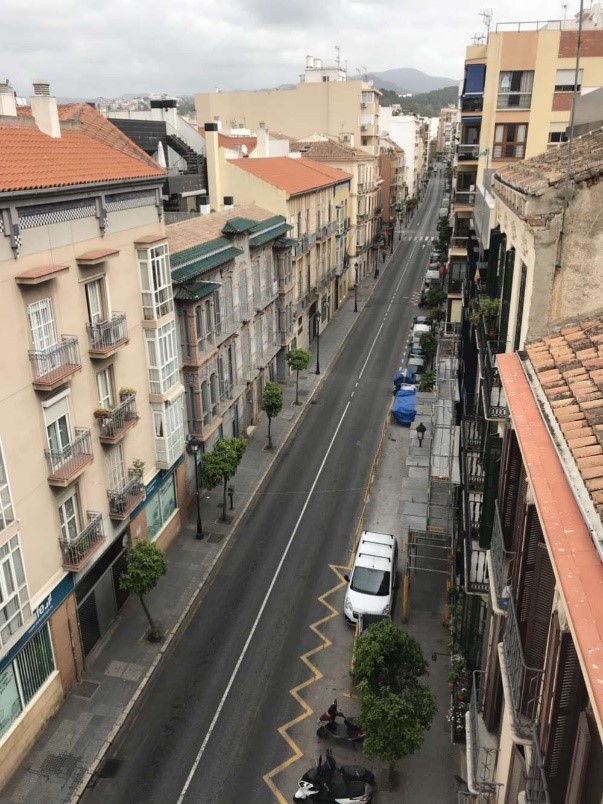 Life&Style Writer Alice Gawthrop shares the experieces of students living in regions under lockdown
Content warning: contains brief reference to mental health issues.
Whoever you are and whatever your situation, you are probably pretty stressed right now. Unfortunately, we have been cursed with interesting times, and it seems that they will only get more interesting, as the UK goes on lockdown.
For most of us, the prospect of settling down with your flatmates or your family for an unknown period of time is pretty daunting. But people are already living in lockdown in countries like Italy and Spain, and, as scary it is, they are surviving. So if you're stressed or scared or just confused about what lockdown looks like, the best comfort is probably to hear about it from the people who are already going through it.
Stephanie, 20, is currently in Malaga, Spain, where she has spent the past half a year as a teaching assistant for the British Council. She has been in quarantine for 6 days now with her three flatmates, which is due to last at least another 8 days. For Juliette, 21, in the 'red zone' in Milan, Italy, the situation began when all schools in her region were closed for a week on 23rd February. Since then, things escalated rapidly, with the whole of Italy being declared an 'orange zone' on the 11th March, on lockdown until 3rd April at the earliest.
The thought of being on lockdown in your home country is intimidating enough, but going through it all in a foreign country? With so many international students rushing to get home, it can be hard to understand why some students would choose to stay abroad. Stephanie says of her decision, 'This has been one of the most fun years of my life and I didn't feel ready to let go of it. I've made a great group of friends and have some amazing flatmates, and since they're all staying I thought I might as well too. At the end of the day, returning to England wouldn't mean going somewhere safe and unaffected, but just somewhere where soon everyone will be going through the exact same thing as we are here.'
Juliette actually went home for a week, and then returned to Italy. Her reasoning was similar to Stephanie's. She initially stayed believing the situation would be over quite quickly, and then, when she realised the lockdown would occur, she realised, 'It would likely hit England in a similar capacity, and the choice came down to the simple question of where I would prefer to be stuck.' Like Stephanie in Spain, she has built a life in Milan that she is not ready to give up on. There is also a mental health element to her decision. 'I am someone who struggles a lot with mental health and keeping my mood and anxiety levels stable. When I was 17, I became really ill and had to stay home, almost completely bedridden for 3 months, and I felt helpless. During my week in the UK, I remembered the feelings of entrapment and fear of the future I experienced while I was ill.'
When asked about what it's like being away from her family at a time like this, Stephanie says, 'Honestly, it's fine. I've spoken to my family more these last days as we have so much free time, but I think I've got used to not being around them so much since moving here in September. Plus it's so easy to stay in touch through messages, calls and Facetime. Maybe it will get harder over the coming weeks, but for now it's okay.'
Similarly, Juliette says, 'I have lived in this city since September so I know it well and love it here. I talk to my parents every day, more for their benefit and reassurance than my own. As I was not planning on visiting England before I move home in summer, the international travel restrictions are not so much an issue for me, but I was hoping to travel around Italy more during this time, or even just Milan.'
One big concern about the prospect of a lockdown is the thought of not being able to leave the house at all. After all, people are still going to need food, medicine and other essentials. But if you're stressed about going hungry during a lockdown, don't be. 'We're still allowed to go out for food or medicine or if we need the doctors,' Stephanie says.
In Milan, the government has ensured that basic life can still carry on without disruption. 'All supermarkets, grocery stores, pharmacies, laundromats are allowed to open. They limit the number of people inside the shops at a given time. This is why, in the news, you have seen images of such long queues – it is not from panic shopping, it is just due to this rule. It is just as easy for me to get my groceries and medicine as it was before, it just takes a bit longer to get into the shops.'
Perhaps one of the biggest anxieties around a lockdown is the idea of not being able to socialise for 2 weeks, even for the introverts among us. Two whole weeks is a long time to go without seeing your friends. So how are people coping with this in Italy and Spain? Videos of people going out on their balconies and singing together have gone viral, but this is not quite the case for Stephanie. She says, 'Yesterday we tried to start a macarena on the balcony but all we got were some weird looks. I guess the main socialising with the outside world we get is at 8pm when everyone heads to their windows or balconies to give a big cheer for everyone working hard at this time (especially medics).' Otherwise, it is mainly down to messages and calls to stay in touch with the outside world. Within the flat, she is still able to socialise with her flatmates, saying, 'We do group dance sessions to boost morale.'
Juliette says she has not met up with friends very often in person. 'Instead we are using different social apps – thank God we live in a time of such incredible technology! There is an app called 'Houseparty' were you can have a group facetime and play games together. I do have one flatmate, so we sometimes watch TV together in the evenings or work together in the kitchen during the weekdays.'
As for boredom, Stephanie says she is not struggling too badly (yet). 'I take time in what I do: long showers, more meal prep. My flat and I try to dance and sing as much as possible. I'm getting through so many books, films and TV shows, but it definitely helps having people around to laugh with.' All the impromptu dance sessions are great not only for keeping morale up but also for staying fit in a gym-less world. Stephanie has also been doing ab workouts and yoga. She used to go to a yoga studio nearby, and the lady who runs it has organised videos so people can continue practicing at home.
Juliette uses physical exercise to tackle boredom, going for an hour-long run in the mornings between breakfast and lunch. 'In the afternoons, I will try to do some work, or be productive. Allowing myself to achieve something at this time is really important, so we don't look back on it as a complete waste of time. I try to remain productive in some way until around 6pm, then relax in the evening watching TV. Some days I am able to achieve a lot more than others, my mood definitely fluctuates.'
She has been trying to develop some new skills, such as sketching, speaking Italian, and animating. 'I have a month in some form of isolation, and it takes 3 weeks to form a habit. What I do at this time has the potential to become a more regular thing in my life, so I would prefer to create positive habits, rather than negative ones.' Another habit she has started is recording this somewhat crazy time, creating an Instagram called @lifeinaredzone where she offers tips and insights into living in a lockdown. However, the most important part of her routine is her run. 'It is my time to escape and see the world, experience nature and feel fresh. If I lose that privilege, I think I might go crazy.'
Of course, physical health is all well and good but you have to take care of your mental health, particularly in times of high stress. Studies have shown that long periods of isolation can be bad for your mental health, and Stephanie's main tactic for managing this is limiting her time reading or watching the news. 'I'm staying up to date without obsessively reading the news and stressing myself out,' she says. 'It's nice having a balcony so I can sit and read in the fresh air and the sun. I change up what I'm doing so I don't get bored or frustrated.'
'My mental health is one of my biggest concerns,' Juliette says. 'I have suffered with bouts of depression my whole life, and recently my anxiety has been increasing. I have been making a conscious effort to gain control of these things; trying to recognise triggers and avoid them. I think it is important to find an outlet for yourself, an activity that occupies so much of your attention that you forget you're stuck inside. I would recommend to everyone to find a few different activities that provide this so that you can change between them.'
Juliette celebrated her 21st birthday under lockdown in Milan, a truly unique experience. 'Obviously it wasn't the 21st birthday celebration I was planning on having, but the day ended up being so special anyway,' she says. 'If you know anyone who is having their birthday during this time, reach out to them, ask them how they are and send them love. It will mean the world to them and make their special day suck a bit less.'
And finally, the big question. By now, we're all way too familiar with the scenes of empty shelves in Aldi's toilet paper aisle. If you want vitamins, you'll find them, if you want pasta, you might just be able to grab the last bag left, but toilet paper? Forget it. People are hoarding that stuff like they're using a whole roll for one wipe. But is this a uniquely British trend?
In Italy, it seems people are a little more sensible with their toilet paper habits. 'On the first day of this crisis, there was a small element of panic shopping of fresh fruit and veg, but the government has assured the population that the food supply will not be affected and people have listened. Every time I go to the shop, there is not a single item out of stock.'However, this is not so true of Spain. 'The supermarkets are empty,' Stephanie says. 'Me and my flatmates were nice enough not to take the last two packs of toilet paper the other day. You're welcome to the lady who would have had to wipe with a leaf otherwise.'
That settles it, then. Social isolation will give you time to build up new habits, sadly not everyone will join in impromptu macarena dances, and hoarding toilet paper is not just a British thing. But getting through a lockdown, while challenging, is not impossible. The main thing is to stay healthy and safe, so all this can pass as quickly as possible.