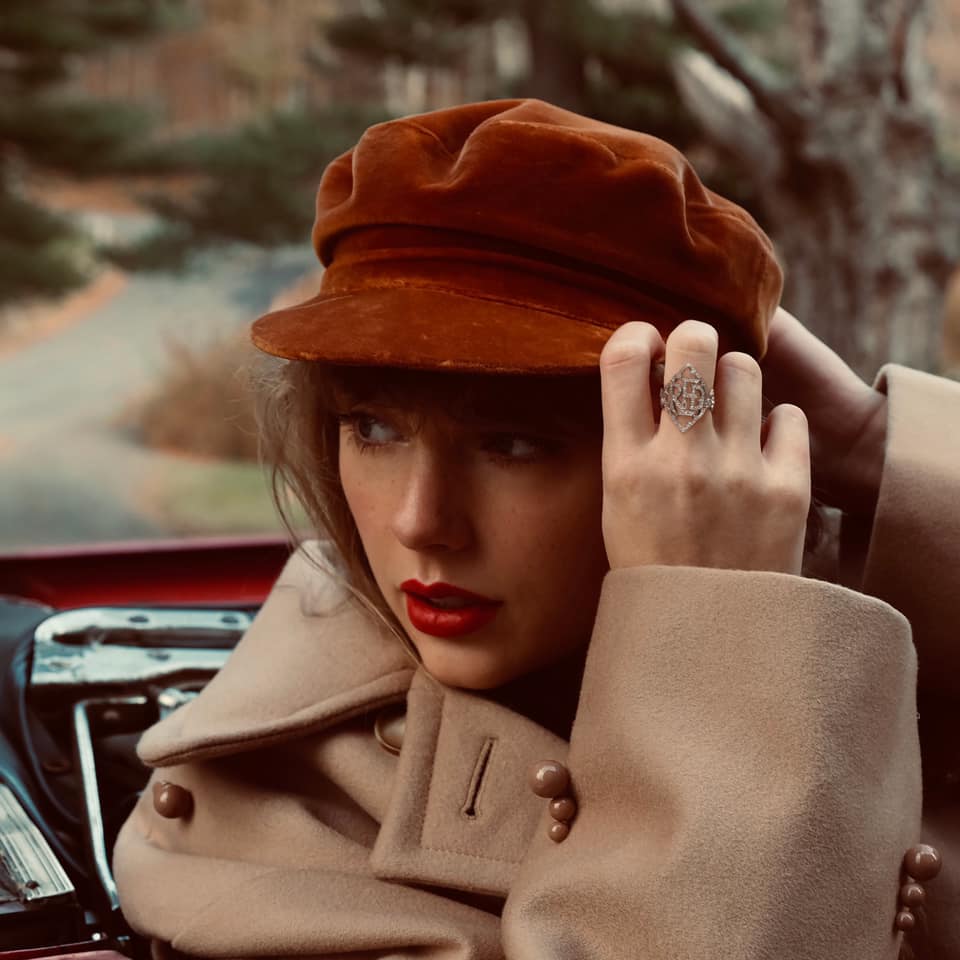 Redbrick's writers and editors come together to share their favourite songs from Red in anticipation of the release of Taylor's version
Aimée Sargeant: 'State of Grace'
When Red came out in 2012, it has possibly been one of my all time favourite albums. Not only because of the addictive country-pop style that it encapsulates, but because of Swift's lyrical genius in her discussion of complex feelings. I would consider 'State of Grace' one of the underrated songs from this album. Not only is it the first song on the record, but it is also the song that exhibits and communicates the whole album's style. 'State Of Grace' showcases Swift's lyrical genius in exploring the feelings that are often felt at the beginning of love. The anthemic feel of the song with the electric guitars and repetitive, march-like drums made it clear that Swift was departing from what was her usual country sound. Over the course of the track it builds and builds until it reaches the peak during the chorus, one of Swift's strengths. The concluding lyrics of 'State Of Grace', 'Love is a ruthless game / unless you play it good and right' set the tone for the rest of the album. This album captivated me when it came out, and it still does nine years later. The ten-year old inside me still is dancing around. I really cannot wait for the re-recording, and I will still be enjoying 'State of Grace' (Taylor's Version) the same way.
Lorcan Drury: 'Red'
I have been a fan of Swift for the past decade of my life, but I have only recently fallen in love with Red, more specifically the title track.
What makes the song so great is it summarises the themes of the whole album, yet can be appreciated as a stand-alone track for how it perfectly breaks down the emotions of a breakup. Goosebumps cover my arms every time I hear the gentle strumming of the first few chords. In the first verse, Swift compares the love to 'driving a new Maserati' to express the breakneck pace of their relationship. As the snare drums kick in, she sings one of my favourite lyrics: 'like the colours in autumn / so bright just before they lose it all'. The lyric embodies the whole album's aesthetic which is what I believe a title track should do. The simile encapsulates how their relationship suddenly hit a turning point: drastically changing from searing warmth to icy cold. In the chorus, Swift uses colour symbolism of 'blue' and 'grey' to distil her melancholy and loneliness. However, as 'red' has so many connotations, Swift had to explain how 'red' feels in an interview with Good Morning America: "to me, intense emotion is red". We can see this as the intense recklessness in verse one shifts to intense adoration at the start of verse two, and then intense pain at the end of verse two. It is one of Swift's best songs because it combines relatable lyrics and a catchy chorus. I am beyond red-dy for the re-recording.
Sammy Andrews: 'Treacherous' 
My love for Red has become a bit of a personality trait at this point. Everyone is aware (or will shortly be aware) that it is my favourite album of all time. 'Treacherous' is not just my favourite song from Red but is my favourite Taylor Swift song full stop. I could talk about this song and what makes it so beautiful, emotional and magical for hours – cutting it down into a small piece for this feature seems impossible. For me, 'Treacherous' captures all of the brilliance of Taylor Swift's song-writing. The song is warmly at home on Red, describing a tumultuous relationship where 'nothing safe is worth the drive.' Yet, its musical and poetic quality would equally be at home on folklore or evermore. 'Treacherous' is a gem in Taylor Swift's discography that is so often overlooked. The gentle guitar melodies that build along-side the poetic lyricism of lines such as 'all we are is skin and bone trained to get along' are nothing short of mesmerising. The song builds and bursts open in its bridge into a euphoric and cathartic explosion of harmonies and electric guitars. It is a song that struck me as beautiful when I first heard it as an eleven-year-old, and even now nine years later it continues to mesmerise me. It is Taylor Swift at her absolute best; emotionally, musically, and creatively, and I cannot wait to hear her re-recording of it for Red (Taylor's Version.)
Tamzin Meyer: 'All Too Well'
'All Too Well' has to be one of the most popular songs off of the Red album, with this being no surprise due to how well it showcases Swift's vocal ability.
The lyrics take fans on an emotional rollercoaster of love, heartbreak and nostalgia leaving them reminiscing about previous relationships. Swift uses raw emotion to relate to fans which only gets more intense as the song progresses. The bridge of 'All Too Well' has to be one of the most lyrically genius moments of Swift's career, allowing fans to feel the true pain Swift goes through as they belt out the lyrics to 'Maybe we got lost in translation/ Maybe I asked for too much/ But maybe this thing was a masterpiece/ 'Til you tore it all up.' The song feels like a spiritual journey written to heal the wounds of heartbreak for Swifties all around the world. It is almost impossible to get through the entirety of the song without shedding a tear (or many tears), with track five of Swift's fourth studio album forever going on to hold a special place in fans' hearts.
Anna Robinson: 'The Last Time'
My favourite song from Red is 'The Last Time' featuring Gary Lightbody from Snow Patrol. Released as the seventh single on the album, it is perhaps one of the more mature-sounding songs on the album, as it comprises a power ballad dialogue between a couple in a crumbling relationship. The relationship seems to be cyclical, as they continually return to one another instead of breaking apart permanently. Sound-wise, it is similar to many of Snow Patrol's songs due to the producer, Jacknife Lee, working with Gary for quite some time. The lone piano at the start tells us this is going to be a heart-breaking song, and as the two artists begin singing together, the swell to the chorus confirms this. The desperation in their voices highlights how difficult this conversation is, as they ask each other to put the other first in the relationship, and yet it never seems to succeed. The back-and-forth in the bridge creates the sense of dialogue and the determination to try again. At five minutes, it is one of the longer songs on the album and yet does not seem to have the happy ending we want, which pairs with the rest of the album and the heartbreak Taylor was going through when she wrote it. An excellent song to drive and cry to, I would recommend 'The Last Time' to anyone going through a difficult break-up who wants to let some emotions out.
Isabelle Porter: 'Holy Ground'
With its driving rhythm, Red's eleventh track, 'Holy Ground,' is striking in  juxtaposition to its neighbours, pensive ballads 'The Last Time' and 'Sad Beautiful  Tragic.' 'I was reminiscing just the other day / While having coffee all alone, and  Lord, it took me away,' begins Swift as she launches into a recollection of a past romance. Listeners are swept into a whirlwind timeline of a love that ended as quickly as it began, fittingly chronicled on one of the album's most spirited songs in less than three and a half minutes. Two years ago, Swift performed a sparse, downtempo version of 'Holy Ground' at the BBC Radio 1 Live Lounge. This rendition, (which in retrospect sounds like a predecessor to evermore's 'happiness' both sonically and lyrically), is a complete one-eighty from the album version. Pulled back, the song muses over the same 'first-glance feeling' and 'note on the door' with a renewed sense of awe and finds a resolve in the lyric: 'Darling, it was good.' 'Holy Ground' is just as much of a favourite of mine now as when I was twelve and clad in a homemade tee shirt and face paint at the Red Tour. I am so excited to  see how she has re-approached the track; nine years on, the rerecording of this nostalgic song is sure to be particularly poignant.
Rhea Phagura: 'Sad Beautiful Tragic'
The re-recording of 'Sad Beautiful Tragic' for Red (Taylor's Version) is going to completely obliterate me.
Beginning with a powerful metaphor – the fleeting sound of a train leaving the station – the song is devastating and hauntingly beautiful, reflecting upon the loss of a relationship and the sentimental longing and wistfulness that inevitably arrives afterwards. What I adore the most about 'Sad Beautiful Tragic' is the simplicity of the slow-paced, acoustic melody, accompanied by Taylor's siren-like voice and effortless lyrical prowess. The bridge, falling delicately into the final chorus, is especially poignant. Pressure is building, and the impassioned voice of Taylor is reflecting upon the heart-breaking loss of her relationship: 'Distance, timing, breakdown, fighting / Silence, the train runs off its tracks.' Here, the wishful thinking of a past relationship has finally departed, just like the train, and Taylor is left thankful, reflecting upon a bittersweet period of time. With words as melancholy as, 'And you've got your demons / And darling, they all look like me,' 'Sad Beautiful Tragic' is a masterpiece that I simply can not wait for any longer.
Cerys Gardner: 'The Lucky One'
I first listened to 'The Lucky One' in February of 2021 when my friend Will, the biggest Swiftie I know, and I did a weekly listen through of one of Taylor Swift's albums during the third lockdown, starting with Lover and going right through to Taylor Swift. We did this because I had begun to get into Taylor Swift with the release of Folklore in July 2020, but had not actually listened to many of her albums before that. I knew the hits of course — 'Blank Space,' 'I Knew You Were Trouble,' 'We Are Never Ever Getting Back Together' — but there were many hidden gems I had not listened to including 'The Lucky One.' Since that first listen it has fast become one of my favourite Taylor Swift songs, as although I can not relate to the fame aspect of the song, I do relate to feeling the pressure to succeed when actually what you most want to do is get away from it all. I also think this song has some of her best lyrics, especially the second verse with the lines 'Now, it's big black cars and Riviera views / And your lover in the foyer doesn't even know you / And your secrets end up splashed on the news front page / And they tell you that you're lucky, but you're so confused / 'Cause you don't feel pretty, you just feel used.' I love these lyrics because they convey both the excesses of fame and also the downsides of it, with a lover who 'doesn't even know you' and is only with you because you are famous. I am especially excited to hear this song on Red (Taylor's Version) with Taylor's matured vocals and also given how often her 'secrets [have] end[ed] up splashed on the news front page' since the release of Red in 2012. 
Zenna Hussain: 'Starlight'
Taylor's rerecording of Red has unsurprisingly left fans in a frenzied sort of happiness and nostalgia, and what song better encompasses nostalgia than the historic homage to the Kennedys: 'Starlight?' In the words of the icon herself, 'Oh, my. What a marvellous tune.'
Red's fifteenth track is an up-tempo dance-pop song that recounts the (somewhat fictionalised) story of Ethel and Bobby Kennedy, who also happened to be the grandparents of Taylor's then boyfriend Conor Kennedy. The song's hidden message, 'For Ethel,' and general sweetness, nestled in an album filled with break up songs makes Starlight fun and the sort of song you can dance to anywhere. Every Taylor Swift album up until Red has that one song that fits the role of all-encompassing love anthem, where you just want to dance and sing your heart out; Taylor Swift's 'Our Song,' Fearless' 'Love Story,' Speak Now's 'Mine,' and 'Starlight' has to be that for Red. Swift's 'Starlight' is sweet, starry-eyed and the perfect balance to a breakup album that makes you smile and believe in love again. 
Ffion Haf: 'Begin Again'
'Begin Again' encapsulates every emotion felt during a breakup perfectly; the tone moves from heartbreak to hope seamlessly and beautiful imagery is used to unpack each new stage in her new dating life. What I love about Swift's music and this song specifically is her willingness to be vulnerable. The heart of the song is about getting a second chance at love, something everyone deserves. A favourite line of mine is within the chorus, 'you throw your head back laughing like a little kid,' which depicts a joyful picture of genuine happiness. After realising that there is more out there for her than a previous relationship, she is able to move on and focus on what she needs. What will make this song even better the second time around is that not only has she learnt and lived through different relationships, but she also has a newfound relationship with herself and a strong sense of self-worth. By the final verse, she has found someone with whom she can start fresh. Starting again can be scary, however, her ex brought out many insecurities for her instead of reassurance and happiness. Rather than harping on what could have been, the song does not wish to take back time or try to make things work. Instead, it is a celebration of what can be and the exciting feeling of meeting someone who really gets you. Although she took her time to get over the breakup, she is finally in a position to begin again, this time on her own terms. For Red, 'Begin Again' marked the perfect ending to the album as it was a start of a new chapter and it remains the same today.
James West: 'Come Back… Be Here'
'Come Back… Be Here' is in my opinion one of Taylor Swift's most underrated songs, and definitely the one I am most excited to hear Taylor's Version for. It tells a story about a long distance relationship and how desperately she wants her partner to return to her and how much she misses him.
It starts off being a slow acoustic ballad before getting progressively more emotional as the song goes on. Swift's vocals start off soft and melancholy to begin with, but as the song goes on she sings with a greater depth of anguish, pain and longing for her long distance lover. The music complements this very well; the acoustic guitar work is later complimented by strings in some of the more tender moments of the song, with louder drums and guitar in the chorus. There are also some great vocal harmonies in the chorus which add a depth to the song's atmosphere as well. The lyrics of this song are clear and pained, 'This is when the feeling sinks in / I don't want to miss you like this' or 'This is falling in love in the cruellest way / This is falling in love when you are worlds away,' which perfectly describe the issues of a long distance relationship. I am excited to see how Swift's more mature vocals handle this song and whether this will sound just like the original, or like an older and wiser person reminiscing on a past love.
Anna Drysdale: 'Better Man'
Since the release of Little Big Town's version in 2016, 'Better Man' has occupied a permanent position on my playlists. Upon hearing Swift's intentions to re-record her first six studio albums I hoped she, with the release of Red, would include her own version of the emotionally captivating track. Better Man is the ultimate guilty pleasure country song. Written by Swift in 2012 for her fourth album Red, it sees the song's persona wishing for an alternative end to a relationship, one where their partner was a 'better man'. Abandoning the song, Swift presented it to country group Little Big Town, who rightfully placed it as the lead single for their eighth studio album, Breaker. Its slow tempo and bittersweet lyrics really pay tribute to the period of Swift's career crossing from the country genre to more mainstream pop. It will be intriguing to see which genre direction Swift decides to take the song nine years on. On Wednesday 13th October, and in typical Taylor style, an unheard recording of 'Better Man' sung by Swift in 2012 was circulated on Twitter. The clip is suspected to be the exact recording initially meant for Red. As coincidence does not seem to be a word in Swift's language, it was no doubt a tease for the highly anticipated release in November. The track's harmonies are, as always with Taylor, wonderfully enchanting. You best believe I will be heading straight to the 22nd track on the album's release.
Jemma Cuthbert: 'All Too Well (10 Minute Version)'
'All Too Well' is one of Taylor Swift's most critically acclaimed songs and is an established fan favourite. Although this five and a half minute song is already the longest track on her album, Red, Taylor Swift has announced that she will be releasing the original version of the song, which is 10 minutes long.
On a podcast with Rolling Stone, Swift spoke about the making of the track, saying that one day in the studio 'I ended up sort of just playing four chords over and over again, and the band started kicking in […] I just started singing and riffing and sort of ad-libbing this song that basically was 'All Too Well' […] it literally just was that song, but it had probably seven extra verses and it included the F-word.' I am intrigued to see what direction these seven extra verses take – they could either continue the heartbreak ballad tone that we are used to, or do something new. Perhaps like in 'the lakes – original version' we will see the addition of an orchestra, or perhaps like Billie Eilish's song 'Happier Than Ever,' the track will build up into an angry climax. This theory does not seem too far-fetched since we know that the 10 minute version is explicit. This in itself is particularly exciting given that Taylor Swift did not decide to frequently swear in her music until her 2021 album Folklore, with only one song ('I Did Something Bad') including a swear word before this. Whatever direction 'All Too Well (10 minute version)' takes, I am sure fans will love it just as much as the five minute version.
---
You May Also Like:
Single Review: Taylor Swift – Mr. Perfectly Fine
Food&Drink and Music: Tasty Tunes