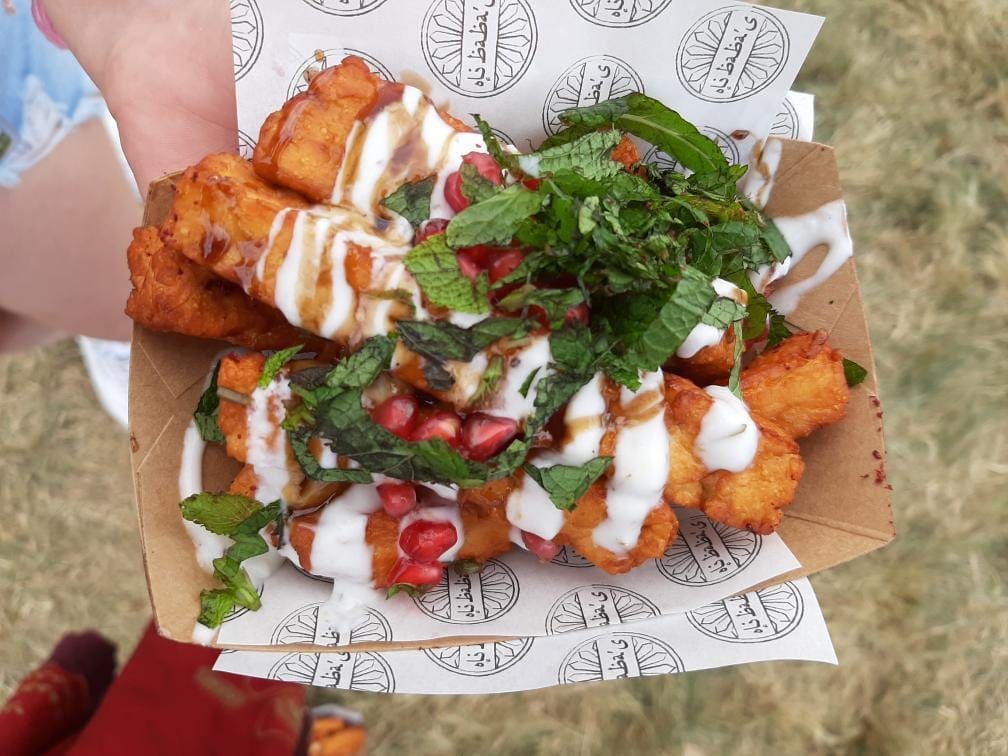 Digital Editor Tamzin Meyer shares her favourite foodie picks from The Big Feastival, saying it is the perfect place for food and music lovers alike
The Big Feastival provided us with an amazing three day weekend this summer, with fabulous entertainment and absolutely out-of-this-world food. The festival, located on Alex James' farm, was the ideal event for any music and food lover. Not only were the festival feasts super tasty, they were also an Instagram foodie's dream! The presentation in particular was exceptional. These are just a few of my favourite finds from the feastival. Prepare for those taste buds to start watering.
I have always loved churros (a delicious Spanish fried dough) and will always gravitate towards them whenever I go to a food festival. Of course, there are no surprises that I just had to try these beautiful looking churros from La Churreria, presented in a lovely heart shape. The cinnamon-coated dough was sensational, with the butterscotch and chocolate dips being the perfect compliment. Priced at £7 for six filling churros, they were both great value and a substantial meal (I had them for breakfast – do not judge me.)
If you have never had the pleasure of trying halloumi fries before, you are missing out. If you have never had the pleasure of trying Oli Baba's halloumi fries before, then not only are you missing out on some seriously good food, but also a mouth-watering journey of the most amazing flavour combinations. Before trying Oli Baba's fries, I had never tried yoghurt, mint or pomegranate seeds with halloumi before. However, now,  I will  never go back to having plain halloumi fries again. Unfortunately I do not have the joy of living close to their food stall at Camden Market but if I did, I am sure I would be a frequent customer.
For anybody with a sweet tooth, My Cookie Dough has you covered. Whilst the warm cookie dough may not have been as perfectly presented as other foods available, it made up for it in taste. Even the vanilla ice cream tasted so much better than I had anticipated. I opted for the 'Kinder Bueno Cookie Dough', as it is one of my favourite chocolate bars, and luckily it failed to disappoint. The soft cookie, covered in sauce, melted luxuriously in the mouth and completely satisfied my hunger
The 'Veggie Hot Dog' from Oh My Dog was a price well paid, even though it was one of the most expensive options at The Big Feastival. You certainly get your money's worth, with a gigantic hot dog and huge portion of cajun fries (£15 in total). In fact, I could not even finish the whole portion as there was so much.
Being a vegetarian, 'pretend meat' as such is often hit or miss, so I really did not know what to expect when it came to having a 'Veggie Frankfurter'. But 'Oh My Dog' believe me when I say that the sausage tasted exactly like meat, and the crispy onions, gherkins and sauces topped it off. I have never been so impressed by a veggie dish before and could only wish that more hot dogs tasted as realistic and as good.
I certainly will be returning to The Big Feastival and I would highly recommend the food choices to anybody. There is so much more than just the small selection I have chosen to showcase. The handy festival guidebook makes it very easy to locate food to suit your dietary requirements; if you are vegetarian, vegan or gluten free, then there is plenty to choose from. Until next time, Big Feastival, you have been a pleasure.
---
Tastebuds still tingling? Dig into these articles: