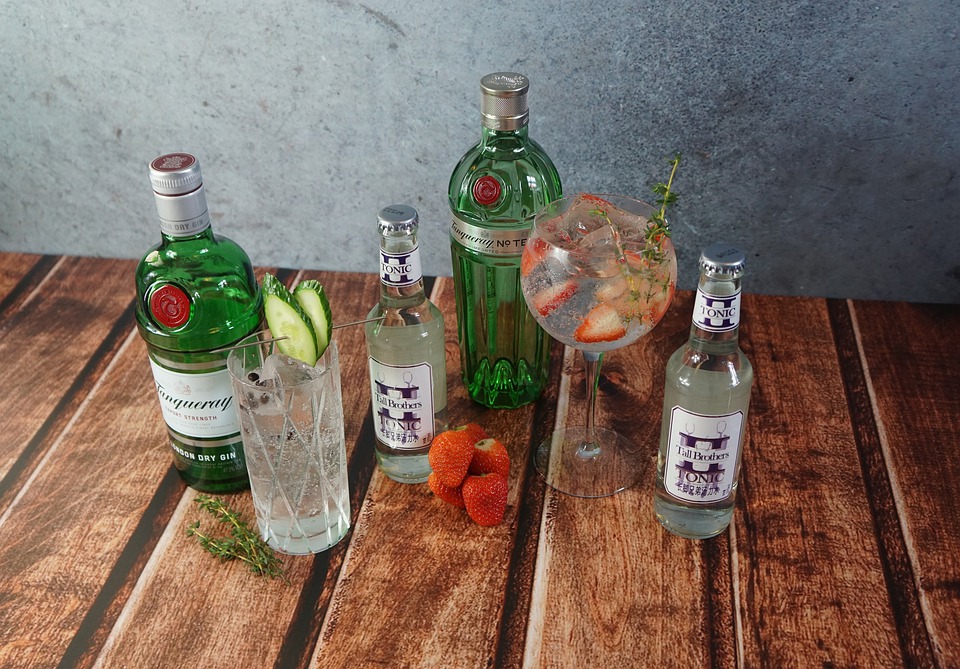 Food&Drink Writer Fern O'Shaughnessy delves in the nation's rediscovery of Gin, discussing why it is now an all-time favourite alcoholic refreshment
I remember the first time I tasted gin. I was on a porch avoiding the heat in Turkey, and the only alcohol in the house was Gordon's standard gin. This was around five years ago, when gin was a popular, but still relatively quirky, drink. There were no mixers in the villa, but we'd just bought a watermelon, and I had seen a video on Facebook where a cocktail bar had mashed one up with ice, lemonade and vodka to make an alcoholic slushie. We didn't have any ice, or lemonade, but I, naturally, assumed it would still taste as good with gin. It was, in all honesty, disgusting. 
I was put off gin by this experience (though it was more likely the lack of lemonade and ice, and the over-pouring of gin that made it more disgusting than the taste of gin itself) choosing instead to stick with the tried-and-tested Malibu and coke that my younger self loved so much. Indeed, gin remained largely irrelevant in the small village pub I worked at, so I was unaware of the 'Gin Revival' until I arrived at University. My housemate adored gin and encouraged me to try it by switching the tonic for lemonade. And, suddenly, I loved it (I am now capable of drinking it with tonic). 
This 'Gin Boom' allegedly occurred, according to the Guardian, in 2009, with the arrival of craft gin company Sipsmith, though others credit Bombay Sapphire. Regardless of the company, it was the design of the bottles, combined with the sophistication and elegance that they added to a bar back that promoted them in society. By the time I returned home for my first reading week, the small village pub had promoted their singular gin, Gordon's, from optic to shelf, where it was quickly joined by several flavoured gins. When I worked a few shifts over Christmas, I soon learnt that gin was no longer served with the simple 'ice and a slice' I had previously known, but a variety of fruits that differed depending on flavour. While the 'Gin Boom' in my village may have arrived a few years late, it had certainly arrived. That summer, the beer festival became the 'beer and gin' festival, and the gins were (I would argue) more popular than the beer. 
This craze was nationwide. Between January and March 2018, 52% of bottles sold were in March, indicating it was the premium gift for Mother's Day, and in the 12 week period before Christmas the same year, sales were up 40% from 2017. It was not just the household name that were popular, but also artisan gins: 2017 saw a 167% rise in artisan gin sales, compared to only a 30% rise in mass-produced brands. It appears, therefore, that the Gin "Boom" was not in 2009, but over 2017 and 2018, with 2009 merely demonstrating Gin's return to popularity.  The rebirth of gin has encouraged supermarkets to look closer to home for spirits; the buyer for Waitrose's spirits said in 2017 that they 'don't stock an English whisky yet, but based on the success of gin, we will be looking into other types of locally made spirits this year'.
Birmingham was way ahead of my small village, with bars dedicated to gin already flourishing long before I arrived at the University. The Gin Vault – the best place in the city for gin – offers over 350 variations of gin, with a plethora of tonics and fruits to make it your own. My personal favourite? Mango. Plus, they do the best macaroni cheese I've ever had. It is this level of personalisation that Kantar suggest is the reason for gin's continued place as the nation's favourite spirit: 56% of people voted it as their favourite drink of 2019. Indeed, gin is no longer the 'ice and a slice' drink. This level of customisation also adheres to the growing trend of people refusing alcohol, with Seedlip offering low and alcohol free variations of popular flavours.
Gin is a fashionable, easy drink that suits both sophistication and budget-drinking: Aldi's gin was famously named the world's favourite despite costing less than £20, beating out its competitors that charge over £40. It is just as easy to find a good-quality gin at spoons as it is at The Gin Vault, albeit slightly less Instagram-friendly. There are also a multitude of gin-themed gifts in almost every high-street store, from personalised glasses to botanicals, from advert calenders (the Bottle Club offers one for a whopping £98.95) to subscriptions. The Philip Schofield-approved company Craft Gin Club send a premium, local bottle of gin, a selection of tonics, everything you need to make a gin-cocktail, and an assortment of snacks that pair with the gin for £40 a month. Having received October's box as a Christmas present, I can happily say it is worth the money, with the boxes' RRP price often being over £70.
Gin's popularity is one that is projected to grow and grow, with no signs of its success stopping. Gin sales are suspected to increase by 37% before 2021, and with over 341 distilleries in the UK – more than one a week opened in 2018 specifically to create gin – it appears that gin is going nowhere. I, for one, cannot wait to see what the future of gin holds.