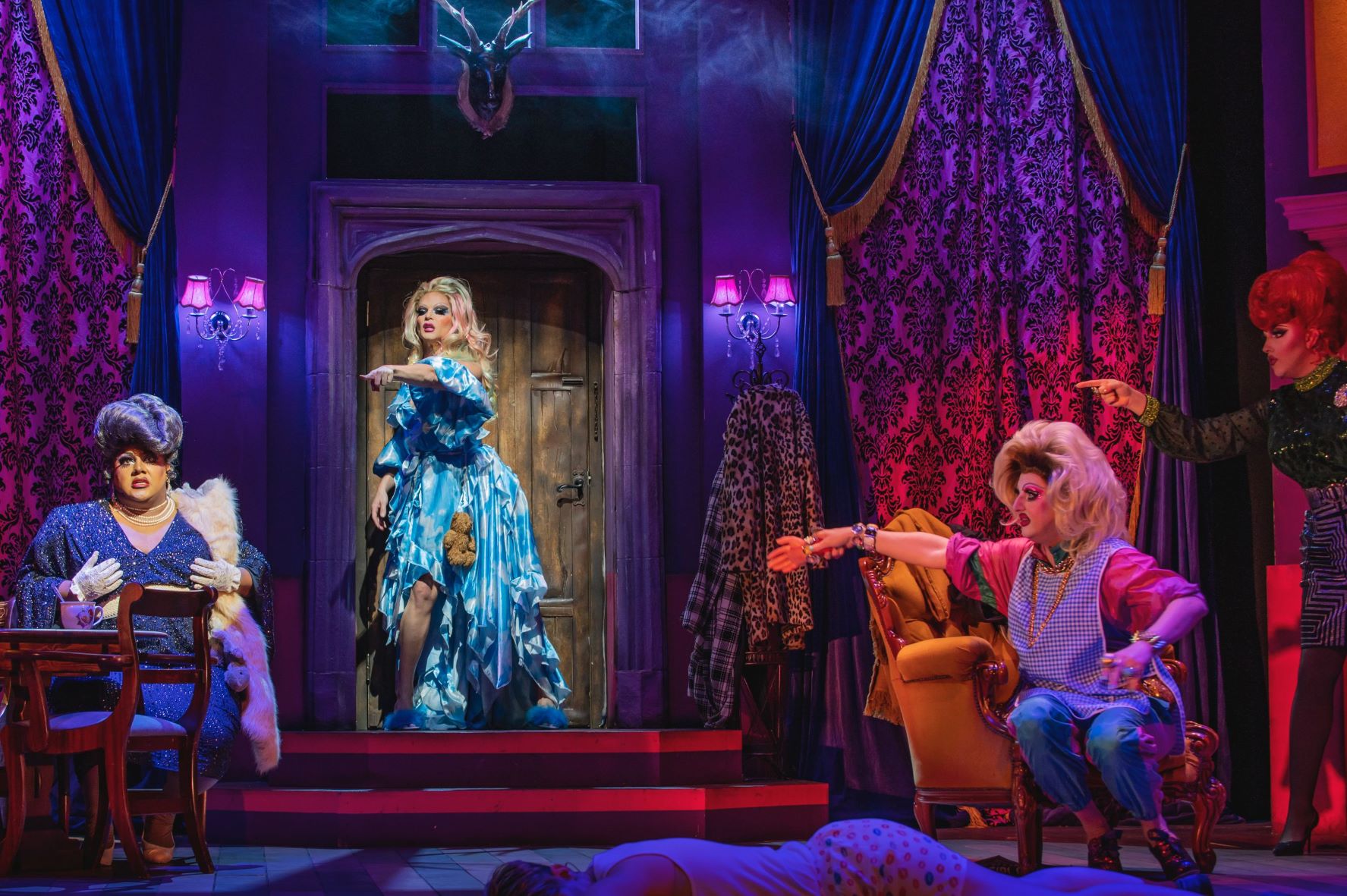 Comment Editors Emily Baldwin and Ffion Hâf review Death Drop
Perspective 1: Emily Baldwin
When I heard that Death Drop: The Musical was touring the UK I immediately reached out to as many people as I could to try and find tickets. A murder mystery set on the fictional 'Tuck Island,' Death Drop is a dark romp of a comedy. Fuelled by tongue-in-cheek humour, a star-studded cast, an appreciation of drag in its many forms and, of course, Prince Charles and Lady Di, a trip to Death Drop is bound to be a camp-old time.
Set in 1992 on the eve of Charles and Diana's wedding anniversary, the plot takes on an expected form. It is a dark stormy night and a cast of remarkably undistinguished guests are invited to a mysterious celebratory dinner. First at the table is the commandingly crowd-pleasing Vinegar Strokes, playing the adequately named Lady of the House – Lady Von Fistenburg. From her gorgeous dresses and big hair to her booming voice and precision timing, Strokes was hard to miss. Next is the trio of Bottomley sisters played by drag artist, comedian and trans-rights activist Holly Stars, who also wrote the show. With non-stop jokes, panto-like comedy and fantastically timed breaks of the fourth wall, there is no doubt that Stars' is deserving of her name. Soon drag queens from across the pond, Willam, Ra'ja O'Hara and Karen From Finance made their way on stage to great whoops and cheers from the Drag Race loving crowd. Any fears of stunt-casting are immediately dispelled, as all perfectly suit their exuberantly caricatured roles, although Willam's vocals were characteristically scratchy at times.
The plot is limited, easy to guess and not exciting. The musical interludes were sparse but formed some of the most engaging parts of the show; I would have liked to have seen some more songs. But, the writing was bawdy and humour hilarious. It could have been a little shorter in places, yet the ending was rushed and I have to admit that I was left wanting a little more oomph. However, what makes the show unmissable is the skill and dexterity of the drag artists on stage. I was particularly impressed by both Georgia Frost's and Richard Energy's performances as Phil Maker and Rich Whiteman. At least a foot shorter than the towering queens and full of energy, Frost stole the stage whenever they appeared, garnering some of the biggest laughs. It was also an absolute joy to see both Drag Queens and Kings onstage, something that the commercially successful Drag Race productions overlook. I overheard a number of people admitting a newfound excitement for Drag Kings on their way out, with many saying that they had not even heard of them before.
In a touching finale, the cast took their final bows holding the Pride flag, Trans flag and Non-Binary flag. This production was such a celebration of queer culture, humour and art, a culmination of a community of talent, resilience and pure fun. 
---
Perspective 2: Ffion Hâf
As a longtime fan and admirer of all things drag, being invited to watch Death Drop: The Musical was a night that I did not want to miss. Having already been familiar with a few of the performers, I knew I was in for a great night full of great music and dark humour; to say the least, I was not disappointed. 
From the grand set design that fitted the theme of the show perfectly, to the incredible costumes that were perfectly catered to each character, it was a fun and lively experience. Whilst at times I will admit not all of the jokes seemed to land with the younger members of the audience, the writing all in all was absolutely hilarious. Every member of the audience was visibly having a ball, from clapping along to songs to wooing over their favourite cast members, there was hardly a silent moment during the whole performance.
However, although I expected to be completely blown away by the big names from RuPaul's Drag Race, it was, in fact, Holly Stars who played the Bottomly triplets and Georgia Frost, recognised as Phil Maker for the night, that stole the show in my opinion. I personally love panto within all its campy grandeur, and that is exactly what Stars brought to the table, in every scene they brought a bundle of laughs and plenty of the finest British delicacies (including beef pancakes and potato waffles). What I loved about Frost was that they really embraced the role and brought it to life in all of Phil's misogynistic and pig-like glory. From the obscenely large crotch to the high-energy hip thrusts, I could not keep my eyes off of them for all the right reasons. After years of only seeing Drag Queens on television, it was a delight to also see Kings on stage – something that I would love to see more of.
The show was an undeniable success as it catered perfectly to its audience, there is something about Drag performance that always create an atmosphere of excitement and a strong sense of community for everyone involved and that is one of the reasons why I love it so much. I would definitely recommend this show to a friend or just anyone looking for a good laugh.
---
Enjoyed This? Read more from Redbrick Culture here!
Musical Review: HisPanic Breakdown – The Copla Musical
Theatre Review: Everybody's Talking About Jamie
So You Wanna Get Into Sapphic Fantasy: A Beginner's Guide