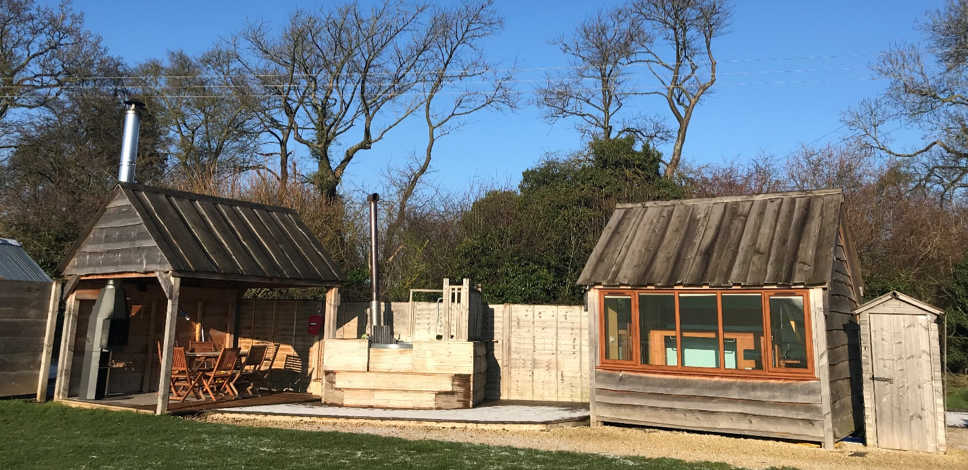 Travel Writer Fern O'Shaughnessy takes a trip away in tiny, wooden homes
Finding holidays in England can be a nightmare even at the height of summer. Unlike the rest of Europe, or so it seems, we are not blessed with gloriously hot weather; we do indeed only get two weeks of sunshine. It feels as though the only two holiday options are beach or camping – neither of which are particularly fun during winter. And booking a holiday in January was a dilemma I was faced with.
We wanted to get away for three days, before a friend went on to her placement in America for a year. As it was intended as a surprise for said friend, the duty of finding somewhere to stay fell on me. We needed to be close to Birmingham – narrowing down our scope of holiday from 'beach and camping' to 'camping' – as she needed to return to pack for America. Not wanting to spend our time in a tent – due to the predictions of snow, and the general crappiness of the weather in England from November to March – we decided to find somewhere we could glamp.
This was not easy; the area around Birmingham is not pleasant, and the area surrounding that is largely just farmland and not anybody's ideal holiday destination. Our only stipulations for finding a place to stay were that it have a hot tub, and be relatively cheap, and we were eventually able to narrow down our search and found Tinywood Homes.
It was, admittedly, in the middle of nowhere. The nearest village was forty-five-minute walk away, and there was no hope of getting an Uber anywhere. It was due to snow, and the only thing we had to protect us from the heat was a portable heater. The house did not have wifi. There were no saucepans, nothing we could use to cook except for a barbeque and a kettle. They are exactly what they say on the tin; literally tiny, wooden homes. But it was perfect.
It was the sort of place you would see on a Facebook video, and think I'd like to go there, but never actually go. The table doubled as the stairs to get to the mattress upstairs, and the whole house was smaller than a standard university-accommodation bedroom. The hot tub was right outside the front door, literally steps away, and had lights embedded around the wood. We had brought supplies with us – food and drinks – and spent the first night drinking prosecco in a hot tub, in the snow. The second night, it was so clear we could see the stars.
My parents raised me as a traveller – I've done world challenge trips to Africa, been round Europe, and visited Asia, but this was one of the best holidays I've ever been on. We had a barbeque the first night – a surreal experience in the snow – and cooked steak the second. It was basic, and all very thrown-together, and everything seemed entirely accidental, but the entire trip was relaxing.
The trip was, without a doubt, one of the easiest I've ever been on. We caught the train from Moor Street station to Leamington Spa, and then a ten-minute taxi (about £3 each) to the homes, which took less than half an hour. Aidan, the owner (and builder) of the homes, was lovely. His dog had just had puppies, and he allowed us to sit with them for hours, and drove us back to the train station, despite it being out of his way, and an incredibly busy man (the homes are set on a working farm). It was a trip that would be perfect in the summer, but just as perfect for us, in the middle of winter.
It's difficult, in a world that revolves itself around technology so much, to find somewhere that is completely devoid of it. There were, of course, plug sockets, so we were able to stay in touch, but we found that we didn't need to. Without the connection to the rest of the world, we were able to focus on what really mattered – the fact that it was the last time the three of us would be together for a year. I would recommend it for anyone who needs a quick, easy, cheap break from the stress of university and modern life.