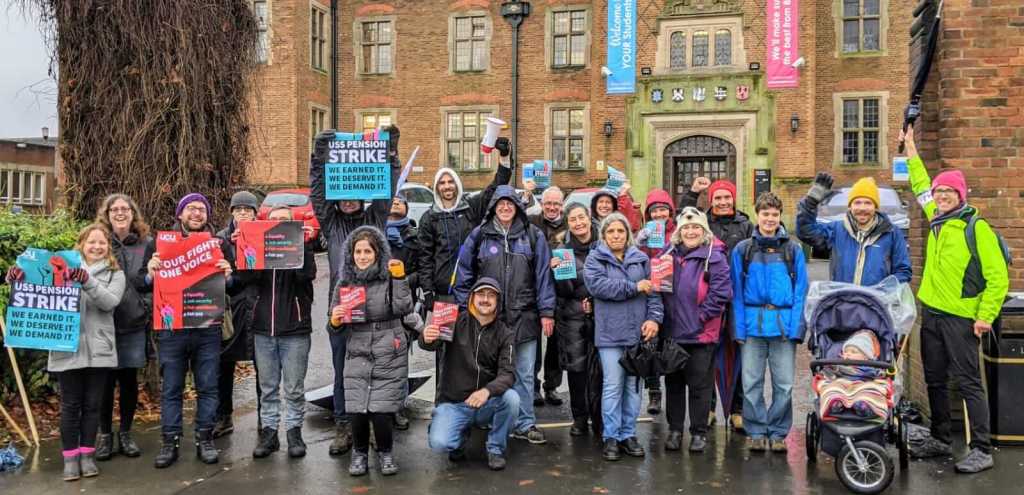 UCU have recently declared that they will be launching 14 more days of strike action
On Monday 3rd February, University and College Union (UCU) declared that they will be launching 14 days of strike action in an attempt to pressure universities to address outstanding issues raised by the union in recent months. 
UCU have this week announced that 74 universities will be affected by this new round of strikes which will take place between 20th February and 13th March- action that will involve an additional 14 universities in November and December.
The number of strike days per week will increase incrementally during the four weeks. The action will begin two strike days in week two of the UoB before concluding with five strike days in week nine.
This move by UCU is the latest in an ongoing dispute between the union and UK universities. UCU have claimed that their decision to commence industrial action is a result of universities' 'failure to make significant improvements' regarding pay, pensions and the growing casualisation of university staff.'
Alongside the strike days, UCU have also outlined plans for its members to take action short of striking which includes; 'working strictly to contract, not covering for absent colleagues and refusing to reschedule lectures lost to strike action.'
In a statement, UCU general secretary Jo Grady declared that 'we [UCU] have seen more members back strikes since the winter walkouts and this next wave of action will affect even more universities and students. If universities want to avoid further disruption they need to deal with rising pension costs, and address the problems over pay and conditions.'
Should the dispute fail to be resolved in the coming weeks, Grady went on to confirm that UCU's members may also strike in universities' final semester. 
The University of Birmingham is one of 47 universities still attempting to resolve both the pensions dispute and staff casualisation concerns with UCU – with the last round of negotiations failing to produce a workable solution.
The University of Birmingham branch of UCU (BUCU) stated: 'Once again Birmingham UCU members are having to take strike action simply to get employers to take seriously our deep concerns over unreasonable pension contribution hikes, falling pay, unbearable workloads, rampant casualisation and deep-seated inequality. We urge Professor Eastwood and the senior management team at the University to use their considerable influence within higher education to settle this dispute without the need for further disruption on campus.'
In response to UCU's decision to strike, the University of Birmingham told Redbrick that: 'We recognise that strike action may cause concern and as with the previous round of strike action, we will keep in regular contact with staff and students to advise and assure around what we are doing to minimise impact. Our priority is to ensure that our students continue to receive an outstanding education.
'The University will make every effort to make alternative arrangements for any cancelled events, including lectures, seminars, individual appointments, lab sessions etc. This might include scheduling additional sessions at other times and making supporting materials available that students can review through Canvas. This will help to ensure that students do not miss any of the essential content for their course. In addition we will ensure that students are not disadvantaged in any assessment activity. 
'Hand-in dates and deadlines may be extended if these are affected by any cancelled teaching and students will not be assessed on any content that has not been covered due to disruption. Where any content or assessment of learning outcomes is aligned with professional body accreditation, we will ensure that this content is covered within rearranged sessions.
'We hope that UCU will continue to maintain an open dialogue in order to try to resolve this national dispute.'
The impact that these strikes will have on achieving an agreement remains unclear but this escalation in tensions between academic staff and universities is certain to cause disruption to university life across the country.