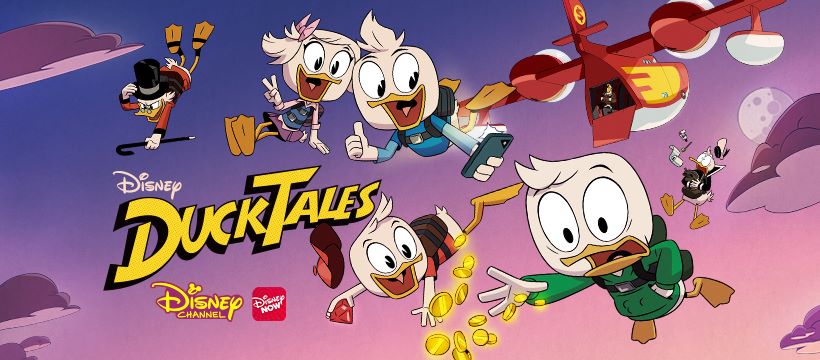 TV Editor Sian Allen argues the benefits of turning to cartoons in times of crisis
It is fair to say that, for the most part, 2020 has not been kind to us. Stuck in our homes dealing with a global pandemic and a whole assortment of general chaos, TV has become a more vital source of entertainment and escapism than ever before. Everything can easily get overwhelming at the moment, and so I humbly present my tried-and-tested method for coping with a crisis: take a deep breath, make a hot drink, and turn to cartoons.
It is no secret that we're living in the so-called golden age of television right now, and many modern animated shows are solid proof – Avatar: The Last Airbender, Adventure Time, Gravity Falls and Over The Garden Wall are just a handful of the most celebrated shows of the past two decades. They are all critically acclaimed, all have dedicated fans of all ages, all tell beautiful and captivating stories and are all given life by the endless possibilities animation brings to the table as a medium. They also all happen to be family-friendly cartoons, proving that 'children's' TV rarely means only suitable for children, but instead means suitable for everyone to enjoy.
This is all a long-winded way of me arguing that in this time of crisis, we need a spiritual successor to all these great animated shows. For me, that show is undoubtedly DuckTales. A reboot of the original 1987 series and described as equal parts Indiana Jones and Modern Family, DuckTales follows the adventures of the Duck family, including billionaire adventurer Scrooge McDuck (David Tennant) as he connects with his three grand-nephews Huey (Danny Pudi), Dewey (Ben Schwartz), and Louie (Bobby Moynihan) for the first time. They solve mysteries and rewrite history, searching for lost treasures as Dewey and Webby (Kate Micucci) try to uncover the unexplained disappearance of the triplet's mother, Della.
I was drawn to the show in the first place by its amazing voice cast – DuckTales boasts an insane range of talent that includes three Community cast members, two Saturday Night Live alums, Sonic The Hedgehog, the creator of Hamilton, and a Time Lord. I watched this amazing interview with not one but three of my favourite actors (who all voice main characters) and decided to give DuckTales a go.
And at first, it felt a little silly. As a young adult, I can admit that I'm not exactly the target demographic of this Disney XD show. It felt like a guilty pleasure, something I was honestly a little embarrassed about sincerely enjoying. But a few episodes in, I was unexpectedly hooked, completely won over by this funny, wholesome, and extremely well-written show. By the time I was halfway through Season One, I could sing every word of the theme song. By Season Two, some episodes had actually moved me to tears. DuckTales knows exactly how to pull on your heartstrings. Though every episode can be easily enjoyed as a standalone, one-off adventure, there are some great running gags and expertly crafted story arcs that really reward you for getting invested, as all great TV should do.
The characters balance each other out wonderfully, each with their own distinct personalities,  strengths and flaws – Huey's smarts can often quickly turn into paralysing anxieties, Dewey's urge for adventure often gets dangerously reckless, and Louie's sharpness often has him quickly pulling together with solutions for problems he caused in the first place. They are at their best when they work together, and the triplet's sibling dynamic is particularly fun to watch. At its heart, the show is constantly emphasising the importance of family.
Not just biological family, either. Webby and her kickass housekeeper/former spy grandmother Mrs Beakley (Toks Olgagundoye) are not related to Scrooge, but they are a fixture of the family just like everyone else, proving that family is not exclusively bound by blood ties but really can be any stable support system. I have to mention here that DuckTales has a genuinely delightful range of interesting, well-developed, and empowering female characters, both heroes and villains – especially Webby, the triplet's friend and adventure enthusiast. She is a glowing tribute to weird, passionate girls everywhere and it is incredibly heart-warming to see her be wonderful intense self without a moment of self-doubt.
So why am I certain that we should all be watching DuckTales? Because it is a really fun show with great characters, captivating stories, heart-warming moments, and a brilliant cast. But beyond that, I want us all to seek out our own DuckTales – in other words, a show that brings you pure, unadulterated joy during stressful times. Whether it is a cartoon, a sitcom, a trashy reality TV show: enjoy it without shame or embarrassment. It has been a hell of a year. The least we can do is retire the concept of 'guilty pleasure' TV – some people watch a wholesome show about cartoon ducks to cope, and that is extremely valid of them.
DuckTales is available to watch on Disney+.
---
Want more? Check out similar TV articles here:
8 Iconic TV Shows From Childhood
Editor's Picks: Our Favourite Animated Shows
The Clash Between Creativity and Commercialisation: Avatar: The Last Airbender