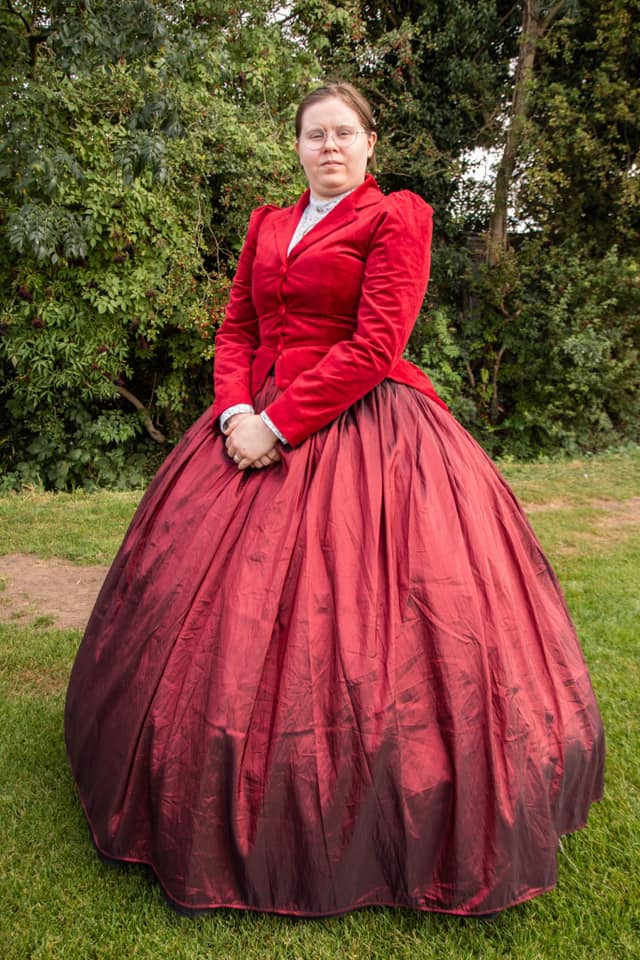 Culture Writer Charis Gambon writes about her passion for re-enacting, sharing that it is more than 'playing pretend' and quoting fellow reenactors on why they got into reenactment
Reenactment is a hobby where people portray themselves as people have previously in the past. Reenactors, as they are called, follow the lives of those who came before them in the form of wearing the clothing and engaging in the activities and lifestyle of people from the time period they are portraying. Reenactment is often conducted for educational purposes for the general public at events across the country, and there is a variety of eras that are portrayed – each individual spends a large amount of time on their impression in order to conduct an accurate portrayal. 
Reenactment is a way to express who you are and what you are passionate about in a form that benefits others in addition to yourself. It is a way to learn and showcase everything you have learnt and you will meet others through the hobby who are brilliant and feel as strongly as you do. It is a way to truly feel that you are a part of history.
I have been re-enacting for four years now in the Victorian era. I portray an upper middle class lady from the 1860s in a Victorian Rifle Volunteer group. I love getting to wear the big skirts and dresses that were commonplace of the era; I enjoy the chance to visually represent history. I am working on expanding my portrayals to also include World War II women's auxiliary air force. 
Reenactment is about more than playing pretend. Reenactment takes a lot of time, research, and dedication from a person. I have a large amount of source books that I use to research what I am re-enacting to ensure that I am giving those I portray a fair portrayal. I also visit museums to view original artefacts and items such as dresses to ensure that I can conduct myself to the highest standard I am capable of. I am always learning and looking for ways to improve myself and my portrayals.
In the reenactment community, those more experienced than others will help the newcomers to the hobby to ensure that they can access correct information and purchase correct clothing and items.  Reenactment is more than just a hobby that we do between April and October – reenactment is a way of life. 
You do not just have to take my word on the subject of reenactment; I have received some quotes from four of my fellow reenactors about why they got into reenactment and what they believe the hobby is about.  
WW2 and Tudor reenactor Lucianna Harrison states that she 'went into it for the history but it is one of the strongest and most supportive and welcoming communities I've ever been a part of.' Lucianna has been interesting in re-enacting since she was 14 years old. She is incredibly knowledgeable about Women's Auxiliary air force and due to her beliefs that reenactment is a community, she is always willing to help new people get their portrayal of WAAF correct. 
Secondly, we have Matthew Parker who portrays WW2 Americans. He told me: 'It's a very strange but thoroughly enjoyable hobby filled with lots of people all trying to use it for something different. Some people use it to further humanity's knowledge on the past through highly authentic historical reconstruction, others just think it's fun to put old kit on and talk to people about history.' He is a younger reenactor, and it is great that there are younger people in the hobby as it demonstrates that reenactment has a future. Matthew believes that the hobby is for everyone and that all people engage with reenactment in some way. 
Next, we have Victorian reenactor Isabella Perkins. She states that 'it's great fun and you get to learn about how different weapons work, and you get to use them too, it's awesome. And of course, uniforms are splendid!' She is also a younger reenactor – Isabella enjoys reenactment because she gets the chance to learn about something different in the form of weaponry and uniforms. 
Finally, we have Victorian reenactor Oscar Hawkley. He believes that 'reenactment is something between being a museum piece, an actor and a teacher. We help people who would not otherwise connect to the past and can enliven the experience of history.' Oscar Enjoys reenactment because of the opportunity to help people who do not usually access history understand history. He believes when history is physically standing in front of you it is the best way to learn.
---
Enjoyed this? Read more on Redbrick Culture!
Heidi Downing on The 97% Project: "I wanted to do something myself to help people out"
Musical Review: HisPanic Breakdown – The Copla Musical