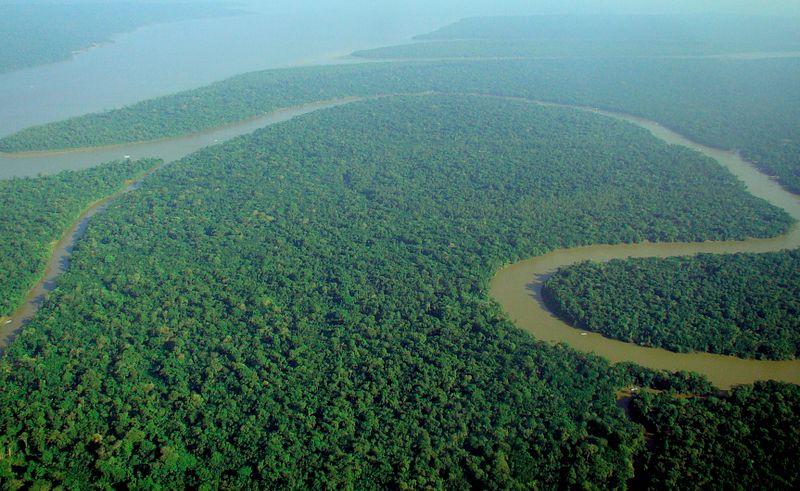 Deputy Digital Editor Holly Pittaway says that the burning Amazon is a sign that we should all cut down on our beef consumption
The Amazon rainforest hit headlines in August after wildfires raged uncontrollably through the historical landscape, destroying the lives of countless animals and indigenous peoples as they went. Headlines today have dulled down and it seems the barrage of posts being shared on our social media timelines about the issue too have ceased. But the Amazon is still burning, and experts don't expect it to stop 'anytime soon'.
The fires have been spurred on by deforestation, the rate of which is currently higher than it has been in 11 years, according to a recent report. The chief driver of deforestation? Cattle ranching. Brazil is the largest global exporter of beef cattle, as it supplies around a quarter of the world's market. But if you know anything about business, you'll know that supply is only created by demand, and who is demanding the beef? Us.
According to The Washington Post 'the world has had an almost unlimited appetite for beef in recent decades.' Fast food companies like McDonald's and Burger King have made their fortune from beef, and with the introduction of new bovine products every year, it seems that the demand isn't really going away – frightening news when you consider that a report last year said western countries need to cut down on beef consumption by 90% in order to avert the disastrous consequences of climate change. Of all farmed animal products, beef has the worst environmental impact, so eating beef 1-2 times a week would be like taking a return flight from London to Malaga, or leaving your heating on for 95 days.
But it's too late. Disaster has already struck. 
It may be easy to ignore from your student house in Selly Oak or your parents' detached property in the home counties, but the fires in the Amazon (which were 'intentionally set' by ranch owners in order to expand their business) pose an immediate health threat for anyone living in the surrounding areas – one ranch worker said to The New York Times that they 'wake up without being able to breathe properly' due to the heavy smoke. Of course, there is also a wider environmental threat. The rainforest is essential for soaking up carbon dioxide and stabilising global temperatures, so life without it would definitely spiral us further into climate disaster.
The illegality of setting fires in the forest has not deterred ranchers. Since the inauguration of President Jair Bolsonaro in January, policing this has not been a top priority, since the President, a right-wing populist, is more concerned with the country's economic development than environmental policy. This laissez-faire approach has meant more deforestation; one Brazilian ranch owner, Lenaldo Batista Oliveira, who had seen many intentional forest fires in his time commented on the marked increase in deforestation, saying 'they think they can burn as much as they want.' Another rancher noted that the weather has already been affected by the fires; 'we live off the trees and the weather is getting hotter because there are fewer trees,' Luis Rodriguez told The New York Times. Despite being aware of such problems, many farm workers feel they have no choice but to clear the forest in order to make ends meet – 'I've never seen a producer earn any money from this conservation,' said Valdemar Gamba, who owns 200 cattle.
As with many climate-based conversations, it can be difficult to come out the other side without a feeling of futility, and as the Amazon fires show no sign of stopping you might be left feeling hot under the collar. But there are a number of possible solutions – one would to be to put pressure on the Brazilian government to ensure proper policing of fire-setting is being undertaken. Secondly, some financial incentive needs to be offered to the ranchers who are setting the fires in the first place, as otherwise arson will continue to be their best investment. And finally, and most accessibly, it's up to us to reduce the worldwide demand for beef products. So next time you get a craving for some beef, make sure it's just the verbal kind.