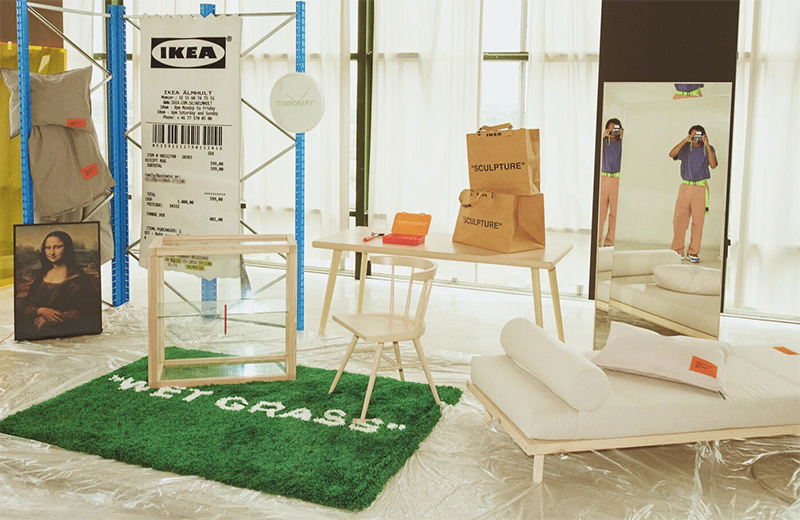 Life&Style Writer Nisham Kambang discusses 'Markerad', IKEA's exciting new collaboration with Virgil Abloh
Before, when you wanted an off-white chair, someone might ask you 'eggshell or ivory?'. Fashion designer Virgil Abloh's latest collaboration, 'MARKERAD', fuses Off-White's iconic sleek and minimalist designs (quotation marks and all), with IKEA's everyday household objects. The name of the collaboration translates to the Swedish word for marked, referencing IKEA's own origin and Virgil's aforementioned quotations – but it also alludes to the ideas of individual expression that underpin this collaboration.
When discussing the idea of hype, Virgil believes hype is simply the pride you feel in owning something. For this collaboration, he wanted to do what he has always done with his other aesthetic endeavours and create furniture that gives you the same sense of pride as owning a pair of his Off-White Nike collaborations. And with many of the items gaining huge markups on resale, that's exactly what he's done.
This idea of streetwear brands, hype and everyday items immediately draws parallels with Supreme's ventures of a similar sort. While not overtly creating household objects, Supreme have pushed the boundaries of what ​fashion ​ entails, in curating aesthetics beyond clothing. The best parallel we can draw between the two would be in Virgil's conception of hype. Both the Supreme and Off white x Ikea chair hold value beyond their materials and to an extent even their design. Some of the value they possess comes simply from the pride in their possession.
Where these two examples deviate however is the intention behind them. Where Supreme, while always being functionally sound, usually created these items as novelties, Virgil is attempting to create something more real. He discusses millennials buying their first house, and with this being their first venture into interior design – these items are meant to help add more personal expression into their homes. This is clearly reflected in the design of the items in question: while Supreme's items, in their bright red and hyper branded design would be jarring in most rooms, the Off-White x IKEA collection is comprised of pieces you could see in any home.
Yet, this is by no means the first luxury brand to venture into interior design. Versace has been famous for their range of home items, though mostly limited to accessories such as pillows, glass wear and rugs. Rick Owens has been releasing furniture since 2007, adhering to his brutalist, avant-garde aesthetic. The main difference between these brands and the recent Off-White x IKEA collaboration is the target audience and price point. Virgil talks about the idea of being labelled simply a 'streetwear designer', while some creatives see this as disrespectful, Virgil simply takes it to mean he is someone who designs something for the common people. Once again, with young, recent homeowners being the main focus for the project, a more consumer-friendly price point is associated with the items. They also feature a more conventionally appealing, less experimental design that you could see in any home, while still managing to add some personal flair.
However as previously mentioned, the mark up in resale for these items have followed the same trend as any other Virgil collaboration, with certain rugs selling for over £1,000 on occasion. How consumer-friendly can these products be when, with low stocks and an insane mark up in resale, most items are completely unattainable for the everyday consumer, let alone for the first-time homeowner? Beyond that, even purchasing the items requires making the trek to IKEA Wembley and Croydon as the collaboration is not available anywhere else, with much of the stock being sold to ticket holders who purchased online VIP tickets, allowing them early access to the collection. Has the pursuit of 'hype' completely undermined the principles of the collaboration?
Virgil's landmark collaboration with IKEA and Off-white has resulted in chairs and clocks selling for triple the price on resale, something we have never seen before for furniture. Whether this marks a breaking down of barriers in what fashion entails or is simply a one-off, Virgil has managed create something for real homeowners at a fairly reasonable price, as well as providing a new avenue for personal expression. That being said, it is debatable how successful Virgil can be in achieving his goal when the target demographic will find it almost impossible to actually acquire any of the items.