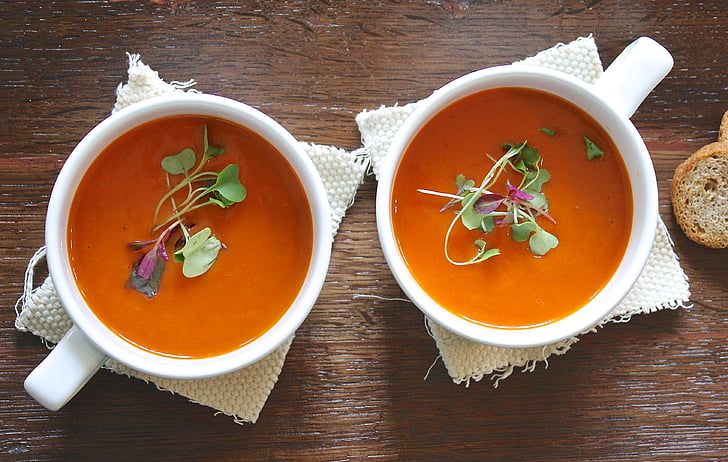 Food & Drink Editor Sarah Cayless cooks up a roasted veg storm with this warming winter soup recipe
As darkness encroaches and the threat of snow looms ever-closer, it is important to have some nourishing hot comfort food recipes at hand. A bowl of home-made soup can complete a cosy night in, with the added benefit of being packed with vitamins essential for fueling essay writing. This recipe requires either a blender or a liquidiser.
Serves 4
Ingredients:
1 Large Sweet Potato
2 Red Peppers
1 Red Onion
3 Large Carrots
2 Garlic Cloves
4 Sprigs of Rosemary
1-2 tsp Smoked Paprika
1 tsp Turmeric
Sea Salt
Black Pepper
200ml Single Cream
450ml Vegetable Stock
2 tbsp Vegetable Oil
Method:
1. Preheat oven to 200 degrees.
2. Peel and roughly chop all of the vegetables, except for the garlic.
3. Add the vegetables, whole garlic cloves (skin on) and rosemary to a roasting tray. Season with salt, pepper, smoked paprika and turmeric. Drizzle over the oil and mix.
4. Roast for approximately 40 mins, turning half way through.
5. Remove roasting tray from oven. Squeeze the garlic out of the skins. Discard the skins along with the rosemary stalks.
6. Make up 450ml of vegetable stock, set aside.
7. Add the cream, roasted veg and 100ml of stock to a blender or a pan if using a hand blender.
8. Blend.
9. Keep adding stock until it reaches your desired consistency.
10. Season to taste and enjoy with warm, crusty bread.
---
Still hungry? Check out these articles below: