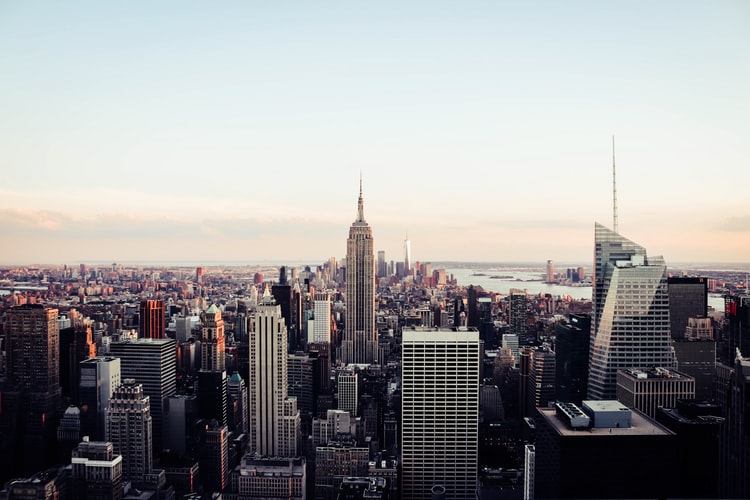 Travel writer Emily Faithful outlines how 72 hours is plenty of time to see all the sights in New York City
April is an ideal time to visit New York City. The weather is just as dull as it is in the UK, which means there is a good chance of rain, and the potential that it's too foggy to climb some of the famous high-rise buildings, but exploring NYC in April means avoiding the crowds. You can take your pick when it comes to tourist attractions, and you'll probably pay a little less. Spending 72 hours in NYC last Easter break, was enough to convince me that it's one of best places I've ever visited, and I usually don't like cities. New York is for everyone; it's undoubtedly home to something you've always wanted to see, being setting of countless TV shows. Fitting a visit into a mere 3 days seems impossible, but you can make the most of your weekend break. Get your MetroCard and get on the Subway. Here's what not to miss:
Central Park cycling
For a first-time visit, it's all about Manhattan and the park is a great way to get a feel for the city's most visited borough. The most memorable experience I had in New York City was renting a bike in Central Park. There were talks of taking a ride in one of the park's famous horse-drawn carriages, but bikes were much cheaper. And they're probably a lot more fun. Central Park is home to and surrounded by many famous sites such as John Lennon's memorial garden, Strawberry Fields (also the Dakota building, where he was shot), and the Guggenheim art museum, designed by renowned architect Frank Lloyd Wright. You'll even go past The Plaza hotel, the setting of Home Alone 2 (if you find an unguarded door, you can get a quick look inside). There is no better way to see so many tourist destinations in such a short amount of time than via Central Park's well-maintained cycle tracks.
9/11 Memorial and Wall Street
The iconic twin towers have been replaced with the biggest memorial fountains you've ever seen; water seems to flow into an abyss. The adjacent museum allows for an informative but sombre visit. To lift your spirits, admire the One World Trade Center, the tallest building in New York, and walk around Wall Street, home of the New York Stock Exchange.
Ellis Island and Statue of Liberty
A trip to New York wouldn't be complete without a look at the Statue of Liberty, a symbol of the city and, perhaps, of America. Whilst a trip onto the islands themselves offers audio tours and museums, this takes time and money. A look inside at Ellis Island's architecture is worthwhile, but another option, especially for those who find themselves bored by museum-style attractions, is a drive-by on the Staten Island Ferry. This ferry is free (don't get scammed) and runs regularly throughout the day. At sea, you get the best views of the Statue of Liberty and the Manhattan Skyline. Avoiding peak times is advised – people use this ferry to get to and from work! Since all passengers have to disembark the ferry at Staten Island, it may be worth planning something to do there, like a trip to the zoo, Fort Wadsworth (a fort used in the Revolutionary War) or the Franklin D. Roosevelt Boardwalk and Beach. If you'd prefer a smaller boat, try an NYC Ferry for $2.75. These will take you to Staten Island, as well as between the boroughs of Manhattan, the Bronx, Queens and Brooklyn (although only the Staten Island trips allow a view of Lady Liberty).
Situated in the Rockefeller centre, one floor below Top of the Rock, Bar SixtyFive, offering a 360-degree view of the Manhattan skyline, is a cheaper, less busy alternative to the Empire State Building. In the words of the NYPD police officer who moonlighted as our airport pick-up, 'it's way cheaper and you get the exact same view, apart from you can actually see the Empire State Building'. Just make sure you get a reservation and are look up the dress code.
Hudson Yards
If you've already been to NYC or seen the famous tourist destinations in movies so many times that you're over it all, Hudson Yards is a modern alternative. It's a neighbourhood, home to skyscrapers, a brand-new mall and a few architectural structures, like The Shed (also an art centre) and Vessel (an observatory deck also known as The Shawarma).
Times Square
The night is the best time to see the bright lights of Times Square. Adjacent to the theatres of Broadway as well as the Radio City Music Hall, you can view all the signage you could want in a matter of minutes. If you get tired of being advertised at, you can make your way to the Brooklyn Bridge Park, to get an unforgettable view of the iconic bridge and the skyline, all from the waterfront.
Food
The Big Apple is famous for a diverse range of foods, which reflect its multiculturality. Breakfast can be a bagel of your choosing, made in a shop with a counter which looks like it's for ice cream. A dollar slice (of pizza) or a pastrami sandwich will sustain your appetite throughout a busy day. If you need a snack, there are the honey-roasted nuts sold by street vendors (only the allergic can refuse that sweet smell). For dessert, Carmine's Italian Restaurant offers an extensive, almost sickening range of cheesecakes, which you can also take away.
A popular base for business, it's getting easier by the year to get to NYC from London, with prices down to around £200 and record flight times of just over 5 hours (Boeing predict that soon it will be done in just 2 hours). If you can manage a weekend break this April, New York City is the place to go.
---
For more on America: