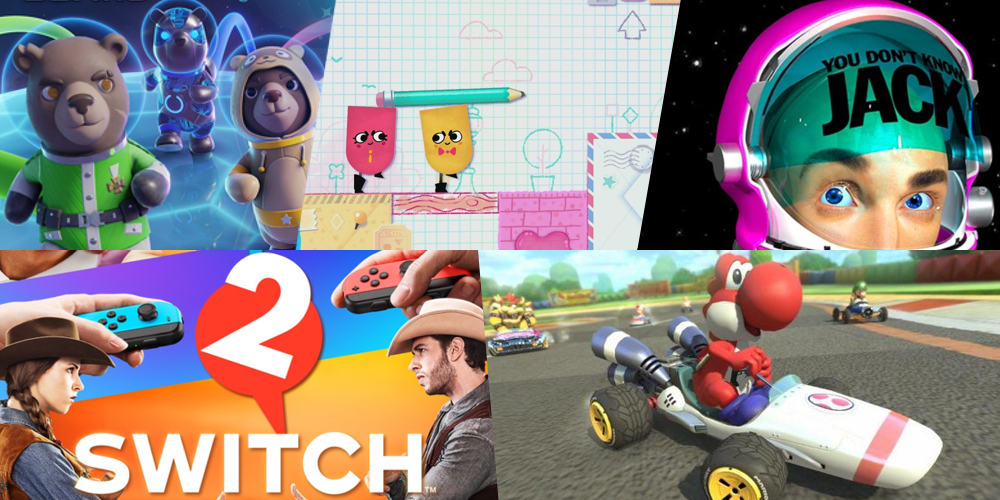 Redbrick Gaming's Writers and Editor discuss their favourite social games that will bring your flat together, or tear them apart, this Fresher's Week
Jackbox Party Pack – Weronika Białek
Jackbox Party Pack is a series of party mini games that you play with your phones. The series is currently made of nine instalments, each one containing a handful of mini games. Only one person needs to own a copy of the game, the rest of the players use the generated game code on the jackbox.tv website to join.
---
---
Jackbox is a great ice breaker and house party activity. Games such as Fibbage: Enough About You will allow you to learn more about your new friends as you try your best to make up believable lies about them. Alternatively, you can work together to make a unique t-shirt made up of your drawings and slogans created from in-game prompts in Tee K.O.; as well as being funny, the game gives you the option of purchasing real-life T-shirts with your masterpieces – a perfect souvenir from freshers. If you're in the mood for some head-to-head competition, Trivia Murder Party will put you against your friends as you answer general knowledge trivia in an attempt to survive the murder house!
Those are just a couple of examples of the great games available in the Jackbox Party Packs, but each instalment has its own gems and the best way of finding your favourites is by playing through them yourselves! Don't worry if you don't know anyone who owns the game, it is often on sale and if you buy the game at the right time, you can get the earlier instalments for as little as £5! What's more, it's available on most platforms, including PC, Nintendo Switch, PlayStation, and Xbox, so you can play it regardless of what tech you own!
---
Jackbox Party Pack is available on Steam, Nintendo Switch, PlayStation, and Xbox with multiplayer available on any internet browser.
---
Astro Bears – Louis Wright
Simple, cheap, and addictive; words that both describe the ultimate party game and Astro Bears. This is no coincidence, mind you, for nothing brings people together in the same way as space faring bears who engage in the world's goofiest game of Tron on various planetary objects.
Beginner friendly in concept and control Astro Bears is quintessential of the idea of a 'pick-up and play' game, allowing even those who have never played before to jump straight in. Between the ability to hover and boost, and the special powers of certain bears, the game quickly becomes a chaotic mess of simultaneously trying to use your booster's trail to destroy your enemies while also avoiding theirs. As such, it is the ultimate level playing field in terms of player ability; from hardcore gamer to absolute novice, everyone has a chance of winning a round of Astro Bears.
Personally, I have milked hours of fun with my friends from this unsuspecting gem of the Nintendo Switch eShop. The competitive edge, the simplicity of its design, and the quirkiness of its characters all lend to a game that can make for an evening's entertainment and, with the right stakes, solid flat bonding.
---
Astro Bears is available on Nintendo Switch.
---
1-2 Switch – Tom Green
1-2 Switch is a simple but immediately enjoyable party game. It's a straightforward concept, a collection of pretty undemanding minigames a la Warioware, but its simplicity works to its advantage. Quickdraw standoffs, cow-milking, sandwich eating competitions, and samurai showdowns are all on offer. Many border on the surreal: rhythmic gorilla imitations and cradling the switch as if it were a baby. The vast majority of these quickfire minigames involve two players competing, but the brevity of each means that the controls can be easily passed around to include more players. As far as minigame-based titles go, 1-2 Switch doesn't reinvent the wheel but its innuendo-laced gameplay and creative use of the Joy-con controllers provide ample entertainment for parties or ice-breakers.
---
1-2 Switch is available on Nintendo Switch.
---
Mario Kart 8 Deluxe – Weronika Białek
Planning on bringing your Nintendo Switch to university? Why not use it as a way of breaking the ice with your housemates?
Mario Kart is the perfect game for stay-in social time with your housemates or for pre-drinks with your friends! It is both competitive yet light-hearted, allowing you to quickly become at ease around your new mates when laughing at each other's victories and losses. 
---
---
With its easy controls and smart steering mode, it is a perfect game even for those who have never held a controller in their hands before! The game is also quick to set up and depending on the amount of rounds that you choose, you can even be done with it in less than five minutes, making it a great option for some quick fun before heading out to the pub. Alternatively, you can play for hours while chatting about your first week of university, as the combinations of characters, vehicles, and courses seem to be infinite. Of course, the switch's portable nature also means that you can easily bring it to a friend's house, making you the ultimate house-party hero!
---
Mario Kart 8 Deluxe is available on Nintendo Switch.
---
Snipperclips – Cut it Out, Together! – Louis Wright
The Nintendo Switch is a system designed for localised play. The obvious exclusives stick out; Mario Kart, 1-2 Switch, Just Dance, and Switch Sports all provide an environment where anyone can jump in and play against one another. However, competition can only get you so far especially when it comes to flat bonding. 
Therefore, Snipperclips, a small-budget launch title for the system, poses itself as the ultimate cooperative game for bringing people together. Having to cut and snip your partner into different shapes and work together in order to solve the puzzles introduced in each level is an innovative and engaging brain-teaser that forces any players to communicate and understand each other's actions to progress. Being able to host 4-players at once and with the potential for backseat gaming, Snipperclips allows for all of the housemates to join in on the fun.
Quirky in presentation, with well constructed puzzles, and hours of gameplay potential; there is lots to love about Snipperclips. For that it is highly recommended for anyone looking for a fun, but challenging game that brings them together with their new university friends.
---
Snipperclips – Cut it Out, Together! is available on Nintendo Switch.
---
Read more Gaming features here:
Games That Mean Something To Me
Redbrick Gaming's Year In Gaming 2022