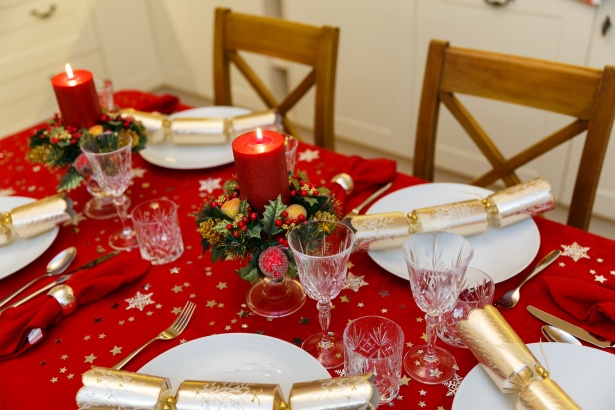 Deputy Editor Emily Calder and Food&Drink Editor Gabrielle Taylor-Dowson provide the foody history of the festive season, from familiar staples to traditions from further afield
Emily Calder – Deputy Editor
Christmas dinner is my favourite part of Christmas day, to the point where I think I look forward to it more than any other part of the season. I love the anticipation of it, preparing it as a family, and having everyone sit down to celebrate togetherness and spending another year with your loved ones. There is also nothing quite like the post-Christmas dinner food coma, in which many of us take to the sofa to half-consciously watch the Queen's Speech, and raid the celebrations tin in spite of having just eaten our body weight in roast potatoes. But where did it all begin?
The idea of a large meal on Christmas day goes back to the tradition, particularly popular in the Elizabethan Era of feasting on huge meals during festivities. Across the years the traditional English Christmas dinner has moved through various centrepieces; from boar in the medieval times, through various birds in the 16th and 17th centuries, to the turkey which was supposedly popularised by Henry VIII.  The various components that make up the traditional meal that we know and love today, however, do seem to have come along in dribs and drabs to form the final product.
Mince Pies
Perhaps not a traditional component of Christmas dinner, but a Christmas food item so important to British history that I couldn't possibly leave it out. Mince pies made with real mince date back to the medieval times, but they also contained dried fruits, spices and sugar a lot of the time. They became sweeter in the 18th century, with the import of sugar from slave plantations. The mince pie that we know and love today, which contains no meat at all, became more popular in the 19th century, and are now a true staple to the Christmas season. Supposedly their original 'oblong' shape resembled Jesus' cradle, earning them the term 'crib pies' for a while.
Turkey
Turkey didn't originate as a centrepiece of Christmas dinner  – in spite of its popular origins in Victorian Britain – until fairly recently. Traditionally goose or beef was a common centrepiece (think A Christmas Carol!), but in the 19th century more wealthy families would have turkey, and by the 20th century it was the most common centrepiece. Nowadays over 90% of families go for Turkey, with some of us opting for alternative meats, or for vegetarian alternatives.
Pigs in Blankets
The history of pigs in blankets is a little harder to pin down, but their first written mention is in a Betty Crocker cookbook in 1957. Whilst our version of a sausage wrapped in bacon is seen as a Christmas essential, the American version is completely different and more like a sausage roll, usually the sausage is wrapped in pastry.
Sprouts
This glorious, green friend of ours is probably the most controversial item on your plate on Christmas day. Whether you serve them as a novelty or because you actually enjoy the taste, over 750 million are eaten in December alone every year worldwide, so they definitely aren't going any time soon. This could in part be due to the fact that they are one of the oldest component of the British Christmas dinner, arriving on our doorstep via France as a Belgian import in the 17th century.
Stuffing
Stuffing dates back to some time between 2nd century BC and 1st century AD, when a chef named Apicius created a cookbook containing recipes for stuffed animals ranging from chicken to dormouse. It can be assumed that, as a component traditionally made to be stuffed into an animal's carcass, this probably dates back to as early as we have been cooking and eating birds. Nowadays, stuffing can be more of a side and can even be made vegan or vegetarian.
Christmas Pudding, or 'Figgy Pudding'
This famous pud dates back to Medieval times, and was traditionally made on 'Stir-Up Sunday', the last Sunday before Advent. Like mince pies, the original puddings contained meat, but this was eventually phased out.  Their first form was known as a 'Frumenty' porridge, and was typically eaten as a fasting meal in preparation for Christmas. Christmas puddings traditionally contained, sometimes still do 'charms' for good luck in the new year e.g. coins and thimbles – certainly add a nice bite! They became a festive dessert in 1650, but were banned by the Puritans in 1664 until King George I instigated their triumphant return in 1714.
Cranberry Sauce
This aspect of Christmas dinner has flown over to us from across the pond in America. Cranberry sauce was first offered to consumers in North America in Massachusetts in 1912, and appeared as a canned variety that could be sold all year round in 1941. Americans discovered it to pair excellently with Turkey – making it a staple for their Thanksgiving celebrations, and now also a staple in the British Christmas dinner.
Gravy
Gravy is traditionally made from a mix of meat juice, stock and a thickening agent, and has been around for as long as the idea of sauce has. As a traditional component to meat, most people assume that it has almost always been a component of the traditional Christmas dinner. Today it is a staple to any Sunday roast, an essential on Christmas day, and can be enjoyed with chips all year round.
Gabrielle Taylor-Dowson – Food&Drink Editor
The British idea of what a perfect Christmas should be is very specific. Ideally, it would be the white Christmas that Bing Crosby dreams of. Unfortunately, that is guaranteed not to be the case; luckily there are some things the British public can control when it comes to engineering Christmas into the best day it can possibly be. Bubbles from 8am onwards, your Christmas chocolates for breakfast, and a full Christmas dinner (I don't have to describe the components, you have already read our feature) between 2 and 4pm before everyone falls asleep on the sofa to the Eastenders Christmas special. This, of course, isn't the case for other countries across the world who celebrate the holidays. With Christmas a more secular holiday than ever as religious aspects of the holiday decline more and more every year, the only thing that is still a constant about the festive season is food. 
Food at any time of year brings people together. Coming together and sharing a meal is the most communal and binding thing in almost every place in the world. So if you take that pre-existing spirit of togetherness and blend it with the themes of family and generosity that pervade the holiday period, then no matter where you are, you are guaranteed to feel warm and fuzzy over a table of whatever food is traditional to that location, so I've gathered together a list of my favourite foody traditions that take place in other parts of the world. 
Italy
Panettone is a traditional cake-like bread stuffed with dried raisins, and candied orange and lemon peel from that has burst from Italy to become something embraced by people all over the world. Modern versions replace the fruit with chocolate, however traditionally it should be citrus flavoured fruit bread – aromas of lemon and orange should fill your senses.  Some Italians will have it with coffee in the morning, while others prefer it as a mid-day treat with a glass of Marsala wine and then, there's those who choose to have theirs after dinner as dolce with a good sparkling Moscato. In Italy, giving a panettone to another isn't just an offering of food, but a gesture of love and kindness. 
Japan
Every Christmas season an estimated 3.6 million Japanese families treat themselves to fried chicken from the American fast-food chain KFC, in what has become a nationwide tradition. The first Christmas campaign was rolled out on December 1, 1974, pushing the theme of 'a day to please the children,' and the rest is history. Yes, that's right, KFC. Getting the KFC special Christmas dinner means ordering it weeks in advance if you don't want to wait for hours in line. 'Christmas Party Barrel' features a bucket adorned in the patterns of your best Christmas sweater and brimming with KFC's standard chicken derivatives: fried chicken pieces, nuggets, and tenderloins. Sides include a Christmas salad (yellow, green, and red brightly colored vegetables, cheddar cheese, and bacon bits), chocolate cake, and festively decorated plate. With the 'Premium Series,' you get a whole roasted chicken that's got a Parmesan crust.
Sweden
No Swedish Christmas is complete without a julbord. Julbord means 'Christmas table,' so basically, Swedes prepare various types of traditional foods in a big table on Christmas Eve and celebrate until Christmas day, indulging in the foods and centring family time around the act of eating. The custom of julebord originated in the Middle Ages, when it was customary to leave the food all through the Christmas period so poor people and vagrants could feed themselves. A julbord normally has lots of courses, in a buffet style. The number varies, but five courses are a common style of Julbord which is pickled herring, fish course, cold meats, a hot course, and desserts.