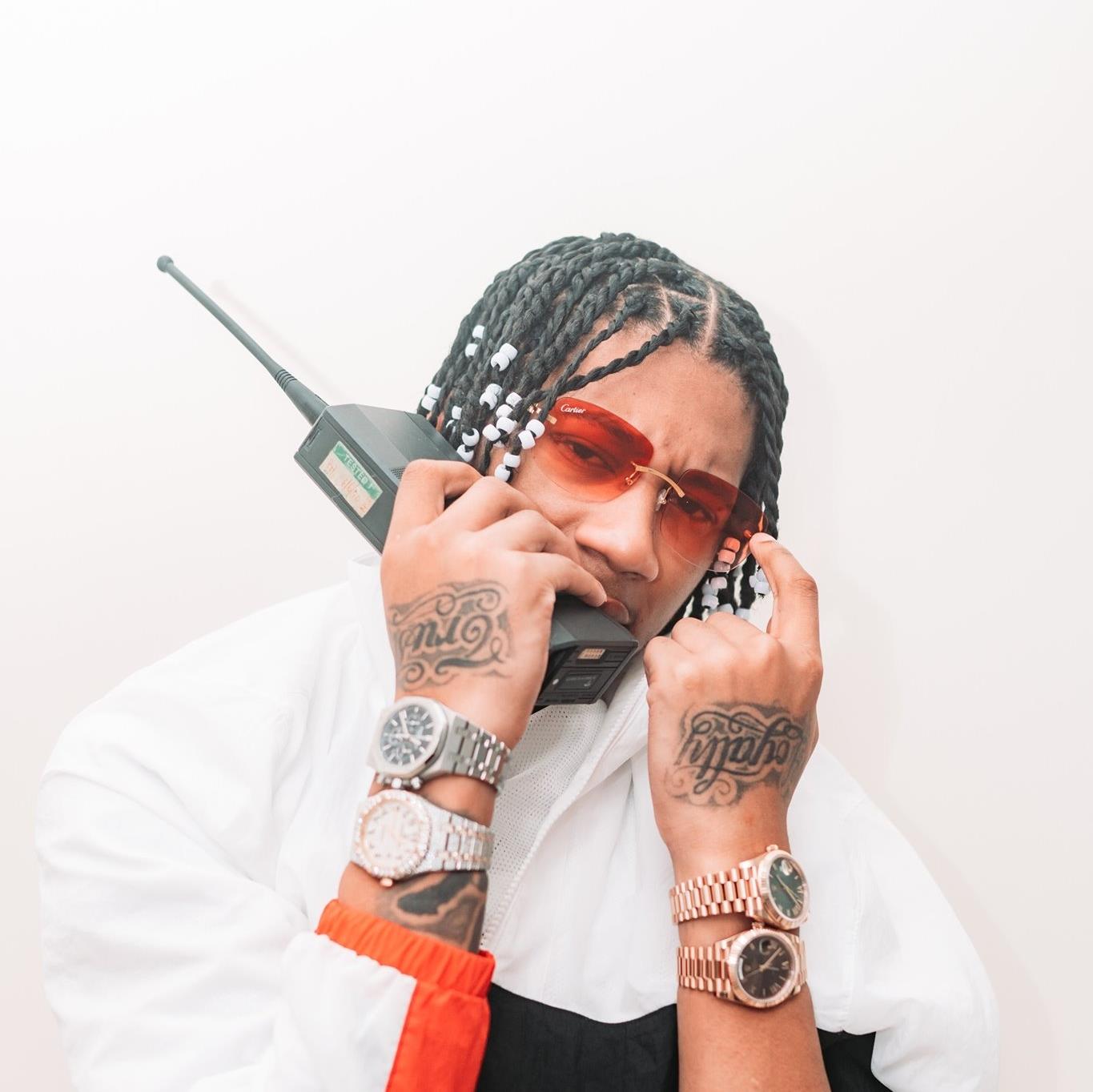 Music Critic Dylan Ferner-Rose explains new album from Digga D, Made In The Pyrex, shows signs of potential even if the rapper is not quite there yet
Digga D's Made In The Pyrex is not an album for the faint hearted. The 34 minutes of music on the project are an expression of a life lived through a lens of relentless violence. That said, Digga's excellent word play and well chosen beats means that Made In The Pyrex stands as an accomplished album in its own right, and will surely end up being one of the drill genre's definitive works, at least in 2021.
Brutal violence is clearly a key theme in Digga D's lyrical catalogue. On 'My Brucky' the rapper states, 'I buss my gun, don't act like you never knew, then I bath down to get rid of the residue,' and this lyric is a typical instance where the imagery of violence is used to create a vivid and colourful lyrical turn on the album. It is also an example of the perceived glorifying of violence that has bought the rapper his fair share of controversy. 
On 'Gun Man Sound,' Digga exclaims 'this one's for the gun mandem y'get me,' which in my eyes almost satirises clichéd DJ shout outs such as 'this ones for my lovers/party people etc.' Sonically the track is intriguing. The beat, incorporating a deliciously anachronistic violin sample alongside the genre's typically aggressive hi hat percussion and 808s, creates a moment of high, almost cinematic drama, a characteristic further displayed by lyrics such as, 'man hop out the Bentayga and point the laser left side of his chest,' a combination of words that could have come straight out of the screenplay to a Hollywood thriller.   
Digga D is clearly conflicted about the relationship between his rise to fame and his past. Going back to 'My Brucky,' Digga raps 'your favourite rapper caps,' and on 'Bluuwuu' he reflects, 'why you think I'm not liked in this industry? Cah I'm in the streets with the shooters.' These lyrics show Digga's constant reminders of real life experiences as indeed much of the lore surrounding the rapper comes from his trips to prison, a time that spawned many viral clips and memes from behind bars. But the true explosion of fame garnered by Digga D comes from a series of explosive singles, two of which stand as Made In The Pyrex's creative pinnacle. 
'Chingy (it's Whatever)', is one of Digga's most viral hits, and it contains all the ingredients of a drill banger. The instrumental begins with ultra high pitched, distorted string samples, which usher in the brilliantly ominous rattle of the track's percussion. By 30 seconds in, the anticipation of the track's thumping 808s reach fever pitch, and the beat drop is a sonic explosion which would make any good festival crowd collapse into mosh pits – a promising sign for an artist whose rise to popularity has been hindered by COVID restrictions.   
Digga's word play on 'Chingy' is some of the strongest on the album. The lyrics 'White tent wanna lock off that estate, I bet if corn get flung that's red tape,' effortlessly incite the image of a crime scene, with the personification of a white tent smartly playing on the oft sensationalised symbols of violent crime. 'I chinged my man on House Block 4, turned that wing to a Hotspur, no Tottenham but it came from a farm, same size as my arm, it's a Mossberg,' employs a fiendish rhyme scheme to paint a vivid picture of a prison stabbing before ominously describing a 'Mossberg' brand shotgun as being 'arm sized.'
'Woi' is Digga D's most viral song and has an almost perversely comical and light-hearted touch to it. Digga casually throws out zany ad libs in a goofy and childish voice such as: 'hoody-hoo,' and 'woi woi woi woi woi.' A wonderfully immature Family Guy inspired punchline, 'stuck in the dock Hickory Dickory, f**k 'nuff gyal like Quagmire LOL giggity giggity,' continues to blend school boy humour with ultra-violent lyrical content in a way only Digga D is capable of. 
Digga D may be at his best on the album when he is collaborating with grime sensation AJ Tracey. Their track 'Bringing It Back' is a force of nature, and the chemistry between the artists gives Digga some much needed focus that really gets the most out of his talent. The flows of the artists on the song are superb and infectious, and maybe they know this, with the chorus being: 'this the old flow, we bringing it back.' The lyrical highlights on the track include AJ's razor sharp line, 'I locked up the food like Boris, then I let it go like Rashford,' a fantastically British reference to the free school meal scandal that transcends the cultural limitations of the drill genre. Another highlight from AJ is, 'I bought my winger back home like Spurs,' a smart play on the word 'winger' which means both a prison resident and a football position. Digga D references his collab on the track with the lyric, 'me and AJ two APs, facts, more than a hundred racks,' an allusion to the rapper's time pieces amounting to over £100,000 between them. It is genuinely a breath of fresh air to see Digga showing some positivity to an artistic peer, and a much needed tonal change from the album's claustrophobic paranoia when it comes to rivals in music and elsewhere. 
One of the main issues with Made In The Pyrex is the fact that Digga D almost entirely choses style over substance. There are only one or two moments on the album where Digga D lets us through the looking glass into his mental matrix. On his track with a telling title, 'Trust Issues (I'm joking I trust my Mum),' Digga delivers the tragic line, 'if I shoot then boot, everybody garn call me the bad guy, I got PTSD from when I got chinged man look at my bad eye,' an allusion to a horrific prison stabbing Digga underwent in his time in prison. By mentioning his 'PTSD' we see a different side to the rapper: a presentation of a flawed human being who is a victim of the brutal environment that raised him.
On album closer 'Toxic,' which is largely a demeaning and objectifying account of Digga's sexual conquests, the rapper says, 'the second I got recalled all of these gyals were gone,' this referencing the rapper's experience of female interest dissipating with his various recalls to jail. On this track, the lyrical content is derogatory towards women, making it tough to sympathise with Digga, but in this line there is something sad about his feeling of abandonment at a moment of need. On 'Trust Issues,' Digga reflects 'why would I trust a friend? I don't even trust myself',' implying that his trust for those around him has been eroded and replaced with constant paranoia. Beyond the rapper's surface we finally see the tiniest hint of vulnerability. 
Half an hour of Digga D may seem excessive. The mix of his lyrical content with relentless and thumping drill beats makes the album an intense  experience. That said, 'Chingy,' 'Woi' and 'Bringing It Back' are hits for a reason, and it is undeniable that at his best, Digga D is a brilliant wordsmith with a catchy and arresting style and flow. Drill fans have hauled Digga D into the mainstream at a young age. His explosive confidence and aesthetic means he will not be ignored anytime soon, leaving him with plenty of potential to be developed. Whether Digga can use his clear talent and vibrant character to mature into an artist of true substance is up to him. He is not quite there yet.
Rating: 6/10
Made In The Pyrex is available now via CGM Records
---
You Might Also Like
A Beginner's Guide to: JPEGMAFIA
Album Review: Slowthai – TYRON