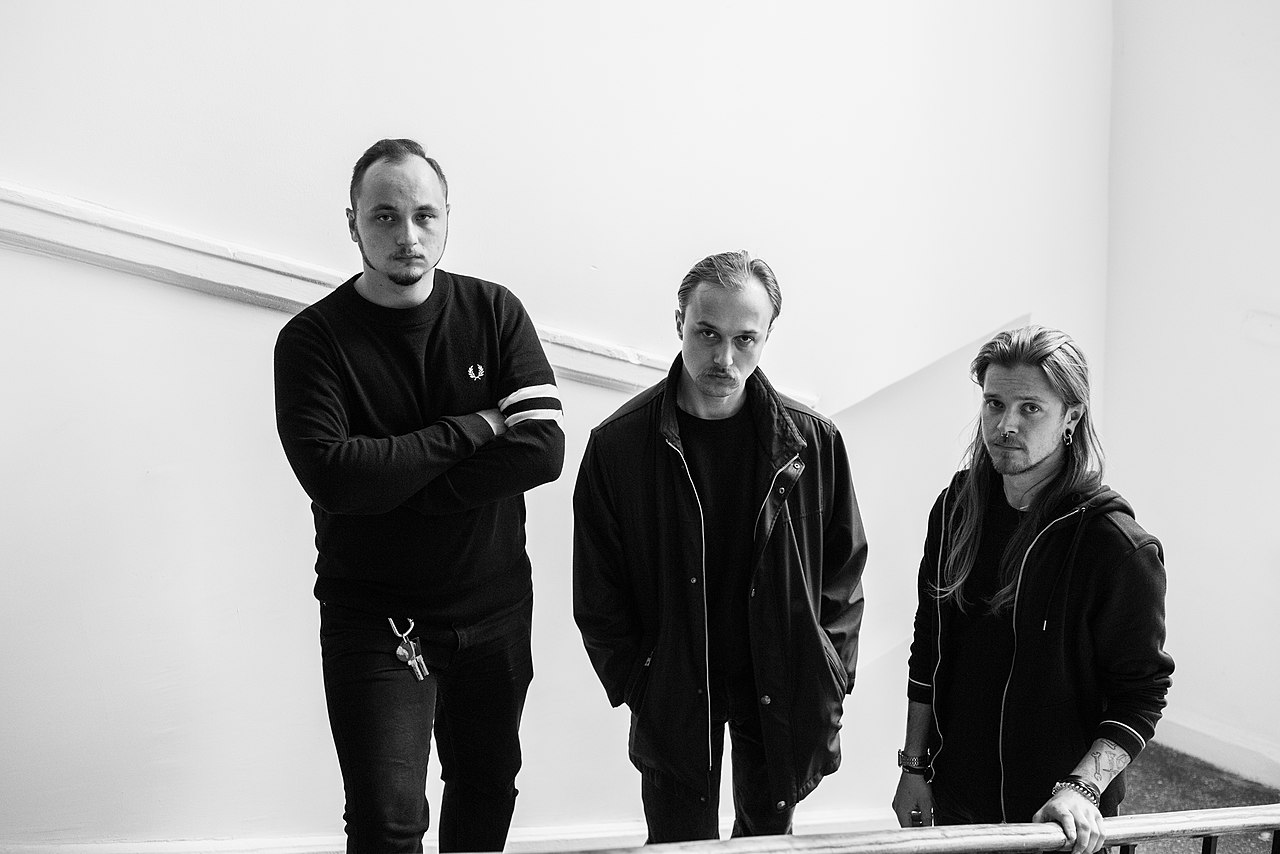 Belarusian outfit Molchat Doma, who have been compared to Joy Division and The Smiths, are back with a new record which largely lives up to expectations but falls short of something special Music Critic Benjamin Forsdick writes
– All song names used are English translations of the original Russian titles –
One of the perks of living in a technologically driven age is the global distribution of music that would otherwise have gained nothing more than a local following in pre-internet times. Before mass mediation, the idea that a group like Belarus' Molchat Doma could earn an international following would be unthinkable. It is a testament to both the band themselves and the dedication of music nerds worldwide that this review even exists.
Molchat Doma only formed three years ago, yet Monument is their third studio record. In 2018, the trio gained the most unlikely of cult followings as a result of their sophomore release Etazhi, which translates to 'Floors' in English. It was this record that saw the group sign to Sacred Bones Records earlier this year, resulting in the release of the album to American audiences for the first time. This prompted a dedicated cult following of fans who saw potential in a group that were every bit as dedicated to their own musical development as they were to the influences that guided them. Molchat Doma's sound draws from two musical scenes. The first is the post-punk scene that dominated the UK underground in the early 1980s. Had this group existed then, Factory Records may well have approached them. Many have drawn comparisons between Molchat Doma and The Cure, Joy Division and New Order; frontman Egor Shkutko sounding especially like Ian Curtis on many of their recordings. However, there is influence closer to home for the trio, with Soviet bands like Kino, who majorly dictated the sound of Russian music in the 1980s, being a clear inspiration. Therefore, the variety of influence ensures that Molchat Doma have never sounded like dead ringers for any of the groups that inspired their aesthetic.
In many ways, Monument is a difficult record for Molchat Doma. This is the first time that the band have something to prove. Was Etazhi merely a quirk of internet culture, or have we found a genuinely brilliant post-punk band for the 21st century? The good news for fans of Etazhi is that Monument will likely push all the same buttons, mostly because it sounds very similar to that sophomore release. This is not surprising given that Monument was recorded in Quarantine, with a Belarusian political climate that continues to bring uncertainly among the countries population. Molchat Doma's cold wave aesthetic is fitting enough for the times that to stray from this path would be needless. Resultantly, this is not the most adventurous of records and mostly functions as an extension of Etazhi. If anything, the instrumentals are more one dimensional this time round. Having said this, the majority of the production and songwriting on Monument is infused with the same paradoxical coldness and sweetness that have given Molchat Doma their deserved following over the past few years.
Firstly, Egor Shkutko vocals remain passionately visceral throughout. The opening track perfectly exemplifies his growling baritone that juxtaposes the melodic and sticky synth lines that have become a staple of Molchat Doma's sound. Conversely, 'Leningrad Blues' is one of a few moments when Shkutko reaches high within his vocal range to deliver a more passionate vocal. As usual, it is very Ian Curtis and very Robert Smith, but Egor should be given credit for taking his influences and developing his own particular style of delivery. The track 'Not Funny' is where the vocals most resemble these British influences but Shkutko still sounds like himself.  While he is undoubtedly indebted to these aforementioned vocalists, there is personality within his performances.
Likewise, while the production on this record is filtered through a nostalgic lens, there are some interesting decisions and instrumentals on Monument. 'Disco' is a surprisingly densely packed instrumental for the band, with tumbling synth arpeggios placed against polyrhythmic percussion that creates a simultaneously danceable yet disorienting flow to the song. This is highly appropriate for the lyrics, which encourage dancing and the joy of movement; not for joy's sake, but rather because the suspicion held is that this kind of entertainment will be seldom possible in the future (sound familiar Covid?).
It is worth mentioning that the lyrics on this record are obviously in Russian, meaning a deep dive into the themes this album has to offer will require a translation for many listeners. However, knowledge of these lyrics is worthwhile for a true understanding of the bittersweet aesthetic of this record. The downtrodden themes are subtle and rarely overbearing. The track 'Doomed' is a good example of this deeply unsettling style of lyricism, with Shkutko detailing the lack of compassion he has for the world. This is the most like The Smiths the band have ever sounded.
Sadly, while there are many admirable qualities to this record, it is rough around the edges and instrumentally lacks some of the depth that Etazhi displayed. The minimalist approach means that even for a relatively short record, the last third drags. This is especially sad given the thick bass patterns that dominate the final track. Upon a full listening, they fail to cut through the mix in the way they ought to, simply due to the fatigue one gets from the eight tracks that precede it. 'Doomed' is structured around a staccato riff that comes across as overly rigid and sounds slightly uncomfortable for Shkutko to sing over. However, where the instrumentation does not land is usually because it is just bland. 'Stars' was a peculiar single for the band to choose when promoting this album because it is the most flavourless moment that the record has to offer. There is nothing overtly offensive about any of these weaker moments, but it does come across as though Molchat Doma had not quite enough material for a full-length release.
Given the situation around which this record was made and the pressure that accompanied its release, Molchat Doma have achieved a lot with Monument. It features a majority of the characteristics that made their sophomore release so popular. Perhaps it is simply a case that something more abstract is missing from this record. Whether that is a sense of musical adventure, a consistency or something else is difficult to know; but Molchat Doma remain relevant, even if Monument is a slight step down from their previous releases.
Rating:7/10
Monument is out now via Sacred Bones Records
_________________________________________________________________    You Might Also Like: