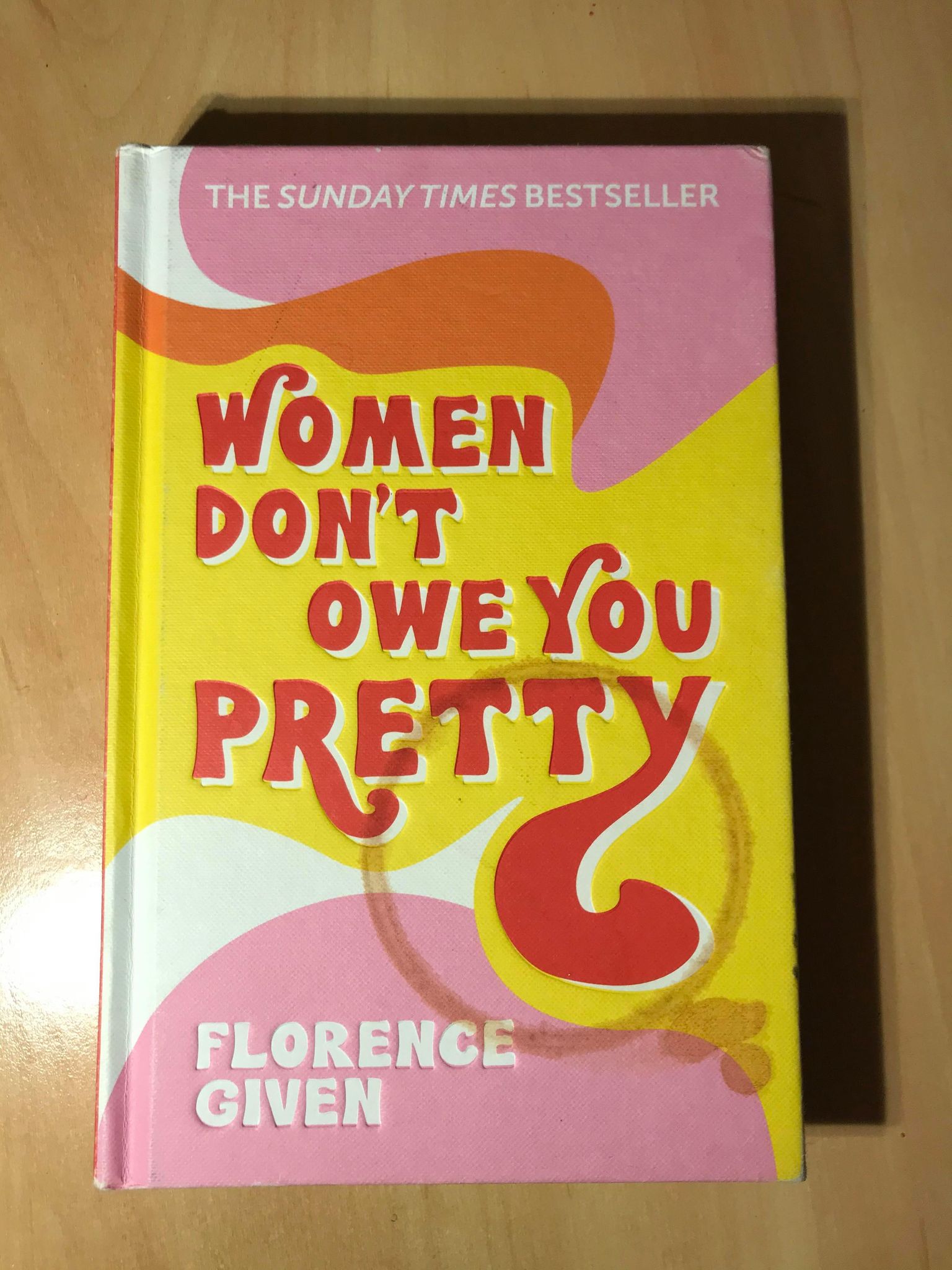 Culture writer Daisy Evison praises the book Women Don't Owe You Pretty as much more than the usual self-help narrative, that instead encourages readers to ask themselves searching and at times uncomfortable questions
'Choosing yourself will always disappoint some people. The sooner we accept this and make peace with it, the better.' If you're looking for a book that will challenge the out-dated norms of the patriarchy, heteronormativity, and body image, then Florence Given's Women Don't Owe You Pretty is the book for you. Unlike any other book I've read, Given will take you on a journey of self-reflection; demonstrating the importance of privilege and oppression, the need for boundaries, and the simple art of 'breaking up with yourself.'
What I love about this book is that not only did it cover issues such as feminism, but also body image, social media, privilege, toxic friendships (and relationships), homophobia and racism. The phrase, 'don't judge a book by its cover' has never been more true for Given's self-reflective debut work. A perfectly radical guide for this generation, Given proves that injustices are prevalent within all corners of society, and she is unapologetic in her description of them. Given also encourages the reader to consider their own flaws; how we contribute to these injustices and patriarchal forms of control. She asks, 'Do we judge others in an attempt to feel in control of our own insecurities?' Here, Given reminds the reader how much we assume of people, of their gender, ethnicity, abilities, and background. What I found myself taking away from this book was the ability to ask uncomfortable questions about myself: am I biased in my perception of beauty, have I ever shamed someone for being fat, do I stare at disabled people, do I treat black people differently to my white counterparts? Though these questions are undoubtedly difficult to ask, they remind us that judgement and hate start from within, which feeds into our subconscious biases and micro-aggressions.
However, Given brilliantly reminds the reader, 'Feeling guilty for past mistakes…does nothing for you or the people you harmed, unless you use it to change your behaviour.' Her book encourages us to confront our biases, to learn from them and change. She also explains to the reader that our micro-aggressions depend on the narratives we absorb through the media, which bombards us with hetrifying (heterosexual norms) love stories, and overwhelmingly features white, cisgender, able-bodied people. Given emphasises how mainstream media is dominated by straight white men, who project their conventional opinions of social norms onto us. Despite this, Given encourages the reader to use the power of social media to their advantage and break out from consuming traditional stereotypes. 'Take action now', she says, 'Read books by Black folks. Follow fat, disabled and trans people on Instagram.' This is one of the fundamental lessons I learnt from reading Given's book; how diversifying what we consume can reshape our ideas of culture, prejudice and norms. 'Change the narrative', she says, 'the power lies in your hands.'
For her debut, Given makes an outstanding impact through her writing, displaying her talent not only through her relatable lessons on self-love, but also through her striking illustrations of women which feature frequently in the text. Given previously attended Plymouth College of Art, then later studied at the London College of Fashion in 2017, enhancing her work as an artist. She gradually used social media platforms, such as Instagram, to raise awareness of sexuality, race and gender issues. Since then, Given has won Cosmopolitan's UK Influencer of the Year 2019 for her work on women's mental health.
Despite her far-reaching campaign, much is needed in the climate of intense social media and trolling, and there are a few drawbacks to Given's book. Although it resonated deeply with my own experiences, I found the text itself primarily difficult to connect with, given its immediate cringe writing style. Additionally, although Given highlights numerous injustices faced by black and disabled women, the text remains largely overshadowed by her experiences as a cisgender, white woman. The book's positioning towards a particular demographic may give it a niche appeal; failing to satisfy an intersectional audience, due to its lack of emphasis on the difficulties faced by more marginalised women.
Ultimately, however, there is no denying that Given still explores a wide range of societal, intersectional issues in the book, which she draws on from the knowledge that she is a slim, white, woman, repeatedly highlighting her privilege in the process. Her emphasis on the necessity to acknowledge the varying levels of freedoms within society, and the impact of desirability privileges, personally compelled me to think about my own 'pretty privilege' in a way I had never considered before.
Overall, I found the text presented an enlightening take on feminism, yet it still covered a vast range of other taboo subjects, making it so much more than a typical self-help book. I also think that Given's writing pushes the boundaries of a quintessential feminist memoir, ultimately pushing the conversation of prejudice forward, not just for women, but for everyone. Upon finishing the book, I found that Given's relatable, brutally honest work left me with an enlightened perspective of my own internal judgements, igniting an urge in myself to be more thoughtful and considerate in future. As Given points out, 'Temporary discomfort is an investment in your future self. Accept a small and uncomfortable transition now, for a lifetime of growth and self-development.'
---
Read more book reviews from Redbrick Culture:
The Ardent and Striking Life of Gertrude Stein
Book Wormhole: The Shining by Stephen King