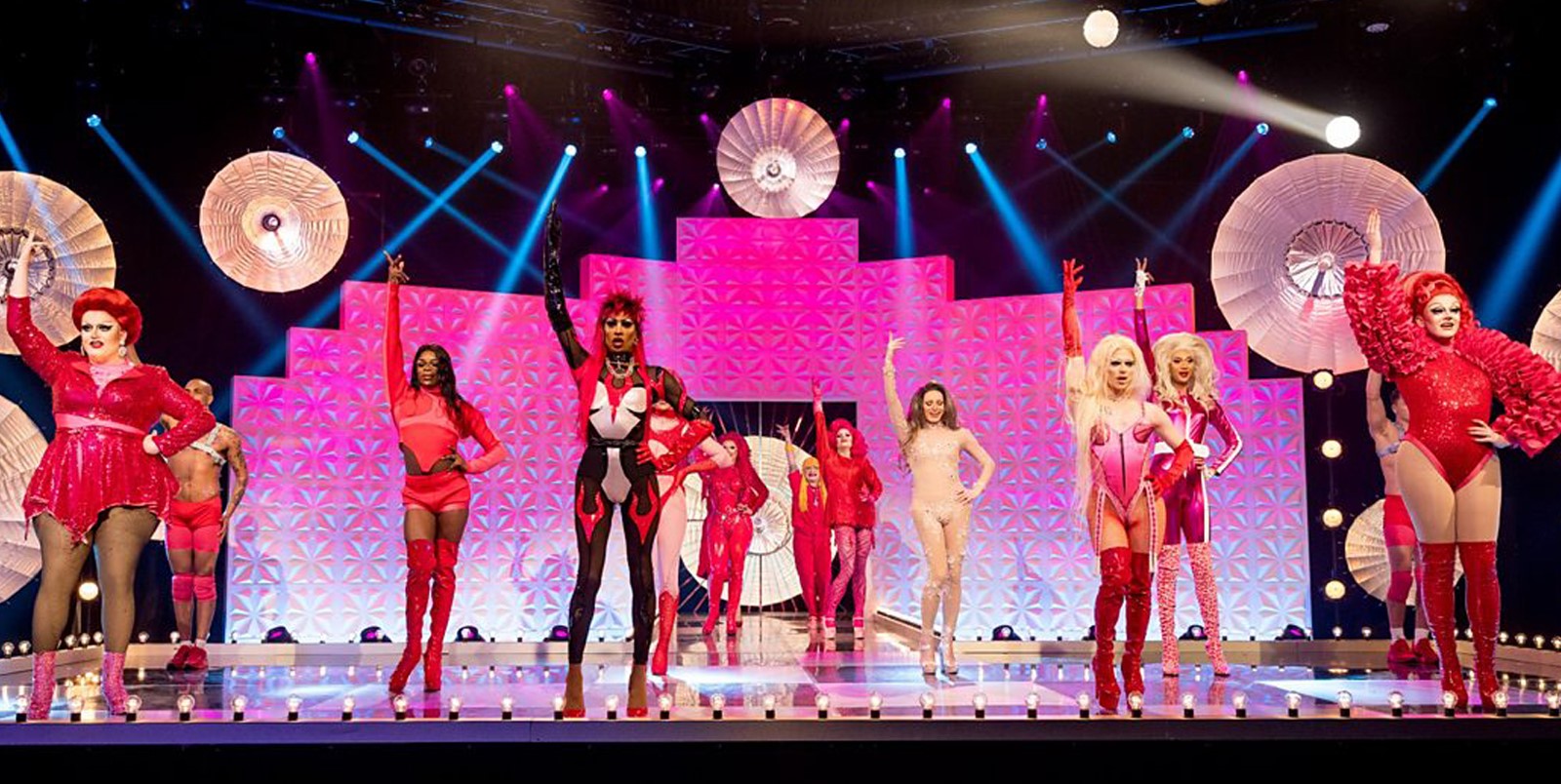 Life&Style writer Emily Burnett walks us through her top ten looks from the most recent series of Ru Paul's Drag Race UK
In what has arguably been one of the strongest seasons in Drag Race herstory, our 12 British Queens have served so many iconic looks on the runway. Here is a countdown showcasing some of the best:
Category is… Finale Extravaganza Eleganza. Joe Black may have been eliminated early on (twice), but that did not stop them serving this iconic red ensemble when they returned for the finale. On their Instagram, they revealed that they found the ship headpiece and ruff at a flea market in Brighton: 'I bought this before the season 1 cast had been announced. I didn't think I'd get on season 2, but was going to keep this headpiece and not show it to anyone until I got on that final runway'.
Category is… A Day at the Seaside. This runway may have caused some tension when Sister Sister came out with a similar look, but this is one outfit that really showcases A'Whora's design talents. They designed and created the look themselves (with the help of their mum), using foam, printing and latex.
Category is… Monster Mash-up. Inspired by The Bride of Frankenstein, Texas Chainsaw Massacre, and Sweeney Todd, this runway look by the season 2 winner was one of their best looks of the season. My favourite part of this look is the latex face, which was modelled on Lawrence's own face.
Another Monster Mash-up runway, this time from Veronica Green. I thought this look was so creative- they even made the dress and headpiece themselves, and utilised prosthetics to really take their monster to the next level. Unfortunately this was Veronica's last runway, as they tested positive for COVID-19 before production was resumed after lockdown, but I'm sure they'll serve some equally iconic looks if they accept Ru's invitation to return for season 3.
Category is… Queen of your Hometown. Ellie Diamond is from Dundee, the birthplace Beano, so they chose to channel Dennis the Menace on their first runway. Ellie created the entire outfit themselves, and their creativity from the beginning is what carried them all the way to the final.
Category is… Stoned on the Runway. This androgynous look was equally as disgusting as it was beautiful, but such a creative interpretation of the runway brief. This ensemble was designed with the help of their creative partner Ella Lynch, using red gemstones to turn acne into fashion.
Joe Black got the chance to come back and do one more runway after replacing Veronica Green in the competition after lockdown- and they didn't disappoint. Joe Black came back with this iconic windswept look, which they described on their Instagram as a ' love letter to British seaside towns and in particular, Brighton.'
Category is… Finale Extravaganza Eleganza. In their final runway of the season, Bimini channelled Bridal couture, which is a nod to the fact that couture shows tend to end with a bridal look. Bimini worked with her creative partner Ella Lynch on this look, and although thye didn't end up winning, this was my favourite look from the final.
Category is… Lockdown Super She-roes. The challenge for this week was to create an outfit out of unconventional materials. A'Whora rose to the challenge, and using her fashion training created this iconic look out of plastic, choosing blue to pay homage to the NHS. What is most impressive is that this runway look was put together in just a couple of days.
Category is… Pre-herstoric. This is my favourite look of the season because I loved Bimini's unique interpretation of this category- whilst the other queens chose to hit the runway with cavewoman looks, Bimini came as a bacteria. 'Bimini Bon Bacteria' was created by the London-based designer Rickielee Drayford.
Liked this article? We think you'll enjoy these:
Drag Race UK and Non-Binary Representation: a Step in the Right Direction
2021 Golden Globes: Our Top 5 Best Dressed
Plus-Size Actors and the Need for Representation Beyond Type-Casting