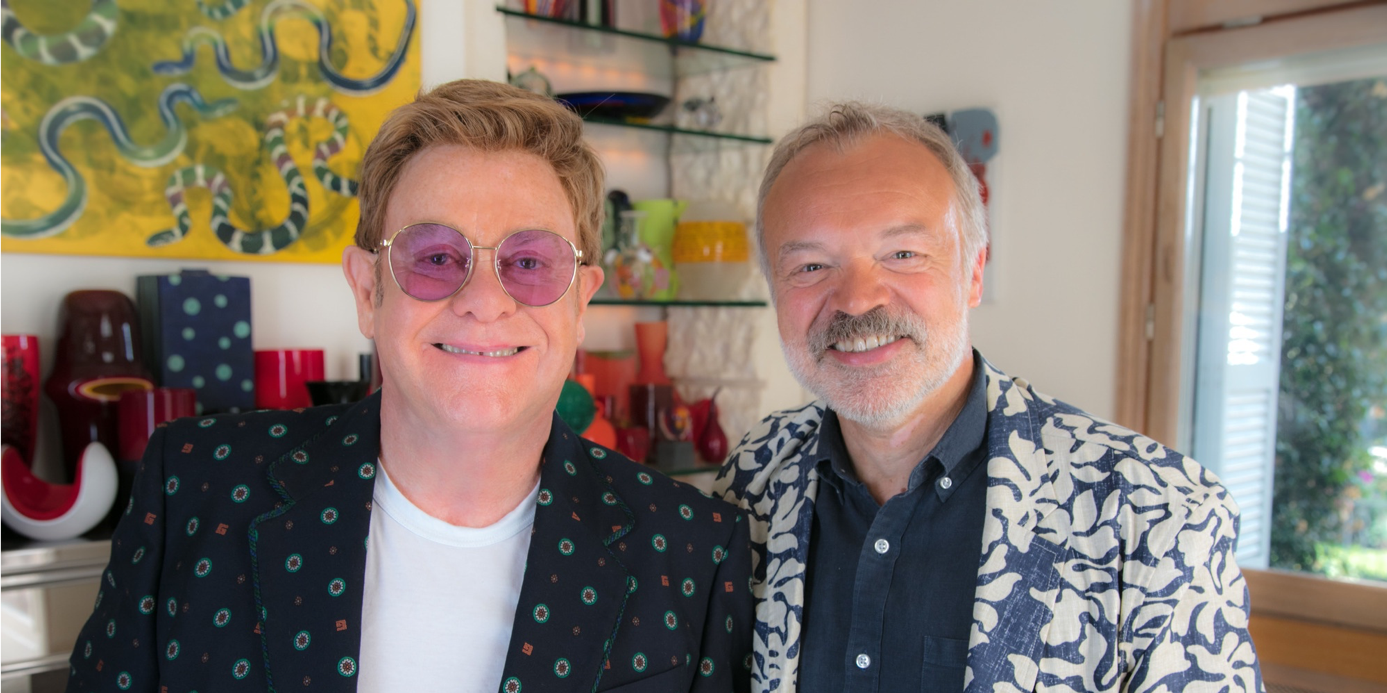 Travel Editor Katie Norris argues that, while the show offers an uncensored insight to Elton John, Graham Norton's interview style leaves something to be desired
'If only they knew at that moment, I was pissing myself,' Elton John says, musing to Graham Norton whether his audience would've been screaming as much had they known he was wearing a nappy. This anecdote, from Elton John: Uncensored is bittersweet, with Elton revealing his struggle with prostate cancer, while also in excruciating pain due to fluid build-up in his colon.
He giggles, 'there are very few bits of me left,' having had his tonsils and appendix removed as well. This interview also openly discusses the other periods of change in Elton's life, such as sobriety and starting a family. Elton John has been looking back quite a bit recently, having completed the first third of his farewell tour, and having released a book and a film on his life. 
Elton John: Uncensored fits in amongst this process, discussing the topics within his official memoir Me that Elton describes as 'cathartic, like an enema' to write about. We join Norton and Elton in the sunny setting of Nice, and this hour-long interview was the first which I've seen where the interviewer and interviewee were both out-dressing each other.
Graham Norton arrives in an open-top Rolls Royce in a flowery patterned suit, greeted by Elton John in another patterned suit accompanied by his iconic oversized glasses. It was refreshing to watch the dynamic between Norton's usual overly flattering interview technique and Elton John cutting through this with an honest satirical perspective on his life, making me warm to him. I have only really known Elton John for his flamboyant outfits and his appearance on The Muppets to perform 'Crocodile Rock,' but the interview was interspersed with clips in which Graham Norton lists off key events in each decade of John's career. Clips of old performances accompanied by Elton's anecdotal humour makes for nostalgic viewing pleasure.
The title Uncensored rings true, at least with the sex, drugs, and rock'n'roll. Elton describes how he didn't need to come out at the height of his career as his flamboyant choice in outfits, and public relationship with John Reid made it 'obvious.' However, Elton also discusses his more recent difficulties with homophobia when explaining the difficulty of being turned away from adopting a child from Ukraine because Ukraine doesn't recognise gay unions as marriage a requirement for their adoption.
Through providing a retrospective look at Elton's music career and personal life, the difference between the Elton in the clips and the interview is interesting – Elton frankly stating 'originally I was going to die on stage' but that describing that his life revolves more around his family now. 
Although the title is true in some respects, in parts Norton's interview technique leaves much to be desired, raising more questions than it answers. He thwarts Elton's chance to describe coming out to his mum, whom he had a tumultuous relationship with, in favour of discussing the inspiration behind his stage outfits – a discussion that falls shallow due to this. This happens again with Elton's revelation of his experience with prostate cancer, as we solely learn that he had to learn to walk again whilst doing 90 shows that year, this lacking any real reflection. Elton John: Uncensored is more of a whistle-stop tour of facts and various name-dropping anecdotes that convey stardom, glossing over the darker details that come hand in hand with fame.
Will the Rocketman ever fully slow down? One thing that this interview gets right, is that although Elton has 'few bits of me left' he continues to have the talent and drive of young Elton. He is currently working on a The Devil Wears Prada musical, and we can only hope that his farewell tour never ends.
Rating = 3/5