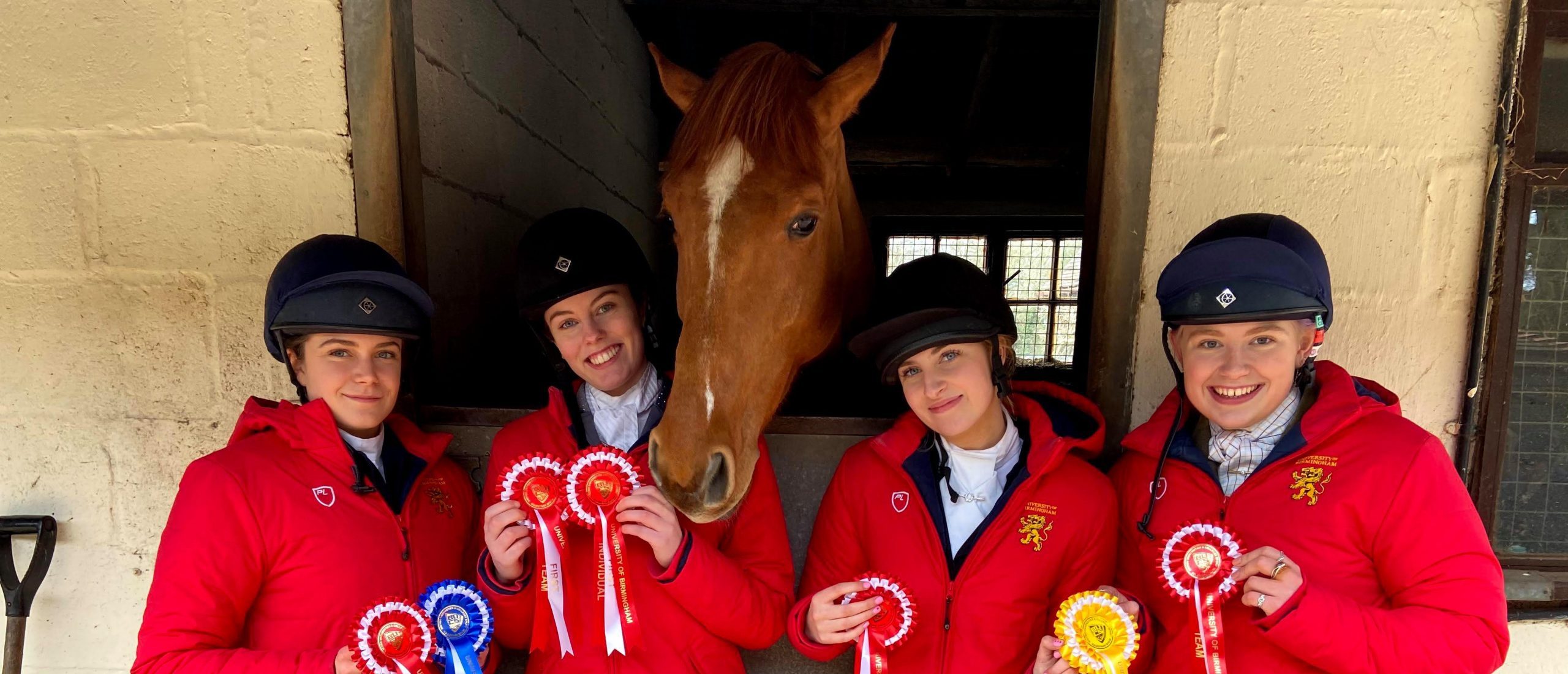 Sport editor Kit Shepard speaks to UoB Equestrian President Ellie Vallance after the club encountered several negative Facebook posts on Brumfess
Brumfess, the University of Birmingham (UoB) anonymous confession page, is the perfect place to spread rumours. It offers students faceless fame on Facebook by posting humourous, controversial, or divisive statements that nobody can be held accountable for.
A rumour is not necessarily a lie. It is merely a piece of information that cannot be verified. However, with anonymity, rumours can create twisted narratives which can have serious ramifications for those at the heart of the gossip.
This is the downside of Brumfess. For as much entertainment as it provides, it has the capacity to turn nasty.
Just ask UoB's Equestrian club. As they began what promises to be an academic year full of hurdles, they were the subject of a series of negative Brumfess posts.
Old wounds reopened when the committee was attacked and the weight limit imposed by the club criticised, leading to stigma so great that potential new members are opting not to join the team.
As is typical of rumours, they generated more questions than answers. What instigated these negative comments? How much truth is there to them? Where are they coming from?
Speaking to Redbrick, UoB Equestrian President Ellie Vallance gave her side of the story, defending her club's leadership and offering some answers.
'Criticism behind your back'
It all began on 19th September, when a Brumfess post claimed that 'we heard some members of the committee criticising other people's riding pretty harshly during the taster sessions.'
The following day, another post stated that committee members allegedly give 'criticism about ridng [sic] behind your back.'
For Vallance, these comments 'upset me, because I care,' especially as 'when you've taken over running a club it's hard to see.
'I've worked so hard this summer and the rest of my wonderful committee have as well, to make the club inclusive and welcoming.'
Vallance believes that the committee has encouraged members to 'talk to us about anything', and that 'no one's ever mentioned that they've got an issue with the club.'
Nevertheless, at least one person does have a problem with the team significant enough to warrant an anonymous attack on UoB's favourite Facebook page.
Vallance quickly responded to these initial posts, explaining that while discussion of ability is private and never nasty, it is necessary to protect both riders and horses.
'Horses weigh about half a ton, they have a mind of their own, and have killed people,' Vallance says with a smile. She is aware of her own hyperbole, but her point still stands.
'I don't want anyone to get hurt, I don't want anyone to fall off, I don't want anyone's confidence to be knocked.
'If we see someone riding and think they shouldn't be riding a horse that's that advanced, we've got to say something there and then.
'If we see something that's dangerous, as committee members, and as general club members, we've all got a duty of care to watch for things like that.'
The importance of safety may be overlooked by those unfamiliar with the sport, but Vallance is adamant that the measures have been made clear on multiple occasions.
'With the new members, we give them so much information before they start,' insists Vallance, who has used Instagram live, Zoom calls, and copious amounts of emails to communicate.
However, there are only so many times beginners can be reminded not to run around the yard, make loud noises, or walk behind the horses. As the club's Development Officer last year, Vallance is very aware that safety requires co-operation from members.
'People have a tendency to not listen when we're trying to tell them things for their own safety.
'You hope that people are old enough to have some personal responsibility for how they conduct themselves in that environment; it's not as if we're dealing with seven-year-children.
'You've got to picture it at their [the members'] level, so you expect people to have some autonomous responsibility.'
'One of the worst experiences I've ever had'
If discussion of ability is both good-natured and unavoidable, and if the committee communicates protocol clearly, then what triggered the slew of Brumfess posts? Unfortunately for Vallance, the questionable leadership of UoB Equestrian in recent years has left this year's committee dealing with the consequences.
Referencing a post that claimed Equestrian was 'one of the worst experiences I've ever had,' Vallance recalls her first year at university, when the club 'could come across as a little bit cliquey.'
Vallance is quick to point out that the committee members that year 'were all lovely people' and that 'they didn't do anything particularly wrong.' After all, this experience did not stop her running for committee herself.
Nevertheless, she 'can see how someone who was maybe a bit more shy [and] maybe someone who isn't the most confident when meeting new people may have been put off by that.'
These memories have made Vallance especially keen to promote inclusivity and unity within the club, an objective epitomized by her efforts to give general safety information to new members across multiple digital platforms.
'Last year, we tried really hard to make it a bit more friendly, and a bit more welcoming, and then this year, we think we've gone another step again.'
Citing how tricky it can be to perform in a timed trial on a new horse, Vallance says: 'I've tried to give people a lot of information, because I know that when I was in first year that's what I would have wanted.
'It's quite unfair that we're getting judged by the standards of previous years.'
'My self-esteem and confidence have just been shattered into the floor'
Almost a week after the first negative comment was posted, it appeared the Brumfess attacks on Equestrian had subsided.
However, a new issue quickly thrust the club back into the Brumfess spotlight, with a post on 25th September saying: 'Gotta love getting an email from the equestrian team and learning that you are officially to [sic] fat to ride the horses or join the sport.' The post has since been deleted.
This rather sarcastic comment is referring to the club's weight limit of 14 stone. This figure is recommended by The British Horse Society (BHS), which the two riding schools used by UoB Equestrian are registered with.
Much like the need for ability to be assessed, a weight limit is necessary for the horses' safety. 'When you're a beginner, you're essentially a dead weight on the horses back,' explains Vallance.
'You don't have the muscles, you don't have the core strength, you don't have the leg strength and the balance to be able to support yourself and ride lightly.'
The only way to avoid imposing a weight limit would be for the club to use a riding school not associated with the BHS. However, moving away from the national body means using horses that may live in unethical conditions, and 'that's not something we're going to compromise on as a club,' insists Vallance.
The weight limit is therefore here to stay, even if it forces the club to have some tricky conversations with members who exceed it. On 26th September, another Brumfess post stated 'my self-esteem and confidence has just been shattered into the floor' by being over the limit. A separate post later that day claimed that 'it [the weight limit] should have been made apparent at the beginning and then I wouldn't be in this position of having my excitment [sic] crushed.'
Once again, Vallance refutes any accusations of poor communication. 'The first email they got from the club, one that wasn't from UB Sport, it had the weight limit included.'
As a psychology student who has received training from Mental Health First Aid England, Vallance understands how a person's self-esteem can be dictated by their body and what the scales say.
'We know it can be really embarrassing and really awkward for everyone involved. That's why we put it [the weight limit] in the very first email.
'We do have to be very tactful. We are aware of that and we know that we have to be very kind to people. People can have eating disorders, people can have health disorders, [and] other disabilities that we don't know about and we're just seeing it on a surface level, so we do have to be very careful.'
With the delicacy of the situation in mind, members who exceed the weight limit are informed in private by the development officer.
'With all the things I've seen in Brumfess I'm a little put off'
Right in the middle of Equestrian's week of Brumfess hell, a post that was not directly critical of the club caught Vallance's attention.
'I was so excited to join riding society this year,' the post stated. 'With all the things I've seen in Brumfess I'm a little put off.'
For all the criticism of her leadership and the way her club operates, this may have been the post that hurt Vallance the most.
'That's just really upsetting, because it's what we really wanted to not happen.' Nobody has yet contacted to Vallance discuss these issues and, despite suspecting that whoever is behind the comments has previous experience with the club, she has 'no idea who is posting.'
Being left in the dark means Vallance can do little to stop Brumfess being used as a platform to create a negative stigma around the club.
'On Brumfess, it's very easy for people to spin false narratives,' Vallance believes. 'You've got to take it with a pinch of salt, when it's anonymous, because it might just be one person that's got something against one of us.
'I don't like to think of it that way, but it's a possibility.'
'So much intrigue about Equestrian now'
Regardless of how much truth is in these rumours, Equestrian now has a controversial reputation. A Brumfess post saying: 'so much intrigue about equestrian now, tell me more,' indicates that the club's image has been damaged by the saga.
Vallance is very aware of this and has created an anonymous Google form for club members to use if they experience any issues. Those who attend club trials will also be allowed to give feedback.
We've just got to make the club a safe space for people, so people know who they can talk to,' says Vallance. 'We are just trying to make the club an exciting and exclusive place for everyone.'
Elsewhere, the club to become more accessible for disabled persons, and has been in contact with Guild Disabled Officer Imogen Mann to explore options.
With these developments, Vallance is hopeful that the anonymous hostility will subside, as the club makes every effort to find a way through the pandemic.
'Ultimately, we're doing our best, in an already rubbish situation.'
---
Like this? Check out more from Redbrick Sport:
Cricket Facing Uncertain Future After Bizarre Summer
Match Report: Birmingham Tigers UoB 3-5 Norton Canes
Devon's Hattrick Hero: The Rise of Ollie Watkins