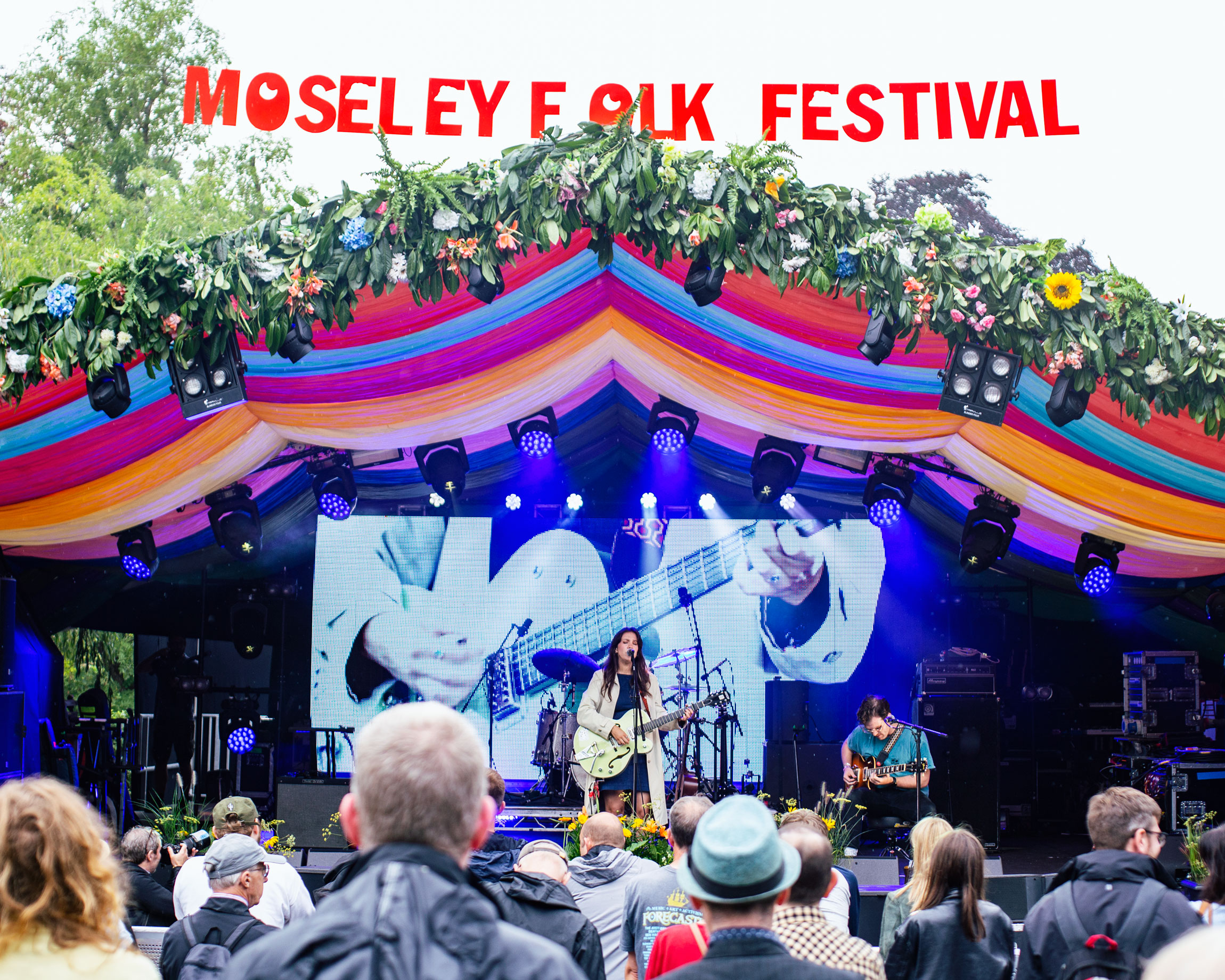 Culture writer Frankie Rhodes reviews her joyous experience of alternative music and spell-binding acrobatics at Moseley Folk & Arts Festival 2022
With three days of stunning folk acts, speakers and cultural performances, all set in an idyllic park, Moseley Folk & Arts Festival is a truly unique event. I attended on Sunday this year, and from sunny bands warming up the crowds at 11:30, to a sunset serenade, the day was joyous (even with a few passing showers). 
There are three main stages for the festival, constantly alternating so that music is perpetually playing – and that's before you count the regular speakers in the Arts tent, and crafty activities taking place across the park. This year, the Main Stage and Kitchen Garden Stage retained their titles, but the former 'Lunar Stage' was renamed the 'Janice Long Stage', in honour of the wonderful broadcaster and Moseley-enthusiast who sadly passed away last year. 
I started the day over at the Kitchen Garden Stage, affectionately termed 'Folk on the Slope', with the intimate stage flanked by the calm waters of the Moseley Pool. This spot is named after a well-loved music venue in Kings Heath, where rising folk stars are often discovered, and the first band of the day, Thorpe and Morrison, were one such example. Armed with a guitar and violin, the two performers offered airy instrumental pieces. Michelle Hollaway from The Bonfire Radicals, a band set to perform later, was invited on stage to add vocals and impressive recorder trills, making for some toe-tapping tunes.
Next up on the main stage, the easy start to the day was continued with guitarist Yasmin Williams, who brought ingenious playing methods from tiny hammers to a small string set. Her cover of Post Malone's 'Sunflower' was particularly interesting, transforming a rap song into a joyful instrumental number.
The energy picked up later with Oxford band, The People Versus, sporting a cello, electric guitars, keyboard and lead singer Alice Edwards. The combined sound was fantastic, falling somewhere between Fleetwood Mac and Paramore. In the style of the latter, 'Witch' featured hypnotic vocals and a steady beat. 
Soon after, the audience crowded around the Main Stage for genius singer-songwriter Anais Mitchell. Accompanied by an impressive band, this was the final leg of the tour of her new self-titled album. The songs Mitchell shared were simple and pretty, from the evocative 'Brooklyn Bridge' to the calming 'Revenant'. And Mitchell didn't shy away from crowd-pleasers, playing one of her compositions from the hit Broadway musical Hadestown – 'Wedding Song' – which sounded brilliant with her own folky swing.
During all these acts, the arts activities taking place were just as varied and exciting. Over at Folk on the Slope, the Black Country Living Museum were offering drop-in workshops for traditional weaving, making delightful coloured squares. Also in this area, Circus Raj gave spell-binding performances that included acrobatics, sword-swallowing and giant puppets. In the past, Moseley Folk Festival has done a brilliant job of representing traditional Brummie culture (think canals, trades and Peaky Blinders), but not so much our modern multicultural city. This year, performers like Circus Raj made the festival feel more well-rounded, and certainly spectacular.
The afternoon brought more fab folk music, and I headed over to the Kitchen Garden Stage to see North-eastern duo Megson deliver punchy local tunes. After a few covers, their original song 'Generation Rent' featured hilarious lyrics, and a vital message at its heart concerning the cost-of-living-crisis. Nashville singer Diana Jones, was up next, whose heart-felt songs and rich timbre were a huge hit. The artist was nicknamed a 'hillbilly feminist' by a cold English reviewer, but her bold tracks proved her to be very much proud of this title. Her song 'Pony', written about a Native American girl stripped of her culture, was particularly poignant.
There comes a point during any festival where you have to brave the food trucks, but Moseley's cuisine was both reasonably priced, and delicious. My partner went for the Indian-English battered cod and halloumi with masala chips, and I opted for a falafel and halloumi pitta.
As the sun began to set, hoards of festival-goers gathered for the legendary Jethro Tull, whose theatrical vocals and flute-playing echoed around the park. Later, this was offset by the transcendental Alisdair Roberts, offering traditional folk ditties. With eyes closed and guitar poised, Roberts offered a magical set, including the gorgeous track 'The Fair Flower of Northumberland'.
To finish the evening, crowds flocked to the final set from folk-rock band, The Coral. The group's versatility was clear, from the darkly dramatic 'I Remember When', to the bright and sunny 'Lover Undiscovered'. It was great to hear classic tracks like 'In the Morning', as the night drew to a close.
With even more variety and vibrancy, Moseley Folk & Arts Festival remains a stand-out event, coming this year at the end of a fabulous summer of music and sporting entertainment in the city. The newest t-shirt in the merch stand proudly stated that 'All Music is Folk Music,' and now after my second year attending the festival, I would have to agree. 
---
Enjoy this? Read more from Redbrick Culture here!
Preview: Moseley Folk and Arts Festival
Exhibition Review: Raphael at the National Gallery