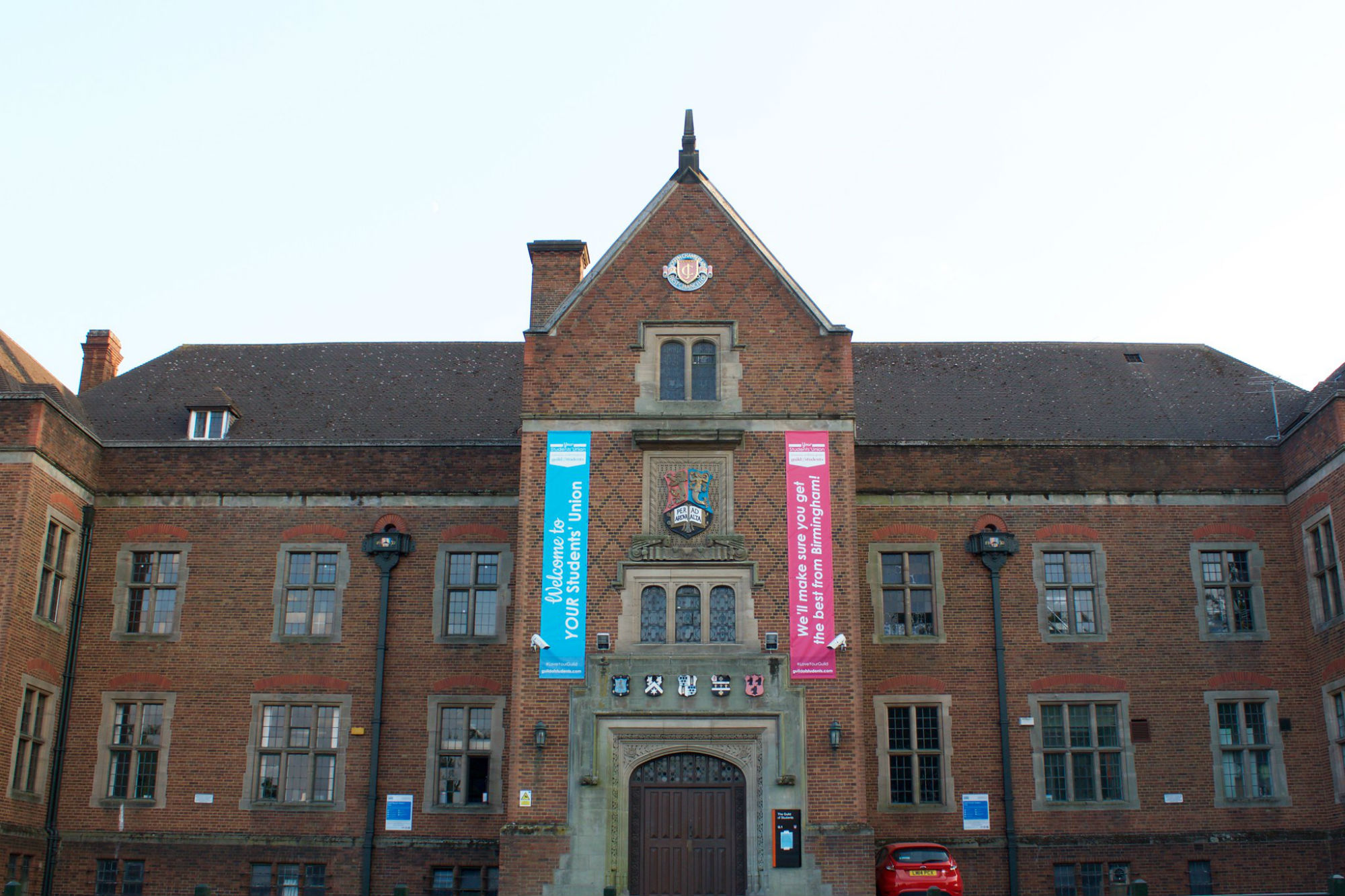 The potential removal of the Guild President position emerged as a talking point from this year's final Officer Question Time
On Thursday 16th May, five of the Guild of Students' full-time officers and two of the part-time officers provided an update of the progress they have made throughout the year. Redbrick News has provided a summary of what each of the officers has achieved assuming office. The International and Postgraduate Officers, Joanne Park and Jessica Small, were both unable to attend.
Guild President: Reece Patrick Roberts
The introduction of the Selly Express in October has been one of the most significant achievements of Robert's term as Guild President. In January, Redbrick reported that the service's future was in doubt, though Roberts told the audience that the Guild will receive confirmation from the University about whether the service will continue to operate within the next few months. He said that the situation is 'looking very promising' for students hoping to use the Selly Express beyond the end of this academic year.
Roberts has also secured five paid individuals to run a scrutiny panel to ensure further accountability of the Guild's elected officer teams. The trial is set to continue for 2019-20 and Roberts hopes it will be more productive when carried out over the duration of an entire year.
Working alongside the Education Officer Adam Goldstone, the Guild President has helped introduce drug testing kits to the Guild as part of their harm reduction campaign, something he said gained 'positive press' from outlets such as The Guardian.
On campus, Roberts has also secured hot water taps and microwaves in the Aston Webb building and the Alan Walters building, situated opposite the Main Library (behind Muirhead Tower).
He also helped organise this year's Vice-Chancellor Question Time.
Reece also commented on his work with the NUS, as he was a part of the Guild's delegation to attend the NUS Conference in Glasgow, where they voted on a reform policy, which passed. Alongside the CEO of the Guild, Roberts will vote to ratify reforms which will 'hopefully get the NUS back on the right track' after it experienced a series of financial troubles.
One aim of Roberts' tenure was to publish a report on the University's Dubai campus after visiting it in September. He told audience members that, due to a member of the Guild's senior management team going on extended sick leave, the report is still unpublished and that 'there has been no movement on that.'
Roberts ended by saying that he feels like it is the right time for the role of Guild President to be removed, saying that 'the Guild is not led by the President, it's led by its officer team.'
Roberts will be succeeded by Joshua Williams.
Activities and Employability Officer: Robyn Macpherson
Robyn Macpherson began by discussing the work she has put into introducing a new proofing system for Redbrick, which she says will ensure that digital articles for the University's official student newspaper will be published more efficiently. This will give the newspaper more autonomy than it has had this year and will free up time for the Guild's members of staff.
Macpherson also offered an update on the society recognition structure, which is something she has been working on implementing throughout the year as one of her key manifesto points. This will also make the Not On campaign more heavily involved within societies. On her manifesto, she also pledged to encourage inclusivity in societies, which has been reflected by the end-of-year events she has organised for the Guild. These include a societies barbeque and after-party, which will take place in Mermaid Square on Thursday 6th June.
Over the summer, the Guild's Debating Hall is set to be refurbished, which is something Macpherson is currently working on through regular meetings. This is something she said will 'improve the experience of pretty much every group.'
One group that will be a new addition to the Guild are the Birmingham Medical Society (MedSoc), who are expected to transition into the Guild over the next few months. Before MedSoc and the Guild's other societies begin their operations next year, there will have been some changes to finance forms to make them more user-friendly for both committee members and Student Groups staff. In terms of finances, Macpherson has negotiated a system of funding of up to £200 for student groups to put on events on the Green Heart in instances where they would struggle to afford an external venue. In response, the society would be expected to produce a promotional video or blog post for one of the Green Heart's sponsors.
Next year, the Activities and Employability Officer will be Ryan Ginger.
Education Officer: Adam Goldstone
The Guild's Education Officer, Adam Goldstone, has worked on improving the personal tutoring system at the University, by introducing an updated guidance document for students to ensure they get the most out of meetings.
After a number of years, Student Reps are set to be reviewed. All current reps have been surveyed, and some students who are not involved in the scheme has also been surveyed for their opinions on them, including why they decided not to become one. The changes that are set to be made to the scheme are hoped to encourage more students to get involved.
Under Goldstone's tenure as Education Officer, the University have introduced the UoB Campus Map app. Discussing the app, Goldstone said, 'I'm hoping it will have more features,' such as a book list and booking features for the library.
He is also producing feedback for the Teaching Excellence Framework (TEF) on behalf of Birmingham students. TEF is a national programme implemented by the government to assess the standards of teaching at universities and colleges. He is also putting together a shortlist for the outstanding teaching awards to reward exceptional members of teaching staff.
Goldstone has also worked on improving feedback on students' work and has encouraged students to contact him to give their thoughts on what they consider to be the priorities in terms of feedback on their assessed work.
Finally, Adam noted the work he has done alongside the University as part of its Access and Participation Plan. As part of this, the University will set targets around representation, including the degree-awarding gap for black and disabled students and access to the University for low-participation students.
After two years in the role, Adam Goldstone will be replaced by Amanda Sefton.
Sports Officer: Simon Price
A priority of Sports Officer Simon Price's year has been working alongside UBSport during the redevelopment of the gym on Tiverton Road. This facility is set to open in September and Price is currently working with UBSport to ensure that student memberships are ready to go on sale.
Another of Price's manifesto points was improving mental health was to promote engagement with mental health for UBSport and the clubs that operate under it. He has organised the forthcoming Club Conference, a two-day event where new committees will receive mental health training. The conference has been organised in collaboration with the Not On campaign, and will also promote disability, female and international engagement in sport (the latter is also being worked on by Joanne Park). Price has also been in discussion with Nightline to introduce active listening sessions for new committee members.
To help students relax during exam season, Price has put on 'Destresstival,' during which students can take part in sporting events like rounders for free. On Saturday 11th May, Birmingham's first-ever colour run took place on the Vale, which was organised by Price and the Hall Reps. 510 people took part in the event, as well as a team of 20 volunteers.
To end the year, Simon helped organise the Sports Ball (9th June) and an Awards event on (11th). The last Sports' Night of the year will take place at the Guild on Wednesday 5th June.
The Sports Officer for the 2019-20 academic year will be Josh Dooler.
Welfare and Community Officer: Izzy Bygrave
This year, Izzy Bygrave became the Guild's first Welfare and Community Officer. She said at Officer Question Time that she has worked on two main projects. Firstly, she has worked on a two-year mental health strategy for the University (which will be shaped further by two stakeholder days – one for staff and one for students). By the time the current officer team leave, the strategy should be in place.
Secondly, she has introduced a Marks out of Tenancy scheme to the University. The system allows students to rate their landlords and letting agencies. So far, students have provided over 80 reviews for the site, which has been aided by incentives such as a competition to win a Gradball ticket for submitting a review.
Bygrave is also currently sitting on the Student Hub review group, which will continue to consult focus groups of students and staff to create further recommendations for the student support services in place at the University.
She is also working alongside the University and customer services at Unite Students to ensure that students living in their accommodation can walk to and from campus safely. The fastest way to walk to campus from the currently under-construction Unite Students block is via the canal, so Bygrave wants to ensure that other routes are in place at night-time or to ensure that the canal will be safe for students commuting on it.
Next year, Millie Gibbins will be working as the Welfare and Community Officer.
Commuter Students' Officer: Jules Singh
Jules Singh, who has been re-elected as the part-time Commuter Students' Officer for next year, has founded the Commuter Students' Association which has held events such as a trip to Drayton Manor. The association has also held an AGM to recruit a new committee, although due to one person dropping out an EGM will be required.
Singh has also written a report on commuter student engagement based on focus groups held in January and February, which produced qualitative data. This was taken to the Academic Registrar, Stephen McAuliffe, and the Director of Student Affairs, Jon Elsmore. Singh has lined up another meeting to discuss the report further to try and improve engagement for commuter students in university life.
He has also spent time trying to improve car parking facilities for students. He has been made aware of a potential proposal to make parking in Selly Oak resident-only, although Singh assured the audience that this is only one proposal of many from Birmingham City Council and, if needs be, he will organise a petition or a campaign to the council based on student concerns.
LGBTQ Officer: Josie Hyde
Josie Hyde has worked alongside Jess Rutland as part-time LGBTQ Officers. Hyde told audience members about a marquee they have organised with the University and the LGBTQ Association which will be on campus during the weekend of Birmingham Pride (25th and 26th May). Hyde disagrees with Pride events charging for entry, making this a viable alternative for students. One particular aspect of the campus pride event raised by Hyde is graduation gowns in rainbow colours, which students will be able to pose for photographs in.
Hyde also promoted a clothes swap event she and Jess Rutland have organised for Wednesday 22nd May. Students will be able to try on donated clothes which may be different from what they would be comfortable buying in a shop. The clothes will be free for all students.
On May 17th, a survey about LGBTQ inclusion in teaching at the University went live. This will also assess the research and the researchers the University's lecturers cite. This survey will gain data from students about their lecturers to 'bring up the worst departments' for LGBTQ+ inclusion and to demonstrate what some departments are doing especially well at.
Finally, Hyde told the audience that graduating students will be addressed by their preferred pronouns when they graduate, even if that pronoun is not on a legal document, for the first time. Students have until June 10th to inform the University of their graduation pronoun preferences – to do so, email lgbtqso@guild.bham.ac.uk.
The progress of Josie Hyde and Jess Rutland will be built upon next year by Amber Culley.
The other part-time officers and the elected officers for 2019-20 were also invited to speak at Officer Question Time but they did not attend.