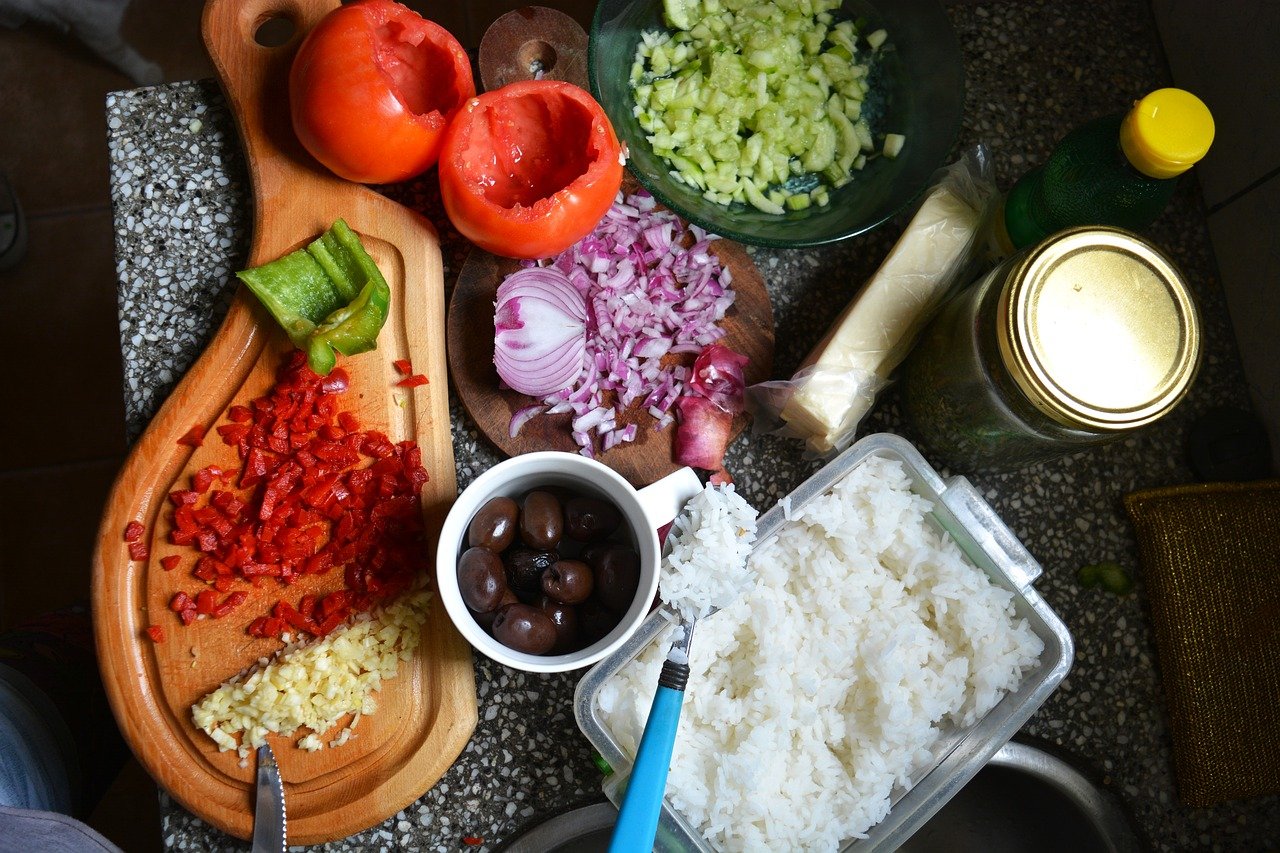 Food&Drink Writer Nicole Morris shares five recipes to help freshers settle into cooking
---
Your first week at university can often be quite overwhelming, with lots of big changes and exciting new challenges. Therefore, to give yourself one less worry, it is a good idea to know what you are going to be cooking for the week. Keeping it simple is key so that you can maximise your time socialising with your new house mates and discover more about the new city you will soon be calling home.
Here are five easy recipes you can quickly make for your dinner during fresher's week.
Shopping List for the Week:
1 pack of mixed

peppers

1 bag of onions

1 box of mushrooms

1 bag of carrots

1 garlic

bulb

1 pack of chicken breasts (or a vegetarian/vegan alternative)

1 pack of beef mince (or a vegetarian/vegan alternative)

1 block of cheddar cheese

(alternatively you can buy pre-grated cheese

if you have forgotten to bring a grater to university with you, or just to save the hassle)

1 bag of pasta (any shape of your choice)

1 pack of spaghetti

1 pack of noodles

1 bag of rice

1 pack of wraps

1 sachet of fajita seasoning

1 jar of pesto

1 jar of curry sauce

1 tin of tomatoes

1 Chinese-style sauce of your choice (e.g. sweet chilli, hoisin, soy)

1 bottle of vegetable oil

Salt and pepper
Your first food shop at university is normally more expensive than an average weekly shop because you need to pick up some store cupboard essentials. However, the cupboard ingredients like the pasta, rice and oil will last several meals.
Monday night:

Pesto pasta
Pesto pasta is a great recipe to ease you into your first night cooking at university. There's absolutely no preparation required and this dish can be made in under 15 minutes.
Method:
Fill a saucepan with water and put it on to boil.

Remember to salt the water a little.

Once

boiling, add your desired amount of pasta;

you could double

the

amount of pasta

you

use and

save

half

for the next day to have as a cold pasta salad

at lunchtime. Cook

the

pasta as per packet instructions.

Once cooked, drain the pasta and return it to the

saucepan

.

Add your pesto to the saucepan

and stir

. You will only need a couple of spoonsful

. (Store the rest of your pesto in the fridge to use another day).

Season with salt and pepper and serve. Optionally, you can add some grated cheese

to your pesto pasta.
Tuesday:

Curry
Most people are normally worried about the first time they cook chicken at university. It is completely natural to be worried since you hear horror stories of people under-cooking their chicken and getting ill. However, so long as you leave it in the pan for a reasonable amount of time and make sure to cut it in half to check it has been cooked through thoroughly, you will not have any problems. Alternatively, if you are not feeling up to that in your first week you could always use Quorn chicken, or only use vegetables in your curry.
Method:
Heat some oil in a saucepan over a medium heat.

Meanwhile

cut half a pack of chicken breasts into smaller chunks. Add these to your pan of hot oil.

Chop

up an

onion. Remember to use a different chopping board and

knife to the ones you used for the chicken

(

or wash the chopping board and knife you

used)

.

Check

your chicken is cooked through

and

is not pink in the middle. Add the onion and fry for 3 minutes. Then add your jar of curry sauce and reduce the heat.

In a separate saucepan

boil some water. Once boiling add your rice and cook as per packet instructions.

Once cooked, drain your rice.

Serve alongside your curry.
Wednesday:

Stir

F

ry
A stir fry is a quick and easy dish to make once you prepare your vegetables. Also, it is a good dish to pack with veg – certainly what you need to eat to power you through the week and ward off fresher's flu.
Method:
Prepare

all

your vegetables.

Slice an onion,

pepper,

and

half of the

carrots

(after peeling them)

into thin strips.

Chop half the box of mushrooms

into thin slices.

Heat a glug of oil in a wok, or large frying pan.

Once hot add the onion

. After a few minutes, when the onion has softened,

add your pepper and carrots (hold off on adding the

mushroom for a minute

; they shrink significantly when cooked so if you still want to see your mushrooms add them

later in

 the cooking process).

In

a separate saucepan boil some water. Once boiled

add your noodles

and cook as per packet instructions

. I normally find 2 nests is about right.

Once cooked, drain your noodles and add to your wok/

large frying pan. Add your Chinese-style sauce of choice to the pan and give it a good stir

to mix in with the noodles and vegetables.

Serve your stir fry. You can always add extra sauce at this point if you think it needs extra flavour.
Thursday: Spaghetti Bolognese
Spaghetti Bolognese is a student staple. If you make a big batch, it's good to freeze and defrost another day. Another way you can use up leftover Bolognese is by adding kidney beans and chilli powder to make a chilli, as the recipe's base ingredients are the same.
Method:
Heat some oil in a saucepan

over a medium heat

.

Meanwhile dice your onion

, the other half of the carrots

(after peeling)

and 2 garlic cloves. Add these to the hot oil.

After a few minutes add your beef mince to the pan.

Cook for approximately 10 minutes until the meat has changed in colour from pink

to brown. Once your mince has cooked a

dd

the tinned tomatoes and reduce the heat to simmer your Bolognese sauce.

In a separate saucepan boil some water

. Remember to salt your water first.

Once boiling a

dd

a fistful of spaghetti (this should be enough for

1 portion)

and cook as per packet instructions.

Once cooked drain your spaghetti

and plate

up

with a good serving of Bolognese sauce.

Optionally

serve your Spaghetti Bolognese with some grated cheese on top.
Friday: Fajitas
Fajita Friday becomes a tradition in many student flats as it is an easy meal to make collaboratively and eat together.
Method:
Heat some oil in a large frying pan over a medium heat. Meanwhile slice the other half of the pack of chicken breasts into strips. Once the oil is hot a

dd

the chicken to the pan.

Chop an onion and two different-coloured peppers

into strips.

When the chicken is cooked a

dd

the vegetables to the pan. Fry for a few minutes.

Add the fajita seasoning to the pan.

If the pan is starting to dry out add some hot water to prevent anything sticking to the bottom.

Microwave your wraps as per packet instructions. (If your flat does not have a

microwave,

you can heat them in the oven for a few minutes on a low heat).

Build your own fajitas by adding the cooked chicken and vegetables to a warm wrap and top with grated cheese before

folding up the wrap. Optionally you can add some sauces to your wrap too like salsa or guacamole if you wish.
I hope these recipes give you some inspiration for what you can cook during your first week at university. I wish you the best of luck and enjoy the start of your independent culinary journey.
---
Starving for more? Check out these tasty recipes: