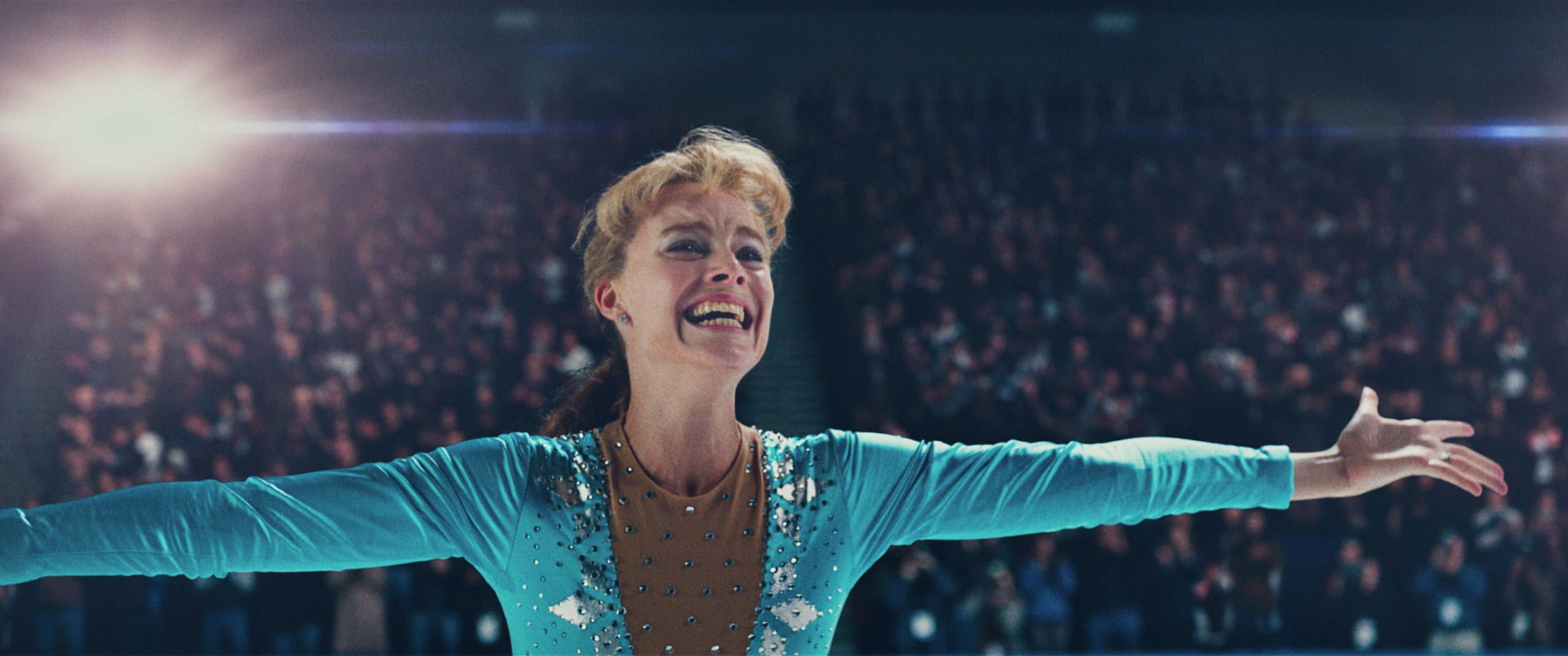 Redbrick Sport and Film writers come together to discuss their favourite sport films
I, Tonya: Emily Wallace
I, Tonya is a biopic about the life of American figure skater Tonya Harding (Margot Robbie), who became famous after her ex-husband Jeff Gillooly (Sebastian Stan) orchestrated an attack on fellow US figure skater Nancy Kerrigan. The film is told in a mockumentary format, as Tonya and those around her reflect back across her life, from her childhood and upbringing under her abusive, chain-smoking mother – an Oscar-winning performance from Alison Janney – through to her rise and dramatic fall in the figure-skating world. This format is an inspired choice, effectively showcasing the vastly contradictory views each person holds of the situation, allowing both for humour and a wider reflection on what the real truth of the situation is.
One thing I, Tonya highlights about sport is how much the world of competitive sports works beyond just physical skill. Though Tonya was a talented skater, she initially struggled in competitions due to her 'redneck' background; it wasn't enough to have the talent, she was expected to look and act the part of a typical, feminine skater too. It also shows the effect of reputation in sport, as we see how the controversy surrounding Tonya affects her performance and ultimately results in her being banned from the sport altogether. No matter how much you believe and sympathise with Tonya's version of the story, you cannot help but share in her joy landing the triple axel in competition, only to feel her pain as skating is taken away from her. I, Tonya is a fascinating watch, no matter your familiarity with figure skating or Tonya Harding's case, and manages to explore a darker side to the world of sports in a light-hearted tone, without also downplaying the severity of the subject matter.
The Blind Side: Oscar Frost
The Blind Side is a 2009 film that is based on the true story of Michael Oher, played by Quintin Aaron. Oher, a homeless black teen, is taken in by Leigh Anne Tuohy, played by Sandra Bullock. This heartwarming tale shows how sports films can be a vehicle to highlight wider societal issues, and it tugs at the heartstrings the whole way through.  Oher's size and protective instinct mean that he is a fantastic offensive lineman, which leads to him being drafted into the NFL. He also works with a tutor in order to make sure that he fulfills the 'student' half of the student-athlete role. 
It is true that the film has received backlash for using a white-saviour narrative, however, the film also highlights important issues around homelessness and institutional racism. The main lesson of the film is to not give up when times are tough, as pushing through adversity can lead to things getting better. From an entertainment standpoint, it is a fantastic watch that is an emotional rollercoaster throughout. Bullock is fantastic throughout the film, and she earned an Academy Award for Best Actress in a Leading Role as a result. 
Overall, The Blind Side is a classic film that is always entertaining to watch. Although it may not be the most nuanced in terms of scripting or plot, it has the potential to hit you right in the feels, as well as having a feel-good ending.
Marvellous: Bella Shepard-Evans
When first contemplating the greatest sports films of all time, images of sporting excellence spring to mind- stories following top athletes in their quest for gold medals, greatness and victory. Of course, these winning elements make for powerful film plots. But for me, Marvellous encompasses the true essence of sport, and football in particular, which is the community upheld through clubs and spectators alike. Perhaps one of the lesser known films on this list, Marvellous follows the true life story of Neil 'Nello' Baldwin. A lifelong Stoke City fan, Neil disregards what others perceive as impediments, as we follow him through his many career ventures. Which eventually lead to him landing the role of kit man for his boyhood club under manager Lou Macari. Starting off his career as a circus clown, we see Neil thrive in his circumstances, from being on the referees boat in the Oxford v Cambridge boat race, to befriending the Archbishop of Canterbury. A keen football fan himself, he set up the Neil Baldwin football club at Keele University, a pretty ordinary feat in itself until Neil befriended and assigned Gary Linekar as president.
During his time at Stoke City, Nello became a legendary figure among both fans and players, with Macari attributing the success of the 91/92 season in part to Nello's presence and influence on team morale. Neil puts his life experiences down to 'I just asked', the tenacity of which is a persistent theme throughout the film.
Featuring cameos from some of football's most recognisable faces including Gary Lineker and retired top flight referee Uriah Rennie, director Julian Farino manages to perfectly capture the deep-rooted relationship between fan and club. Both an uplifting and profoundly moving watch – for me, Marvellous is one of the greatest sports films of all time.
Eddie the Eagle: Jess Parker
Released to cinemas in 2016, Dexter Fletcher's Eddie the Eagle follows the true story of Eddie Edwards (Taran Egerton), an underdog Skier who dreams of representing Great Britain's Ski-Jumping team in the 1988 Olympics in Calgary.  
 Edwards captured hearts worldwide for his positive attitude and genuine love for his sport, becoming the first British ski jumper since 1928 to make the Games. Although Edwards finished last in both the 70m and 90m events, his commitment and perseverance brought him huge media attention and global admiration. 
Eddie the Eagle hosts an incredibly talented cast in Eddie, Bronson Peary (Hugh Jackman), and Warren Sharp (Christopher Walken). Through featuring such beloved stars at the film's helm, Eddie the Eagle is able to draw audiences in even further to the media spectacle that was Eddie Edwards. 
Although taking a few liberties with its factual storytelling, Eddie the Eagle retains the charm of Edwards' success through Egerton's endearing performance and Fletcher's feel-good directorial style, presenting a biographical sports feature that introduces Eddie the Eagle to a new generation of cinema-goers.
Raging Bull: James Evenden
Martin Scorsese's boxing classic Raging Bull is one of those films that stays with you long after the final punch has been thrown. A haunting character study of Jake LaMotta's (Robert De Niro) life and anger issues, this sports film offers more than your simple race-to-victory narrative. Jake is bubbling with rage and regret, and De Niro plays both sides of Jake, the anger and the sadness, with equal care and attention, aided by an impressive physical transformation. 
Often overlooked next to him is Joe Pesci, playing his brother Joey. Pesci walks a difficult tightrope in Raging Bull, and delivers a restrained performance, unlike his others under Scorsese's commanding eye. Scorsese captures Jake's vengefulness with a voyeuristic quality, never getting too close outside of the ring. He keeps his viewer away from Jake, only to thrust them into his perspective during the intense boxing sequences. These scenes are helmed with a viscousness that captures the visceral nature of the sport I have seen in few other films. Scorsese makes the ring feel like a cage and traps his audience inside it, inescapable to escape Jake's unrelenting fury.
Raging Bull's use of black and white, and namely the shadows this creates, enhances this grittiness. It lends a raw feel to the film that refuses to glamorise the sport of boxing or the consequences of Jake's anger on his family. Raging Bull is Scorsese and De Niro's partnership at its most potent and is in my opinion the pinnacle of the boxing genre.
Kung-Fu Panda:  Takbir Rahman
Kung Fu Panda tells the story of Po, a dopey Panda who rises to become the fiercest warrior in ancient China. The trilogy focuses less on competitive sports and more on the use of martial arts and inspiring morals to save China. The story begins with Po, who is afraid of living a life of monotony like his adopted Goose father and dreams of a more fulfilling life. Luckily for him, a prophecy projects him to be the next 'Dragon Warrior'. While he is initially very far out of his depth; through hard work, patience, and self-reflection, Po becomes the ultimate warrior in the land.
Po becoming The Dragon Warrior shows that success is not based on aesthetics or family background, but on work ethic, perseverance and the help of fate. Similar narratives are common in animated projects like Naruto and Avatar the Last Airbender which are two powerhouses of the anime/animation world; it is no criticism to be mentioned alongside these projects.
The perfectly written characters of Master Shifu and Master Oogway deserve special mention. Their endearing designs and the clear Yoda influence on Master Shifu make them memorable. Master Oogway's quote, "Yesterday is history, Tomorrow is a mystery, but Today is a gift. That is why it is called the present," beautifully captures the importance of staying in the moment. The message is simple: life is too short to dwell on the past or worry about the future.
Kung Fu Panda is the best sports film because it combines martial arts, inspiring morals, humour and grounded themes. Anyone who suffers from imposter syndrome or at times feels adequate can resonate with Poe. From a cinematic perspective, the consistently hilarious humour from Jack Black fits perfectly with complex antagonists and steady character progression across the board. Overall, Kung Fu Panda makes for a joyful and easy-watching experience. 
Cloud 9: Erin Perry
I am of the admittedly unpopular opinion that 2014's snowboarding romantic-drama film Cloud 9 is the most underrated Disney Channel film ever. Strong words, I know, but this film had 11-year-old me in a chokehold. It has an abundance of cheesy tropes, from a spoilt daddy's girl destined for redemption on the slopes to a moody ex-snowboarder whose traumatic past put an end to his promising career and a highly contrived situation that forces this unlikely pair into working together and falling in love.
In all seriousness, Cloud 9 offers a window into the challenges competitive sports can create, as well as the highs success can bring. The central story revolves around Will Cloud (Luke Benward) training Kayla Morgan (Dove Cameron) to compete in the upcoming 'Fire and Ice' snowboarding competition after she was kicked off of a team that, in all honesty, she was only on thanks to her father's donations. While training with her new team the 'Hot Doggers' – I know – Kayla convinces Will to teach her his own move 'Cloud 9' which a previous attempt at had caused him to hang up his snowboarding boots. He initially refuses, but this is a Disney romance, so he quickly gives in and agrees to teach Kayla the move in the hope that a successful landing in the competition would give her the advantage over her ex-teammates.
While you can probably guess where the story concludes, I think that in spite of its predictability, it's a great film. The snowboarding sequences are pretty epic and the climax of the story – the 'Fire and Ice' competition – is genuinely thrilling to watch, especially when Kayla begins the highly anticipated Cloud 9 move. For a child whose interest in winter sports began with 'Mario and Sonic at the Winter Olympic Games Vancouver 2010', this film was perfect.
High School Musical: Eleanor Bergin
The High School Musical trilogy remains a nostalgia-fuelled staple of my childhood. The catchy and memorable tunes, Gabriella's melodrama, Sharpay's extravagance, and of course Troy Bolton's excruciating struggle of choosing between his music and basketball career all stand out to me as iconic moments from the franchise. Whilst referring to High School Musical as a 'sport film' may seem like a stretch, basketball undeniably lies at its heart.
Picture the scene: you're the captain of East High Wildcats basketball team, but you've also received a callback for the school musical that will undoubtedly damage your reputation. What on earth will you choose? This conflict defines the key obstacle in the plot that leads to Troy's downfall after he becomes completely defocused on the championship game, resulting in his eventual redemption arc as he leads the team to victory.
The music in the franchise naturally elevates the tension of the match. 'Get'cha Head in the Game' combines musical excellence, choreographed basketball, and encapsulates the core conflict of the franchise in one line – Why am I feeling so wrong? My head's in the game but my heart's in the song – a motif that stays with the viewer throughout the trilogy. This number highlights the Wildcats' motivation to focus on the game and what's at stake, accompanied by impeccable footwork, dribbling and passing.
My appreciation for the franchise wouldn't be complete without an honourable mention of baseball's role in the cinematic masterpiece that is High School Musical 2. 'I Don't Dance' is not only, in my opinion, the best dance number out of all of the films, incorporating sheer athletic skill choreographed to a catchy beat, but also leaves the audience with an inspiring message: 'you don't know what you can truly achieve until you try'.
I Believe in Miracles: Benjamin Oakden
I have been waiting a long time for a chance to spread Nottingham Forest propaganda to the pages of Redbrick, but I Believe in Miracles is an excellent documentary accessible to all sports lovers. It charts the remarkable story of Forest's rise from a middling Championship club to Champions of England, and even more incredibly, double Champions League winners, within the span of less than five years.
The documentary features enlightening interviews with all the surviving 'Miracle Men'. From Viv Anderson, the Nottingham-born Right-Back who became the first black player to be capped by England, to Trevor Francis, the first-ever £1 million player who scored the winner in Forest's first European Cup final, to John Robertson, widely considered to be the best player in Forest's history. The interviews are filled with good-humoured stories that provide an alarming contrast to the modern game, with centre-back Kenny Burns being encouraged to hack down opposing strikers, and Forest players often enjoying a pre-match meal of Steak and Chips washed down with a pint of beer.
The most notable absentee from the documentary is Forest's late managerial pairing of Brian Clough and Peter Taylor. The team's successes wouldn't have been possible without the legendary duo, but the interviews, along with brilliant archival footage that perfectly captures the mad genius behind Forest's incredible successes. Clough in particular is shown to ooze charisma, and tales of his charming wit and daring management style leave you feeling like you know the great man personally by the end of the film.
Director Jonny Owen did an excellent job of bringing to life one of football's greatest-ever stories. Complete with a funky 1970s soundtrack and beautifully restored match footage, I Believe in Miracles is a thrilling and inspirational documentary. The triumph is enough to give goosebumps to any Forest fan, but this exciting underdog story is so well told that it can be enjoyed regardless of the team you support.
Field of Dreams: Sophie Utteridge
As an avid cricket fan, I will admit that Field of Dreams is a very rogue choice for my greatest sports film of all time. I have spent a lifetime arguing that cricket is not just English baseball, and yet, I absolutely love Field of Dreams. 
Starring Kevin Costner, Field of Dreams follows the story of a farmer who builds a baseball pitch in his cornfield that attracts the ghosts of famous baseball players. Despite risking bankruptcy, Kevin Costner's character Ray Kinsella is driven by his dreams of achieving something great before his time is up, fearing that he will end up like his father who passed on unfulfilled. Throughout the film, Ray continually hears a voice whispering encouragement and urging him to continue building the baseball field despite constant problems arising. This leads to perhaps the most famous line, and one that has become iconic in popular culture, as the source of Ray's determination: "If you build it, he will come."
Not only is Field of Dreams a heartwarming story, but it also brings back nostalgic memories of some of the best baseball players of the 20th Century. A true celebration of achievement and talent, the film inspires budding baseballers and reveals the potential that lies within all of us. It praises the importance of family, legacy, and joy. In a world that seems to be crumbling around us, this film never fails to make me smile. 
Fast Girls: David Brooks
In spite of its lesser-known status, Regan Hall's Fast Girls (2012) is indisputably in contention to be one of the greatest sports films of all time. It is the first Track and Field film that made me yearn to become an athlete. It teaches us that you can be great regardless of circumstances. The protagonist, Shanaia Andrews, has had an arduous upbringing. She is completely unknown in the Track and Field realm, coached by an ageing coach now on the outskirts of the sport. Her perseverance in training results in her overcoming other renowned runners – namely Lisa Temple – at a regional track meet and earning a place in the UK Track and Field National team. 
The rivalry between Lisa and Shanaia is troubling to watch at first. Both athletes come from opposing upbringings but both suffer from hardship. Lisa fears rejection from her father, and Shanaia lives on a council estate. They are both selected to run in the 4x100m relay team in the World Championships, yet lack synergy. Their hostility towards one another results in devastating consequences for the team. When neither medal in their individual events, they come to the realisation that the only way they will triumph is by cooperating. The notion of teamwork and unity comes to the fore, despite the sport being known by many as primarily an individual one. The film teaches us key themes of acceptance and hope, and I would recommend it to all. 
The Big Lebowski: Sam Hastings
The Big Lebowski is not quite a conventional sports film – the Coen brothers are seldom filmmakers to conform to the expectations of genre – but nor is bowling a conventional sport. Though I myself love to go bowling, the sport is rarely the focus for me; I'm there to chat with friends, eat a pizza or drink nine cocktails. The Big Lebowski is similarly preoccupied with everything but the sport. The bowling alley makes a great scene location not because of the presence of the sport, but the 'athletes' participating: a sordid array of sleazy, unfit, eccentric men each with bowling at around fourth or fifth on their list of priorities.
Though many of these characters stand out in their own way, none are so memorable and fully realised as our protagonist, Jeff 'The Dude' Lebowski. The Dude entirely embodies the appeal of bowling, demonstrating the sport's versatility by dressing as he likes while playing, drinking an impressive amount of highly calorific cocktails between rolls, and entirely refusing to care about the game's results. Throughout the course of the film we the audience entirely adopt The Dude's demeanour, becoming as relaxed as him, only allowing the story's conflict to mildly frustrate us but leaving intact our calm as we take on Jeff's almost ambient presence in the world.
The Dude's infectious quasi-religious philosophy of enjoying life with minimal effort is precisely why this film is incapable of meeting the genre's demand of a big, high-stakes bowling match at the end; if the dude wins he'll crack a smile and order a drink to celebrate, and if he loses he will sigh momentarily, before cracking the same smile and ordering that very same cocktail to commiserate.
---
Enjoyed this feature? Check out these other features from Redbrick:
"Houston, We Have a Crossover": The Science Behind Cinema | Redbrick Features
Games That Mean Something To Me | Redbrick Gaming