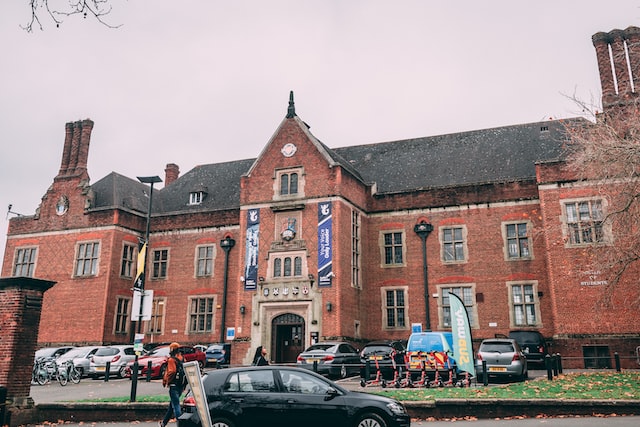 News Editor Anna-Marie Fischer reports on Safina Amir's interview regarding her running to be Guild Women's officer
On Thursday 16th, Safina Amir, who is running for Women's Officer, accepted an invite from Burn FM to be interviewed by Talia Knoble Gershon to talk about her campaign and manifesto. This is what she had to say.
The interview opened with Talia asking Safina to introduce herself. Safina is a postgraduate student studying Business and is an entrepreneur by profession, with her two businesses – a cyber security centre and a software development house.
Talia asked what made Safina want to run for the role of Women's Officer. Safina said the cause is 'very near and dear' to her heart and she is 'very passionate', having been involved with several NGOs and NPOs back at home that were focused on women's empowerment. She has also started a business incubation centre for women, giving women access to greater platforms to get their businesses running. Safina said her 'heart goes out for all the women' and she 'wants to see every woman in this world rising to her capabilities' and she wants this to happen 'right in this campus'. She then added that she wants 'every woman to be recognised for what she is' and 'celebrated for however she is'.
In terms of her manifesto, Safina said it revolves around three key issues: firstly, opportunities for women, secondly women's safety, and thirdly, recognition for women. She added that she would be 'honest' and 'dedicated' to whatever comes her way and give her heart to every different kind of issue. Her priorities are for 'every different kind of woman to get recognised', for women to 'get opportunities to be themselves' and to be 'true to themselves and true to what they are'. Her headline is 'whatever we are, we are just true'.
Talia asked Safina what makes her manifesto stand out and what is special about her point of view. Safina replied that she wants to campaign for free self defence course training for every woman on campus. She is also going to campaign for greater recognition of achieving women on campus who are excelling in their fields, as she wants to 'tarnish this image of women not being there and being at the backside'. To do this, she is going to campaign for special scholarships for women who are currently at UoB and those who are applying to UoB. She emphasised that this policy won't 'limit itself to the boundaries of campus' but also extends beyond the campus as well. Safina will also campaign to have an all-women meeting twice a year to 'listen to what women want on this campus' and to understand what women's concerns are. Lastly, she said she will set up 'special business incubation centers' and host 'all-women parties and celebrations'.
When asked about how she plans to further help women outside of the campus, Safina spoke about her background from Pakistan, where 'women already have very limited opportunities'. She advocates for widening access for disadvantaged women from different parts of the world, specifically Asia and the Middle East, to help women pursue their studies in Birmingham. She then spoke about how she has 'all male professors' as an example, questioning why that is the case 'if teaching is considered a female field'. Every woman who deserves and has the potential 'must be given an opportunity'.
Talia then asked how Safina is planning on supporting the work of the intersectional feminist association. She said she 'absolutely relates' to and supports feminism, but she 'does not want to confine' her campaign to just feminism. She wants to extend beyond this, and emphasises not comparing women and men's achievements, rather she wants women to 'go way ahead and beyond' men and move the women empowerment movement away from focusing on 'what men have gotten'.
Talia mentioned that Guild officers frequently face criticism for not doing enough or not doing anything, and asked Safina whether or not she thinks this is true and how she would aim to change this perception. Safina responded by saying she believes the Guild has done some 'amazing' and 'remarkable work', with 'extremely capable officers so far' so she does 'not want to encourage that narrative'. She will however campaign to change Women's Officer from a part-time to a full-time role, as she believes the cause needs to be 'driven' and 'ambitious'. She also re-emphasised her plans to have all-women meetings and wants to act as 'their voice only louder', through listening to women through an open platform.
In terms of prior leadership experience, Safina has been a president of her student council in her college for two years as well as the head prefect in her school. In various capacities, she has spoken at different platforms and conferences which she believes gives an edge to her campaigns and ability to voice her opinions. She has been in leadership roles for cumulatively five and a half years which includes leading her two businesses and her leadership roles in different unions.
Safina was then asked about the key things she would do to address the issue of women's safety on campus and in Selly Oak. To tackle this she said she will lobby the university for free self defence course training and focus her campaign on getting women listened to and heard, to find out 'what's happening and what they're not feeling safe about' and 'get it addressed at a larger scale'.
Talia then asked whether Safina feels her manifesto is realistic and achievable, and Safina responded that she most definitely believes it is. As an entrepreneur, Safina said 'we do not limit ourselves or develop confines' as to whether something is possible or not. She stated she is 'very passionate' and thinks her plans are 'extremely realistic'. She then spoke about holding herself accountable and that if she was elected, she would be willing to be re-interviewed in a years' time to confirm that she has achieved her manifesto.
As to how Safina sees herself working with the Guild, Safina responded that she will work 'very closely' with the Guild as that is the platform she is representing and 'that is representing us'. She affirmed that she wants to work very closely with the elected president and every other officer, as her policies 'cannot work in isolation' and so will focus on developing 'very healthy relationships'.
Talia then asked how Safina will ensure that all women feel included and will want to get involved in these communities she plans to create. Safina restated that she will do this through working closely with every other officer to 'develop a good network of women' and 'build a platform' where 'all women are going to get together'. She also wants Women's Day to be fully celebrated on campus and 'cherish it'. Lastly, she said she wants to have all-women parties to foster girl energy.
To end, Talia asked Safina one final reason why students should vote for her as Women's Officer and she responded that it is 'not just another officer position' for her, but a part of her 'existence and cause' that she wants to pursue. She feels 'very passionate' and has worked in similar capacities and leadership experience before. Finally, she feels that the policies she is campaigning for are 'very much needed and called for' and every person that identifies as a woman will benefit from them.