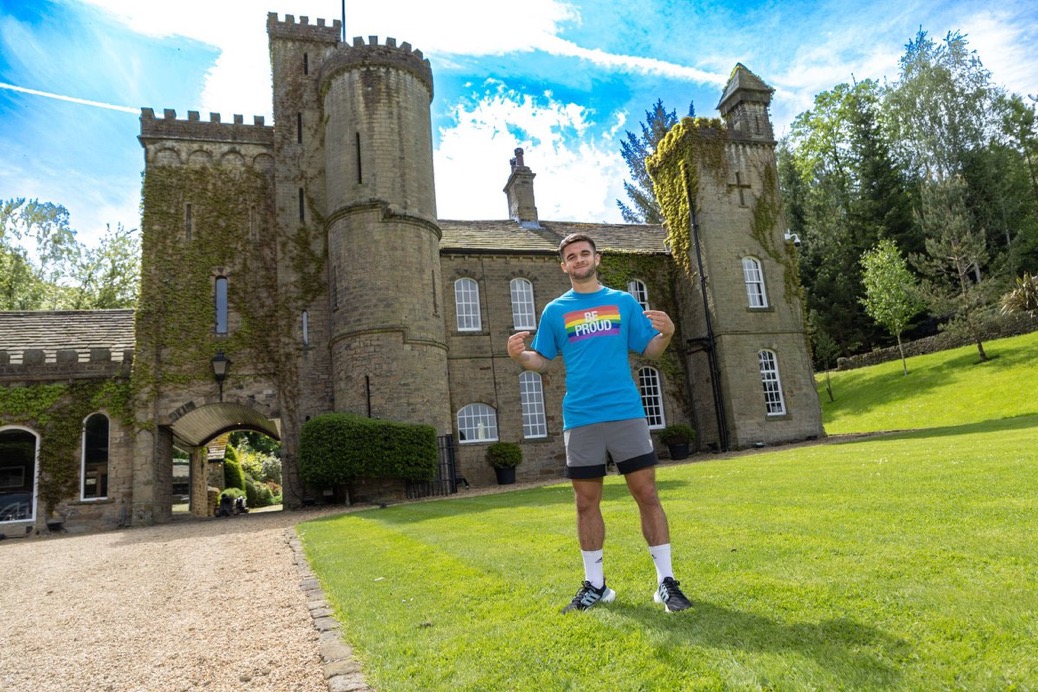 Sport writer Joi Foote comments on Jake Daniels coming out as the first openly gay professional footballer since Justin Fashanu in 1990
Jake Daniels made history last month as he became the first professional football player to come out as gay since Justin Fashanu in 1990. The Blackpool forward and Adidas athlete said in a written statement 'Off the pitch I've been hiding the real me and who I really am. I've known my whole life that I'm gay, and I now feel that I'm ready to come out and be myself.'
'It's a step into the unknown being one of the first footballers in this country to reveal my sexuality, but I've been inspired by Josh Cavallo, Matt Morton and athletes from other sports, like Tom Daley, to have the courage and determination to drive change.'
He furthered this by stating 'I've hated lying my whole life and feeling the need to change to fit in. I want to be a role model myself by doing this' and signed off with 'I just want to tell them that you don't have to change who you are, or how you should be, just to fit in. You being you, and being happy, is what matters most'
Just 17 years old, Daniels was met with a mass of online support from both his teammates and the wider football community. The official Twitter account for Adidas Football championed his actions, stating 'We share the same pitch, we all play the same game. Show us football is for everyone.' It was only seven days prior that Daniels announced he had partnered with the multi-national sporting company.
Prince William also showed his support, reiterating his belief that football should be a game for everyone. He commented. 'What Jake has done takes courage and will hopefully help break down barriers that have no place in our society. I hope his decision to speak openly gives others the confidence to do the same.'
It is no doubt that Daniels' decision to come out will have greater implications on the football community as a whole. The UK's favourite sport has had a long-standing history of homophobia. It is this tension that is explored in Channel 4's digital documentary 'Football's Coming Out'. Here they discuss the barriers that often prevent Premier League football players from coming out, whether it be the reactions of fans and fellow players or even financial stakeholders.
The four-part series features several discussions with high profile voices including Amal Fashanu, the niece of former footballer Justin Fashanu. She is also the founder of The Justin Fashanu Foundation. This year marks 32 years since Fashanu became the first UK football player to come out in an exclusive story with The Sun; '£1m Football Star: I AM GAY'. His brother, John Fashanu followed this by publicly condemning him as an 'outcast'. In his unfortunate short-lived career, Fashanu had to deal with both racism and homophobia attacks in and out of the sporting world. In May 1998, Fashanu committed suicide at the age of just 37. 
It is positive to see the attitudes towards homosexuality in football changing for the better. However, responses were not solely positive and it is evident that there is still a long way to go before homophobic abuse becomes a historical issue amongst football fans. At a time when we have openly gay male athletes like Olympic gold medallist Tom Daley, Rugby star Gareth Thomas and now Daniels; when will the time come that an openly gay footballer is not seen as something sensational?
---
Check out the latest sports articles here:

Commonwealth Countdown: The Pacific Island Nations
Match Report: Middlesex vs Essex Eagles