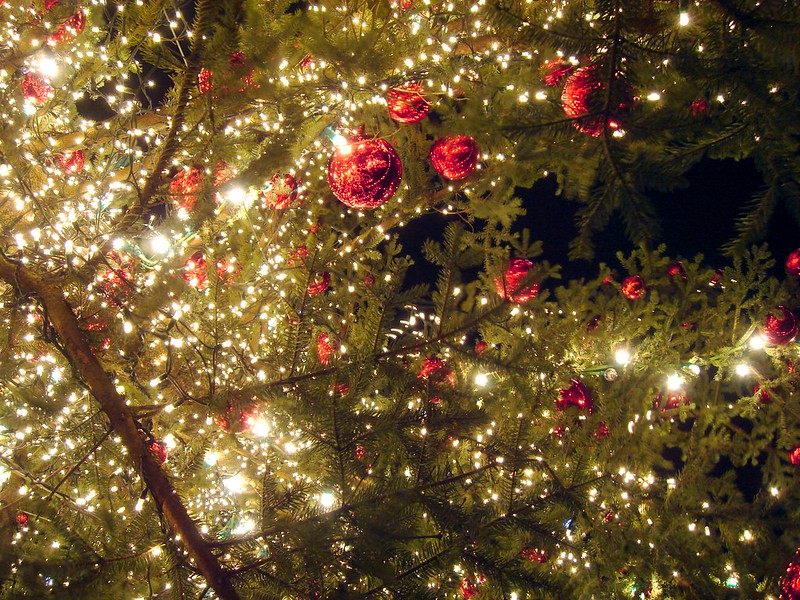 This year our Television Critics tell us all about the shows that make their Christmas
Katie Norris – Call the Midwife 
Celebrating new life being brought into the world, watching nuns squabble over stolen cake, and heartbreak as well-loved characters leave. These are three of the main things that characterise my Christmas viewing – Call the Midwife. The Christmas special is possibly my favourite to watch, with recent times seeing our favourite characters go somewhere special for Christmas – South Africa in 2016, and this year to a remote Scottish island! Each year brings a cathartic journey through heart-warming storylines and those tinged with heartbreak whilst following the midwife team, facing anything from romantic difficulties to pregnancy complications. 
This Christmas seems no different, with the BBC announcing that they will be working 'in bleak conditions with limited access to water and electricity to help their patients.' Although Christmas is a time for celebration, this harsh reality is a welcome break from the fuzzy feel-good Christmas musical films that fill our screens, truly making its viewers grateful for the advances in technology and society we have made. The episodes never fail to have compelling relevant storylines, with the midwives confronting cases that include drug abuse, tuberculosis, and cancer. However, this is balanced with the moving, funny relationships amongst the midwives themselves and the locals –  a comfort which has me returning to watch it every Christmas.
---
Catrin Osborne – Morecambe and Wise 
Not a Christmas is complete in my household without frantically skipping through the channels and ultimately deciding to watch a compilation of Morecambe and Wise's best sketches. So much of what was relevant in the 1970s seems out-of-place in our modern culture. However, these iconic sketches never fail to make all generations chuckle due to their inoffensive content. Throughout the decade, a new Christmas episode would play each year causing it to become a quintessential aspect of a British Christmas. 
Although it may sound absurd, there is something so funny about the double act completing their breakfast routine to the tune of 'The Stripper'. They incorporated celebrities in brand new ways such as news presenter Angela Rippon's news report turned dance routine. The gem of them all is the 'Mr Preview' sketch in which André Previn holds back fits of laughter at Eric Morecambe's quick-witted humour. Christmas is a time for joy and optimism which is perfectly captured in the double act's theme song so let's hope that this holiday brings us fun, brings us sunshine and brings us love.
---
Abby Spreadborough – Father Ted
Somehow every Christmas Eve I inevitably end up watching Father Ted. This may seem strange seeing Father Ted ended before I was even born and totals only 25 episodes. You would expect on Christmas Eve there would be plenty to choose from as BBC, ITV and Channel Four compete for ratings, yet my family always end up dismissing these offerings and scrolling endlessly towards Dave and Alibi. These channels exist as a time capsule as they rerun Father Ted along with other British comedies from the late twentieth century. Although not particularly festive in my opinion you can't beat classics like the Eurovision special 'My Lovely Horse' and equally hilarious 'Wrong Department Store.' Perhaps this show endures in the same way the more seasonally appropriate Gremlins and Home Alone endure, as classics from the past that stir up nostalgia for a simpler time. With nostalgia-driven films and television more popular than ever, it's no surprise that we return to the 90s and 80s as Christmas rolls around. 
---
Sian Allen – Doctor Who
There's a strange association between Christmas and time travel in my family – Back to the Future and Muppet's Christmas Carol always seem to make an appearance at some point, and there is no greater festive staple than the annual Doctor Who Christmas special. The specials have evolved over the years from killer Christmas trees to proper event TV. They're either a chance for the beloved show to have some fun for an hour (2014's 'Last Christmas' comes to mind as a fantastic homage to Alien) or a platform for The Doctor's final bow. This creates a great range of episodes with a poignant emotional resonance and episodes you always skip during a rewatch. 
Like many, I have had the pleasure of growing up loving Doctor Who; I've spent a fair few Christmas Days either excusing myself from the table because the special was starting or shushing my extended family and trying to make sure they don't notice me crying during regeneration speeches. For every 'The End of Time', there's a 'Return of Doctor Mysterio' – but regardless of objective quality, they have always provided an extra present to look forward to during the late afternoon lull when some of the excitement has worn off and you're stuffed with food. I've definitely felt their recent absence and can officially announce that the campaign to bring Christmas specials back starts here – but until the BBC return my calls, bring on the New Year. 
---
Emily Calder – Vicar of Dibley 
Every Christmas Eve, my family sit together to watch the Vicar of Dibley Christmas Special 'The Christmas Lunch Incident' (1996). If you haven't seen any of the show, I would hugely recommend doing so, purely to watch Dawn French's brilliant performance and enjoy genius writing from Richard Curtis (who you will probably know best from writing Love Actually). In this episode we watch Vicar Geraldine Granger spend her second Christmas in Dibley as she tries to prepare her sermon for Christmas day. After many a painful draft as she sits among her numerous advent calendars, she eventually utilises a Spice Girls biography given to her by her fantastic best friend Alice, who is played by the late Emma Chambers.
The Vicar, out of politeness, accepts initiations to four Christmas lunches. As someone who barely manages one Christmas lunch on the big day, it baffles me every year how she manages to stuff down all of those sprouts. Her over-indulgence is simply hilarious, and definitely fits in with our modern day mukbang culture of watching others consume huge amounts of food. My particular highlights are her participation in a brussels sprout eating competition and watching her get a taxi home – when her house is literally across the road – because she has eaten so much that she can no longer walk. The jokes never get old, and nothing makes me feel quite as Christmassy as sitting down to watch Dawn French stuff herself to the point of major indigestion – something that I think many of us can relate to as a part of our Christmas day.