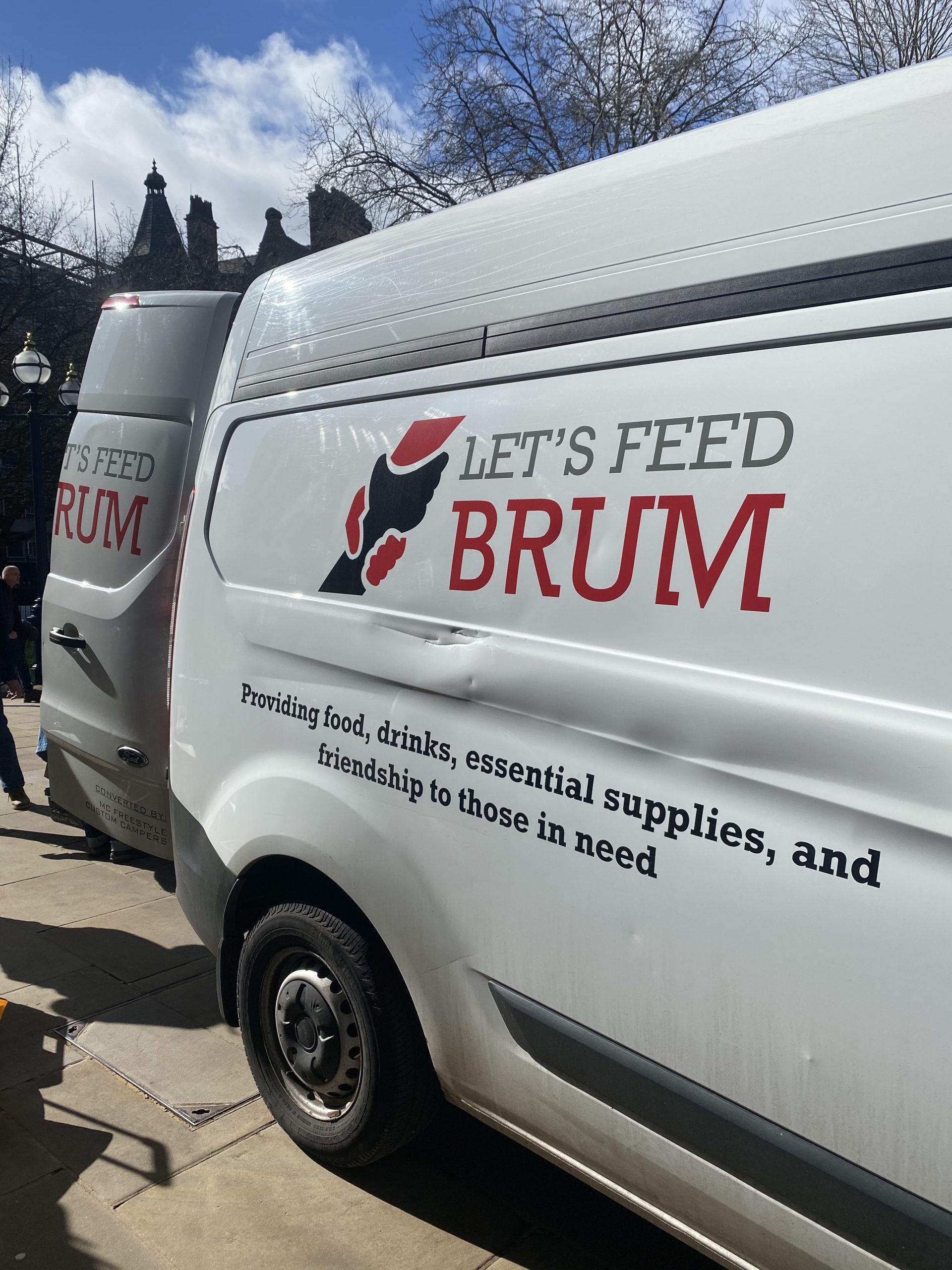 Rachel Judtt and Sophie Skrimshire volunteer with Let's Feed Brum, sharing their experiences of speaking with both the volunteers and those using the service.
Let's Feed Brum are an award-winning charity founded in 2016 that provide invaluable support for the homeless community in Birmingham with biweekly breakfast clubs, evening walkabouts and chatlines. To find out a little more about what the organisation does, we contacted Let's Feed Brum who invited us to come along to their Tuesday breakfast club in the city centre. 
Wrapping up warm on a Tuesday morning, we arrived at St Philips Cathedral at 10am ready to get involved. Immediately, we were made to feel welcome. Met by a busy team of volunteers stationed beside fully stocked tables of goods, there was a bustling, warm atmosphere outside the cathedral. Music was playing from speakers and everyone seemed to have a smile on their faces. 
We spoke to Katherine, who invited us that morning, and were given a quick tour of the supplies they had on offer. The group came well prepared with stocks of warm clothing, toiletries, non-perishable food items alongside sweets, biscuits, canned drinks and fresh fruit for people to help themselves to. The variety of supplies was astounding, from pasta to winter coats, an abundance of Hershey's kisses to hand creams, the donations catered for all kinds of needs. Next to the tables was also the Let's Feed Brum van which was serving hot food and drink out of its windows. 
As people began to arrive, immediately, the sense of friendship and community outside of the cathedral was made clear. Volunteers remembered familiar faces, checking in with how they were doing, having a bit of a laugh, and people greeted their friends outside. The breakfast club proved not only a material form of support, but of social support as well. Once people had gathered what they needed, many of those attended to stay and chat on the benches, listening to music with their hot food and drink. 
We split ourselves across two stations: Sophie served up potato and leek soup (which smelt incredible!) and Rachel was busy in the van handing out toasties, baps, whilst also preparing hot drinks such as tea, coffee and hot chocolate. 
We were lucky enough to spend time speaking with some of those attending the breakfast club about their experiences living on the street and with Let's Feed Brum itself. Collectively, they hailed Let's Feed Brum as 'one of the good ones' out there, in terms of support for the homeless in Birmingham.
They spoke of the charity as having an incredible sense of community, and its volunteers being just 'good, decent people'. It was difficult listening to some of the circumstances that had led to people needing Let's Feed Brum's support, and it made us realise just how valuable volunteer-led organisations are in the lives of so many. 
The volunteers themselves came from all different kinds of backgrounds who were all happy to have a chat with us about what motivated them to join Let's Feed Brum. 
Bob, a retired nurse, was there volunteering with his wife. He explained that for a few years in the past, he'd made the decision to stop buying Christmas cards and instead put that money towards donating to Let's Feed Brum. That was until last year, when he decided to go one step further and also start getting involved himself. When asked about his experience volunteering at the breakfast club, he told us that he loved it. Going home 'buzzing', he described the mornings as a real place to get to know people and develop friendships.
We asked Bob what message he'd wish to share with those reading our article, and explained that when you listen to the stories of those attending the food banks, you grow a real understanding of why it's important 'never to judge anyone. We are all one mistake or one paycheck away from homelessness.' and that we should be 'mindful' of the variety of complex circumstances that someone may be facing, that are often a result of genuine misfortune. 
Asking about what kinds of support Let's Feed Brum are most in need of, Bob explained that though the majority of attendees of the breakfast mornings are male, they have a lack of women's clothes on offer, specifically underwear. For men, there are much greater stocks of men's boxers and socks. If you were looking to donate to Let's Feed Brum, sourcing new women's underwear, crucially in a range of sizes, would be very handy. Aside from clothes, he also voiced the need for more hygiene products such as pads, tampons, toothbrushes, wet wipes and hand sanitiser.
Other volunteers we spoke to include Andrew, who'd spent 6 months with Let's Feed Brum as a trustee and treasurer. Previously working as a costs lawyer for 30 years, Andrew is now retired, joining the charity to 'do some good'. He'd found out about the organisation through his law firm who used to support and sponsor the breakfasts. Andrew, like many of those we spoke to that Tuesday, reiterated the fact that Let's Feed Brum is a 'community of people'. Used as a place for friendship and connection, he explained that people would even catch buses to reach them on the Tuesdays and Thursdays they run. Their impact is huge. Andrew told us that his experience volunteering was a 'very rewarding' one, and that he'd been moved by many of the stories of people using the banks and had made real personal connections as a result. 
We also spoke to Katherine who explained that on a busy day, up to 100 people may show up outside of the church across the morning. She said 'a cup of tea is the vehicle to start a conversation', and this spirit of friendship and community is exactly what we felt during our time with the charity.
Speaking of the other services Let's Feed Brum provide, Katherine also talked us through the regular walkabouts and talkabouts that frequent Birmingham in the evenings. There, groups of volunteers go to chat and check in with those sleeping rough on the streets. Katherine explained that community outreach was fundamental to the work Let's Feed Brum does. Critically, they aim to provide vulnerable individuals who're often struggling with things like addiction, mental illness and or trauma, with advice and a secure network to other services available in the area. 
We had a fantastic time volunteering with Let's Feed Brum and urge anyone considering getting involved to go for it. The breakfast clubs run on Tuesdays and Thursdays and walkabouts run in the evenings across the city centre. If you'd like to donate or learn more, you can access information here. 
---
For more Food for Thought articles, see here:
Guild of Students launch Community Pantry service amidst cost of living crisis 
Food for Thought: The Problem with Calories on Menus
Candy Cane Delivery Service by Action Against Homelessness Society