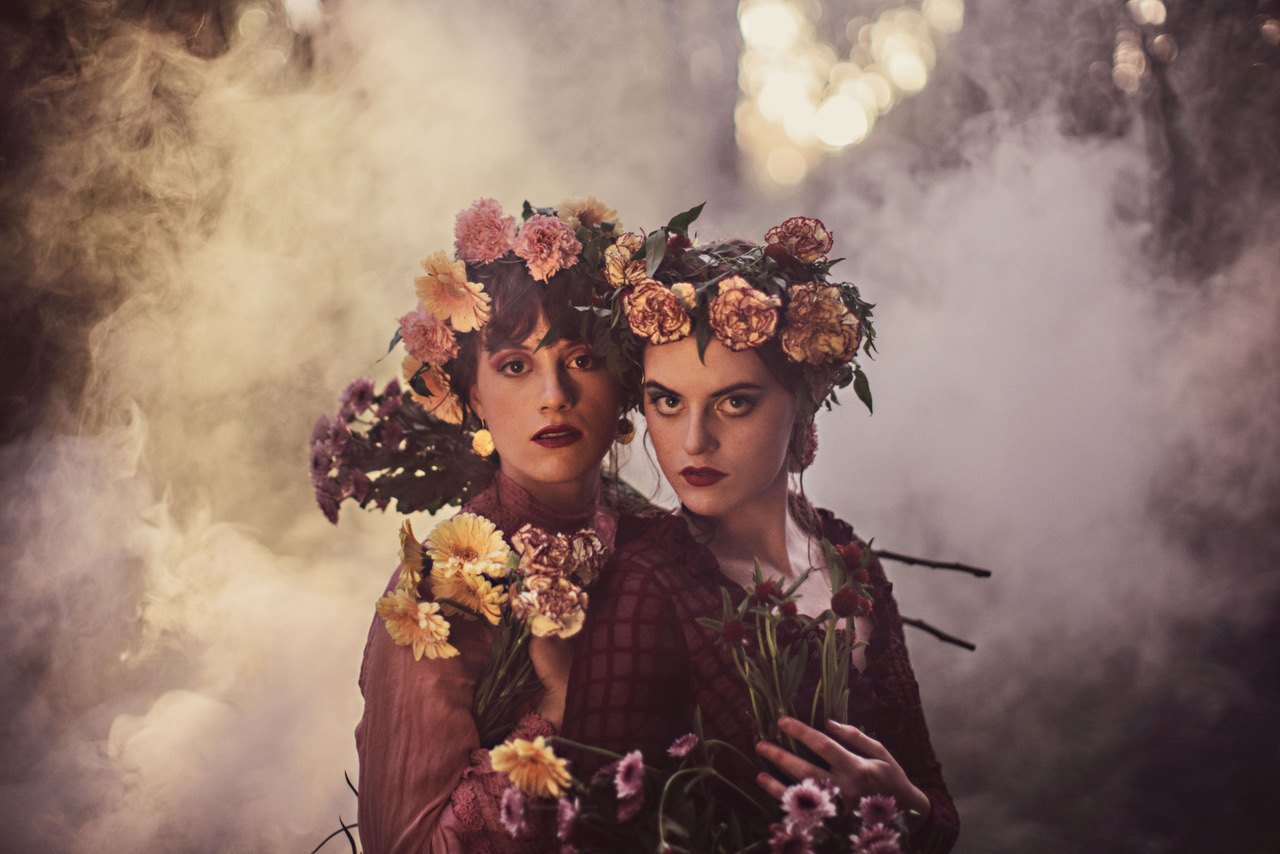 Music Critic Frankie Rhodes reviews sister duo Charm of Finches' intimate show at the Kitchen Garden Café, praising their unique and ethereal sound
In the cosy Kitchen Garden Café, sister duo Charm of Finches made their Birmingham debut with a magical set. To describe their style as 'intricate, dreamy indie folk' doesn't quite cut it; their evocative lyrics and luxurious melodies make them stand-out artists. While still finding their feet in the UK, this Aussie-born duo have sell-out shows ahead of them.
Mabel and Ivy opened the evening with 'Concentrate on Breathing,' a meditative track that matched their botanical aesthetic, and the intimate feel of the venue. The pair seemed quite nervous at first, which was understandable as they embark on their first ever UK tour, but they soon relaxed into their tranquil melodies. Mabel played acoustic guitar with a masterly flare throughout the evening, but both sisters had moments on the keys, and Ivy also adopted the violin for some beautiful refrains.
The stand-out instruments, however, were there voices, with both gliding through complex harmonies effortlessly. I had not realised when listening to Charm of Finches on Spotify how often the pair switch registers, allowing for variety and richness. Their second track 'Canyon' indicated this well, with the chorus reaching airy top harmonies.
When sharing the tune, Mabel and Ivy were perfectly synchronised, with careful pronunciation communicating the brilliant lyrics. 'Miranda,' a song that Mabel composed about a fictional character to embody extreme jealousy, featured wonderful storytelling, right up until the climactic moment that the protagonist plunges a knife into a rival lover.
I was delighted when Charm of Finches played 'Heavy,' my favourite song from their 2021 album Wonderful Oblivion. While the vocals exceeded my expectations, I found Mabel's piano backing a bit too heavy, ironically, although this was perhaps due to the smallness of the venue. Following this, the audience were treated to a brand new song that doesn't yet have a name, with a tragic tale in the chorus: 'sometimes I think I feel too much, but maybe you just do not feel enough.' A recurring piano motif from Ivy tied the song together nicely, ending with an impressive vocal round.
Moving further into the dreamscape, the sisters performed 'As a Child,' inspired by early memories. The mournful chorus juxtaposed with playful imagery of childhood imagination, with characters like the 'wise old oak' and 'the fox in the night.' This was fittingly followed by a track that follows a quote from J D Salinger's coming-of-age novel The Catcher in the Rye. In the whimsical song 'Where Do the Ducks Go,' the pair also explored haunting questions like 'how do I stop my mind going places I don't want it to go?'
Indeed, it is this quiet existentialism that makes Charm of Finches something special. They handle tragic themes with maturity and respect, such as Ivy's song 'Her Quiet Footsteps,' dedicated to a friend she lost at a young age. Strummed guitar and firm piano chords added energy to the delicate lyrics, making this a beautiful tribute. And in terms of musical tributes, Charm of Finches delivered a gorgeous cover of Leonard Cohen's 'Famous Blue Raincoat,' with light vocals elevating the dreary feel of the original track.
It was great to hear about Mabel and Ivy's makeshift vocal booth, made out of blankets and 'doonas' (the Aussie word for duvets), where they recorded Wonderful Oblivion over the lockdown. One track that featured this home-like feel was 'Gravity,' almost falling into the genre of chilled pop before a breath-taking folky chorus.
After performing 'Pockets of Stones' with lovely finger-style guitar and piano trills, Charm of Finches finished their set with 'Wonderful Oblivion,' the title track of their 2021 album. Mabel described the song humorously as 'a lullaby about death' – and it epitomised their dreamlike vibe, with lyrics that described 'fading into the light' perfectly bringing the evening to a close.
Of course, the audience demanded an encore, which the pair graciously provided, although I felt that this final song did not complete the set as brilliantly as the last. 'Paint me a Picture' was an intimate track, ending on a heartfelt message, but a little inconclusive. Fortunately, though, our time with Charm of Finches is far from over, as the pair are returning with more UK dates in July after spending a few weeks touring around Europe.
The duo have clear hints of First Aid Kit, which drew me to them, but they deserve to be praised as unique, distinctive artists. It was a privilege to catch Mabel and Ivy in such an intimate venue, as they are set for festival stages, but I am sure that even with bigger crowds, they will always retain their sincere charm.
---
You Might Also Like:
Album Review: Of Monsters and Men – Manneskja