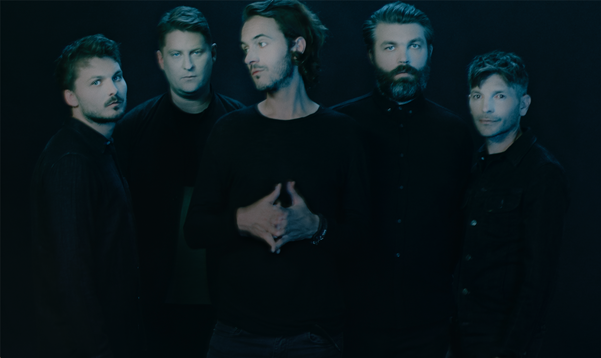 Editors put on a magical performance in Birmingham to celebrate their recent Greatest Hits album, Olivia Boyce writes
It has been almost 20 years since their debut album The Back Room staked Editors' well-deserved claim as one of the most talented bands of the post-punk movement. Multiple chart-topping albums and international tours followed, accompanying several studio releases that documented an ever-developing sound, a distinctive blend of atmospheric rock and electronic punk pop. Having recently released Black Gold, an album of their greatest hits with a few equally great new additions, Editors proved in a momentous hometown gig that they are better than ever, performing an astounding night of music that will not soon be forgotten.


The impressive Editors set followed an equally impressive half-hour set from support Whispering Sons. It is easy to see how the young Belgian band and British-based Editors complement one another – both have established voices and sounds that set them apart amongst the broader post-punk movements. Led by the baritone vocals of Fenne Kuppens, who consummately owned the stage from the moment she stepped onto it, tracks including 'Alone' demonstrated their talent for distinctively discordant and bewitching music. Discussing after their set, my friend suggested that their sound is 'what the '80's imagined the future would be like,' and I am inclined to agree, with songs from their album Image feeling at once almost ominously dystopic and captivating, prompting further listening. Their presence and sound made for an excellent supporting performance, and set them apart as one to watch.

With the tone firmly set by Whispering Sons, it was the turn of Editors to take to the stage, and they did so in style, opening with 'An End Has A Start'. It was an excellent choice as an opener, as the track encapsulates all that makes Editors so compelling, from the pulsating opening drums and stirring lyrics to the immense musical talent of each of the band's five members, and stellar vocals of lead singer Tom Smith. As he sang 'you came on your own, that's how you'll leave, with hope in your hands and air to breathe', the crowd was immediately on their feet, jumping and singing along.

Songs from the band's many albums including 2005's The Back Room and 2018's excellent Violence followed, with 'Bullets' and 'Magazine' particular standouts amongst the early tracks. Each of the band's five members are brilliant performers, changing instruments and styles without pause, a true gift given the sheer skill required to move back and forth amongst their catalogue of songs and sounds.

The concert was as much a feat of technical as it was musical artistry, with each song accompanied by an incredibly versatile display of lighting from rigs above and at the side of the stage. Tracks including 'Formaldehyde' to 'Spiders' were made all the more powerful by being matched perfectly to blinding white beams, moodier hues of red and blue, and even moments of almost complete darkness.


The gig also demonstrated the skill with which Editors are able to breathe new life into their music, both in reimagined arrangements and in adding new elements in live performance. Originally from In This Light and On This Evening, 'No Sound But The Wind' was here performed as it was reimagined for Violence, stripped back and showcasing Smith's astounding vocal talent. It made for a breath-taking moment, and as Smith hauntingly sang 'We walk through the ash, and the charred remains of our country', standing in a single still spotlight, the crowd, and I, were left stunned. It was, quite simply, magical.

Smith was amazing too in the less quiet moments, his distinctive lower voice powerful against the thunderous instrumentals of songs such as 'Frankenstein.' A recent release, the song has never sounded better than it did here, with the louder backing vocals bolstered by the crowd combining with the powerful guitars of Russell Leetch and Justin Lockey, and the accompaniment of Ed Lay and Elliot Williams on drums, keyboard and synth.

Amongst the strong set, fan-favourites like 'Papillon' arrived with aplomb, with the familiar stand-out bridge 'it kicks like a sleep twitch' echoing around the Arena Birmingham. An encore culminated, following more favourites like 'Munich,' in the powerful 'Smokers Outside The Hospital Doors,' in which Smith sang 'We've all been changed from what we were.' After such a memorable, accomplished, and magical evening with Editors, there is no doubt at all that we have been changed for the better.

Tickets for the rest of Editors' current tour are available here
Have a look at some more of our recent articles:
Album Review: Blossoms – Foolish Loving Spaces