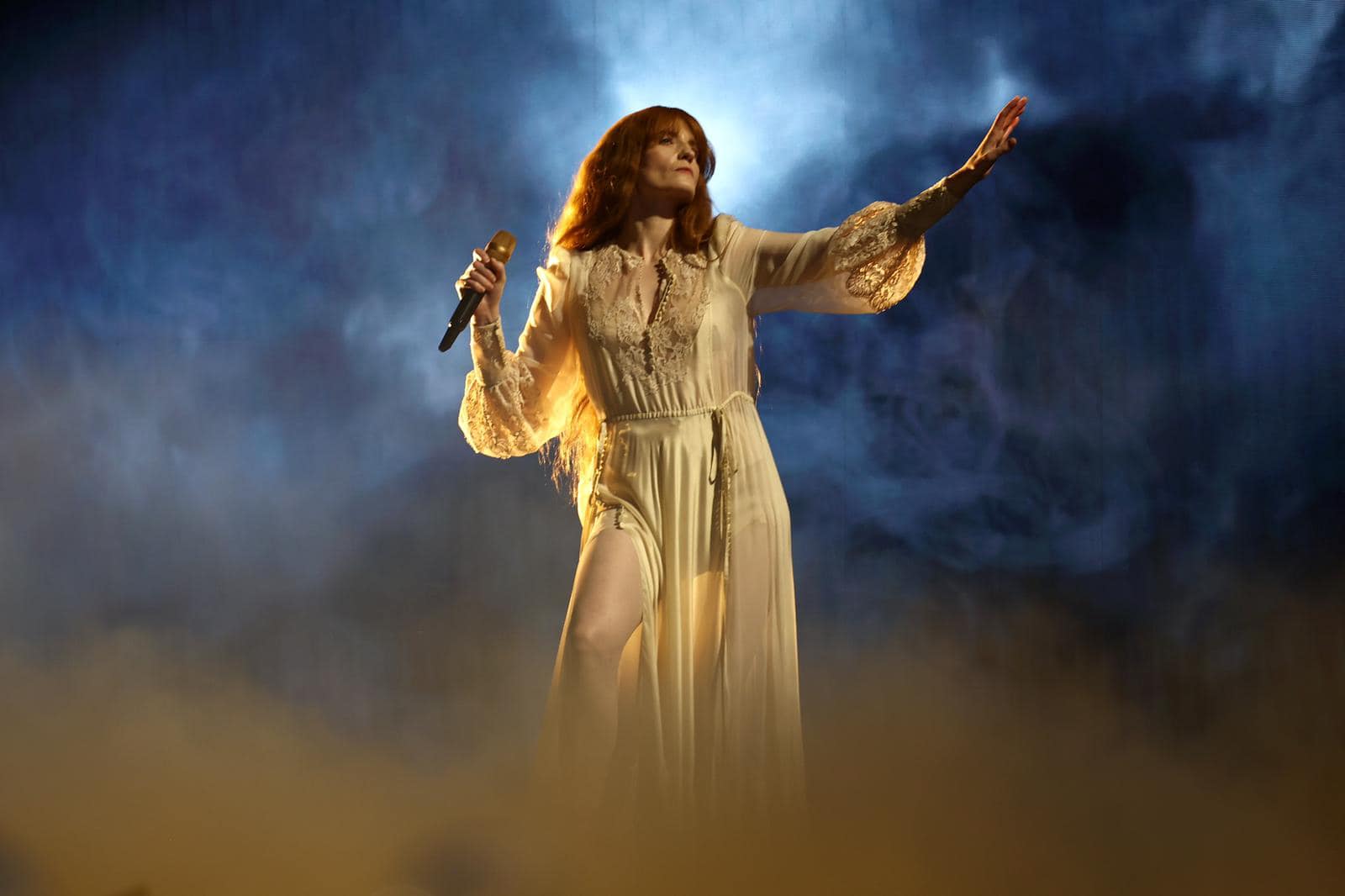 Film Editor Samantha Hicks reviews Florence + the Machine's intimate Newcastle show, describing it as an enchanting experience
If any word could perfectly sum up Florence + The Machine live, it would be 'spiritual.' Back for their first show after COVID-19, Florence + The Machine's Newcastle show on the 15th of April proved that the band only gets better with age. Playing well-loved classics and previewing songs from the new album Dance Fever, Florence put on the show of a lifetime.
With no support act, all eyes were on Florence as she walked on stage, and it was clear that we were in for a magical night. Dressed in one of her signature ethereal dresses, the feeling in the room was electrifying – fans having travelled from across the country to be present for the first Florence show since 2019, packed into the small, 2,000-capacity venue. The absence of 'The Machine' (Isa Summers) was certainly disheartening, but the fantastically talented band ensured that every song was played with masterful skill nonetheless. Opening with the classic 'Shake it Out,' the energy from on-stage and from within the audience felt like a cathartic release of the woes that have marked the past two years.
As my fifth time seeing Florence live, the intimate venue of Newcastle's O2 City Hall was her most enchanting performance yet. Though she never fails to foster connections with the audience, this show was on a completely new level – chatting with the crowd, stopping to ask for our help when she forgot the lyrics to 'What Kind of Man?' (a genuine moment that I will never forget – it's been three years since she's played to a live audience), reaching into our souls and reminding us of what it means to be truly present in the moment.
From the new album, Newcastle's audience were lucky enough to be among the first to hear 'Free' and 'Girls Against God.' It can be difficult engaging an audience with previously-unheard songs when they are used to shouting the lyrics along, but this was no problem for Florence. It was clear from the get-go that these songs, though new to us, were to become instant favourites. Moreover, we were able to hear the backstories behind these songs, which only made 'Girls Against God' even more emotive, as Florence explained how this arose from her feelings of anger and isolation from the first Covid-19 lockdown. 'Crying into cereal at midnight' was certainly a relatable lyric among the audience as sounds of amused agreement resonated through the room. Despite only a few singles from Dance Fever having been released at this point in time, the general excitement for the new album was undeniable. Indeed, the already-released songs from Dance Fever were received incredibly well – crowd excitement only being topped by the classics.
Throughout, Florence explained how the meanings of many of the songs she performed have transformed after COVID-19. Indeed, when it came to Florence's performance of 'June' from High as Hope reminding us to 'hold on to each other,' this line was even more poignant after being separated from our loved ones. Attending with my friend, a fellow seasoned Florence fan whom I had not seen since before the COVID-19 pandemic, Florence's messages to value the connections with your friends and loved ones were incredibly apt. When it came to 'Dog Days Are Over,' the point in every show at which Florence requests everyone to embrace the person next to them and tell them that you love them, this was yet another song that felt even more touching as an audience in 2022.
Having grown up with Florence's music, Ceremonials' 'Never Let Me Go' was one of the defining tunes of my early teen years; I never thought I would hear it live, as it has been over ten years since she last played it. This sentiment seemed to be shared amongst much of the audience, so when Florence announced that she was about to sing a song that she had not played in years, one which she never thought she would never play again, those who had been following Florence + The Machine's music for a long time knew that 'Never Let Me Go' was about to be performed. It was at this point that I had to pinch myself, as the dreamlike tones that mark Ceremonials only added to this other-worldly experience. Explaining that she had previously felt 'hungover' from this song, this was a hugely personal performance, and certainly stands as one of the best of the night. With so much emotion and power packed into one song, this performance was a visceral embrace of every audience member.
Playing songs from each of her albums to date – from Lungs to the latest Dance Fever – there were songs to enchant any fan, old or new. We were treated to eighteen of Florence's songs, from beloved classics such as 'Rabbit Heart,' 'Kiss With a Fist,' and 'What the Water Gave Me' to recent favourites such as 'Hunger,' 'What Kind of Man,' and 'Ship to Wreck' (though I appreciate that the latter two may no longer be considered 'new' after celebrating their seventh birthday.) It was clear throughout that Florence + The Machine are one of the biggest British talents of the last decade, with a consistent yet simultaneously refreshing musical style with each new addition to her discography. This show felt like an exhibition of the best-of-the-best Florence songs, a wholly satisfying return to live music after three years away. Muddling through the return to live music together, Florence's return to live performances will go down in my personal musical history as the most memorable and intimate show to date.
As the night closed with a final rendition of 'Spectrum,' complete with an audience-gifted pride flag, we were left feeling simultaneously fulfilled yet wanting more Florence. Fostering a sense of community and a shared religious experience of sorts, my excitement for the UK tour in November only multiplied and my only piece of advice is as follows: if you get a chance to see Florence + The Machine live, do not hesitate – no matter how much of a fan you are. Hosting a night of spiritual magic that can fill a venue of any size, Florence can truly never disappoint.
---
You Might Also Like:
Single Review: Florence + The Machine – King