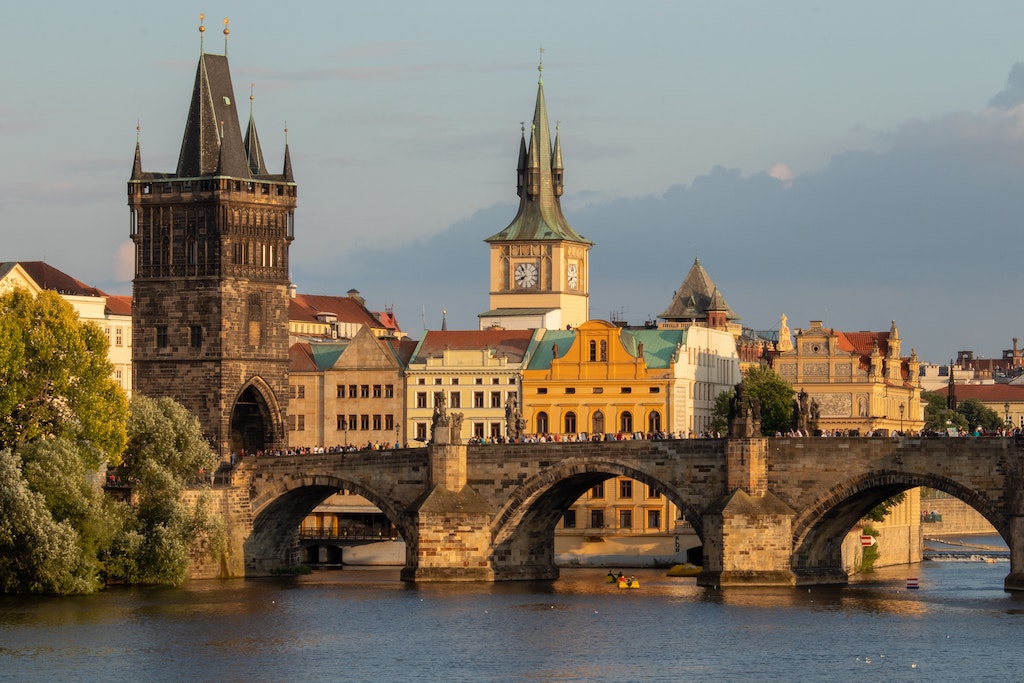 Digital Editor Rhiannon Wood explains why she thinks the picturesque city of Prague should be included on your bucket list
With lockdown causing everyone to feel nostalgic about their past travels, I have been thinking about my trip to Prague last summer. Nestled in the heart of Europe, in the Czech Republic, Prague is an absolutely stunning city, bursting with history and hidden gems.
Throughout Prague, there are many 'high points' in which you can witness the magnificent landscape of the area. For example, there is a small door at the base of the tower on the famous Charles Bridge. Here, you can pay a small fee to reach the top and take in the panoramic views of the city. I would also recommend Dancing House if you are looking for more great views.
On the east side of the city, there is a large green area of the Petrin Hill, situated at the top is a maze of rose gardens and an astronomy tower. Just a short journey from here is Prague castle, an immense complex that is definitely a must-see when visiting. At night, the castle is lit up, and standing by the river you immediately conjure a Disneyland-like feeling. The lights look like stars against the backdrop of the darkened buildings, softly reflected by the calm water of the river.
Wherever you stay in the city, you will have access to the tram service, which is both frequent and affordable. Staying further out makes little difference to your stay because of this, and especially since Prague is fairly walkable anyway. I stayed in Prague 10, which was about a 40-60 minute walk from Old Town Square.
As a vegetarian, I was unsure how great my chances would be at finding good food, given that Europe is typically more meat-consuming. However, I visited a fair number of vegetarian restaurants, which served incredible food and had a wonderful atmosphere inside (I would particularly recommend Maitrea). Fried cheese is a Czech speciality and you can find it almost everywhere – it is definitely worth trying.
Being a beer lover, I knew I would be 'a kid in a candy shop' in Prague, since beer is consistently the cheapest in the whole of Europe. I can confidently say that the average price I paid for the famous 'Straropramen' was between £1-£1.20. You should be wary though, in Prague 1, in the city centre near the river, there are tourist traps everywhere, in which beer costs a pretty penny. Doing research to find the bars and pubs that locals frequent is definitely worth the time.
My AirBnB host invited my friend and me to a pub around the corner from him, which really embodied the feeling of locality. We sat drinking ridiculously cheap beer and reflecting on Prague's communist history, all whilst the shouting of football fans echoed from down the road, where a football game at Bohemian 1905's home pitch was happening. On the back of this, we went to a Sparta Prague game a couple of days after, where we experienced a true taste of Czech pride and passion.
Secret Must-Sees:
City Hall – Walk through the front doors of the city hall, bear right and follow the corridor to the back. Here there is a constantly rotating escalator – like the ones that used to be installed in Muirhead Tower – it is very fun to hop in and out, and there is no law against you being there.
Burrito Loco – The fast-food style eateries dotted across the city and are open 24 hours, great after a night out! They serve burritos, enchiladas, and nachos, but I could not resist devouring the Beyond Meat burger every visit.
---
For more articles in this series, check out the links below: