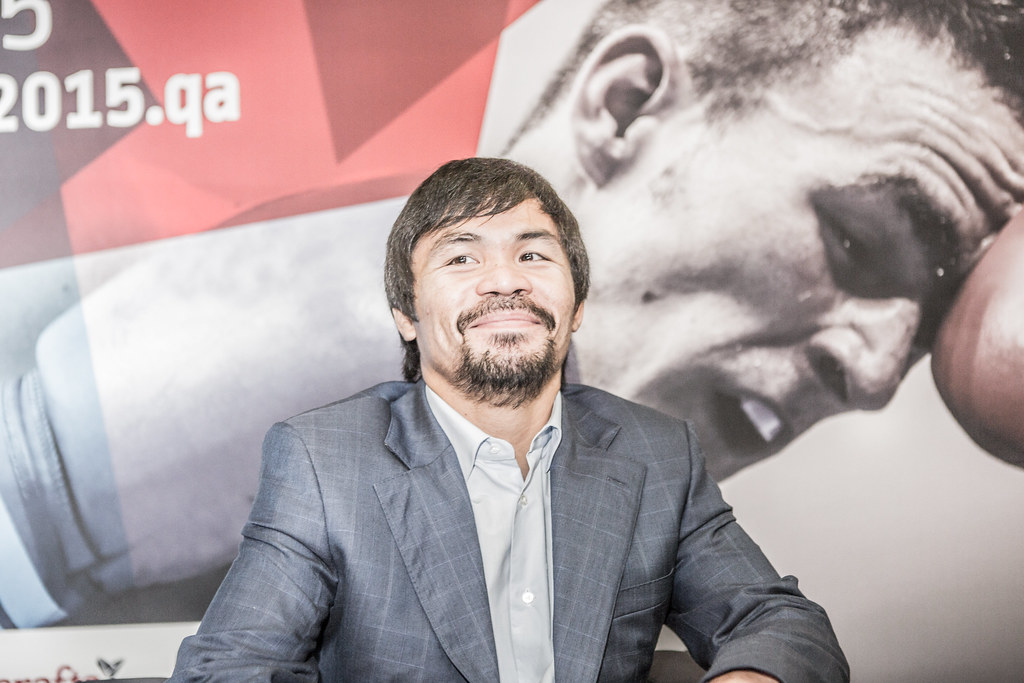 Sport Writer Will Rogers reviews Manny Pacquiao's career following his retirement, arguing that he is one of boxing's greatest fighters of all time
The word 'legend' gets thrown around far too much these days. Yet, for a champion like Manny Pacquiao, no other term could do his career justice. The last surviving member of a golden age of fighters in the middle weight categories, Pacquiao, or 'PacMan', has flown the flag for the Philippines for a quarter of a century and will continue to do so as his political aspirations grow.
As with many great boxers, Pacquiao had a tough upbringing, living on the streets of Manila before starting boxing at 14. After a short amateur career, he turned professional at 16, winning his opening fights before a loss to the unheralded Rustico Torrecampo.
However, his upward streak continued, capturing his first world title in 1998 at the 112lb flyweight division, before losing it in 1999. As he moved through the weight classes, the clamour for him to showcase his talents in a bigger market grew, making his US debut in destroying Lehlo Ledwaba in 2001.
The acid test for Pacquaio came in 2003, when he fought the legendary Mexican, Marco Antonio Barrera, in San Antonio. Barrera, fresh off his own phenomenal winning streak again Naseem Hamed, Erik Morales and Kevin Kelley, was blown away by the hand speed and footwork of Pacquaio, before being stopped in the eleventh round – the only stoppage defeat of the Mexican's Hall of Fame career.
His loss to another legendary Mexican, Erik Morales in 2005, sprung Pacquiao into one of the greatest winning streaks the sport has ever seen. In the space of six years, the Filipino knocked out legends like Morales twice, Oscar de la Hoya, Ricky Hatton (with a knockout of the year), and Miguel Cotto, whilst also outpointing Juan Manuel Marquez twice, Antonio Margarito and Shane Mosley.
Nevertheless, there was one name missing from his illustrious resume, a fight that boxing fans were desperate to see. Against the defensive master that is Floyd Mayweather.
In 2012, Pacquiao fought the up-and-coming Timothy Bradley at the MGM Grand in Las Vegas, losing a horrendous split decision to the American. Although he avenged the loss twice, this defeat, which I personally scored 117-112 to Pacquiao, tarnished the legacy of the sport.
Following this shock defeat, Pacquiao returned to the ring against Marquez for the fourth time, having remained undefeated in the first three. However, despite winning the first half of the fight, Marquez produced arguably the most iconic knockout in boxing history to flatten the great man and leave many questioning his future in the sport.
But as we have seen with many great champions in recent years, they can recover and, as long as they are still healthy and driven, can always produce when it matters.
In 2015, it was finally announced that Mayweather and Pacquiao, now both in their late 30s, would meet in the ring. After 12 disappointing rounds, Mayweather came out on top in this multi-million-dollar fight, leaving the whole boxing world slightly underwhelmed.
Pacquiao didn't begin to slow up just yet. As Mayweather went in search of money in exhibition fights, Pacquiao continued to beat champion after champion, defeating Adrien Broner and Keith Thurman, whilst also beginning his political work in the Philippines. His final fight against Yordenis Ugas, who replaced Errol Spence with less than two week's notice, was not the way a champion of Pacquiao's stature deserved to go out, yet this will not tarnish the legacy of a great champion.
This week Pacquiao released a statement thanking, "the greatest fans and the greatest sport in the world". Whilst many fighters have made comebacks, it seems that Pacquiao is at peace with his decision and will continue to love the sport from afar. As a new wave of welterweights moves in, no one wanted to see Pacquiao fight on for too long and get hurt.
This eight-division, twelve-time, four-decade champion has secured his legacy and his place in the inner pantheon of the Hall of Fame. Whilst the boxing Greatest Of All Time debate will continue forever, with many fighters being selected from a bygone age, Pacquiao can claim his position against any name from the past. Whilst Ali was flashy and brilliant, Mayweather was masterful, and Klitschko was dominating, if someone told me that Pacquiao is the greatest ever, you wouldn't hear me complaining.
---
Like this? Check out more from Redbrick Sport:
Page to Face Lima in MMA Rematch Bout
Where does 2021 Leave Novak Djokovic?