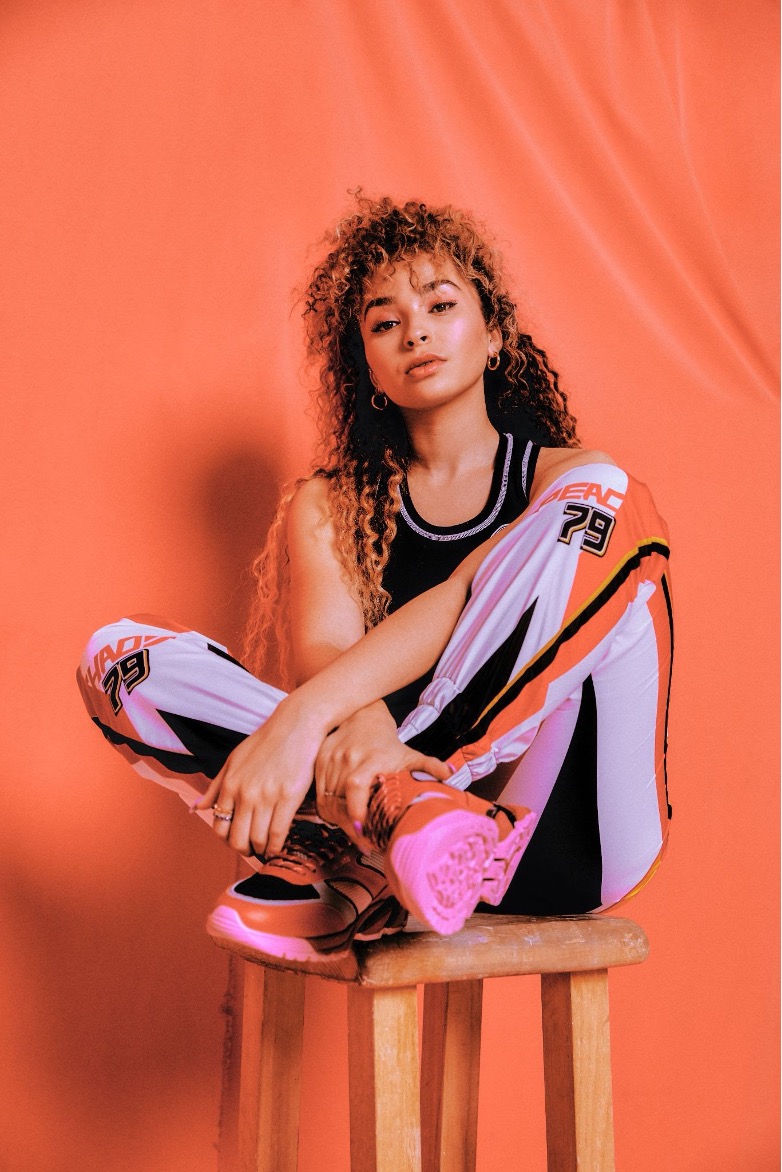 Digital Editor Tamzin Meyer sits down with Ella Eyre to chat about touring, pre-show rituals and coming into her own as an artist
I sat down with pop sensation, Ella Eyre, ahead of her 2021 UK tour that kicks off later this month. Ella Eyre has had over 900 million+ global streams and has collaborated with the likes of Sigala, Banx+Ranx, Rudimental and Dizzee Rascal, now returning to what she does best after the pandemic caused her tour to be rescheduled. Fans of the 'Came Here For Love' singer can be assured that it has been worth the wait as the tour promises to be packed with energy and the longest setlist Ella Eyre has performed on tour to date.
---
How excited are you to finally be going on tour after it being rescheduled for so long?
Oh my gosh, I am very excited to be on tour because the one thing I've always loved about my job is touring, and to not be able to do that for a year and a half, longer I think, two years, really was… it really made me question what I was doing with my life and then when I was doing festivals in the summer again it just reminded me all again why I love doing what I do so much by performing live, singing in front of a crowd, singing your word, and just jumping up and down and having fun. People have paid for a ticket to come and see you, you know, it's like a family, and it was really nice to see the family again.
Yeah, and you mentioned festival season. Did you find it really strange, after being locked in the house for so long, to finally get back out there?
I found it really strange up until when we actually played the first gig. When we were rehearsing it didn't feel real, when we were on the way there it didn't feel real, but then once we arrived I was just like, ah God, yeah this is what I was born to do. I love it! 
Is there anything you do to prepare before you hit the stage?
Yeah, well, I always do my vocal warm up. I take ten minutes with nobody in the room before I go on stage, just to compose myself and get ready for the gig. Then, we always do a little prayer together at the side of stage; we do this funny prayer where we all just chant and shout things at each other to hype each other up. And then, just before the bands go on stage and the intro is playing, I always like to do ten press ups before it's my time to run on stage. My challenge is to do fifty press ups before the time's over. 
Oh wow. It must be really important to get yourself psyched up like that. That sounds really interesting!
Yeah, I think it's just a last minute distraction so I don't have any time to worry or panic, or think about, you know, things going wrong. I've just got ten seconds to just get ten press ups out the way and then go with it. 
What can fans expect from your tour? Are you going to be bringing that kind of energy to the tour?
Always energy, always energy! I run around on stage as my gym workout, to be honest. I love it! There's going to be lots of music. It's going to be my longest set for a really long time. I released an EP in lockdown and the whole point of the tour was to be able to promote that. So there's going to be all of the tracks from the EP on there, the new song that I did with Becky, and yeah just lots of fun really! You know, it's just really nice to be out again! I want everyone to just lose themselves, enjoy it, sing along and get involved.
That's amazing! Obviously, you have the big crowd-pleaser hits like 'Just Got Paid' and 'Good Times' which you must be excited to perform. Are there any other favourite songs you're excited to perform live again?
Yeah, I am actually. I'm really excited to perform one of my songs from the album that never really gets to go on the festival set because the festival set is shorter. It's from my first album and it's called 'Even If,' and it's a ballad. It just meant so much to me when I released that song, and it still to this day keeps having refreshing meaning to newer situations in my life. I know it's a fan favourite so I'm really excited to sing that one because everyone gets emotional and gets their lights out and puts their signs up so it's going to be nice to be able to do that again.
'Even If' is one of my favourite songs so I'm very excited to hear that! I bet it will be nice to perform some of your hits from Feline. It must seem like ages ago since you last performed some of those live.
Yeah, exactly! That's what's so crazy! I am terrible at remembering lyrics as it is. In the festival season, I don't think I got the words to 'L.O.V.E.' right once. It's so tricky when there's Eyreheads in the crowd because I'm like, ah goddammit, they know! So there's no excuse on the tour, I've really got to get my memory up to scratch and remember the words because it's gonna be difficult with all the old songs that I haven't performed for so long.
I can imagine but I'm sure you'll be fine! Your newer music has a different vibe to your older tracks. Do you feel like you've grown more as an artist during this time since the first album?
Oh my God, definitely! I've actually grown since all the newer music because I had actually planned to release some music this year and I had vocal surgery in December. I had a lot of time to listen to my music and make plans and stuff, and I decided that, you know, it wasn't really what I wanted to do and I wanted to take my time. COVID has taught me that, you know, there's no rush of anything. You've got to get things right and so I've just been in the studio starting again really and really honing in on what it is that I want to make, and how I want my sound to be. I'm really excited by it! It almost feels like I'm actually going back to Feline days.
Yeah, I can definitely see that you've become more confident as an artist. It feels like you know who you want to be more.
I appreciate that, thank you. I think it's just ageing and growing up and realising what you want for yourself.
Yeah definitely! You've done quite a few tracks with other artists in your career, like Sigala. I love your latest song, 'Business,' with Becky Hill! What was it like getting to work alongside one of your close friends?
So cool! I mean I've worked with her so many times and we've always written songs together. It was really nice that for once we actually got to put a song out that people can hear and enjoy. It was such a fun day when we wrote it and it was just really quite euphoric to have that out and to be able to share that with her and hopefully we'll get to do more.
You've got Bow Anderson coming with you on tour. Are you excited to be sharing the experience with her?
Yeah, I've actually got a few mutual friends and I know that we're gonna have so much fun together. I really love her voice. I think she's got a really unique voice and she's so tiny and so sweet! I'm really excited to have the girl on tour with me!
Finally, what's next after touring ends? Are you in the process of writing and recording any more music?
I'm always writing and recording. Like I said earlier, I've switched up my direction and I've really taken the time to hone in on what it is that I want my sound to be. The one thing I've realised over the years is that, once you release a song, that's out there forever and I want my next project to be something that I want to be out there forever. I'm really excited about what's to come. It's gonna be a while but I'm very excited about it! 
---
Ella Eyre begins her 2021 UK  tour on 18th October in Bristol before she makes her way to Manchester, Glasgow, Newcastle Upon Tyne, Birmingham and London. You can get tickets to see Ella Eyre here: Ella Eyre Tickets | 2021-22 Tour & Concert Dates | Ticketmaster UK
---
You Might Also Like:
Single Review: Ed Sheeran – Shivers