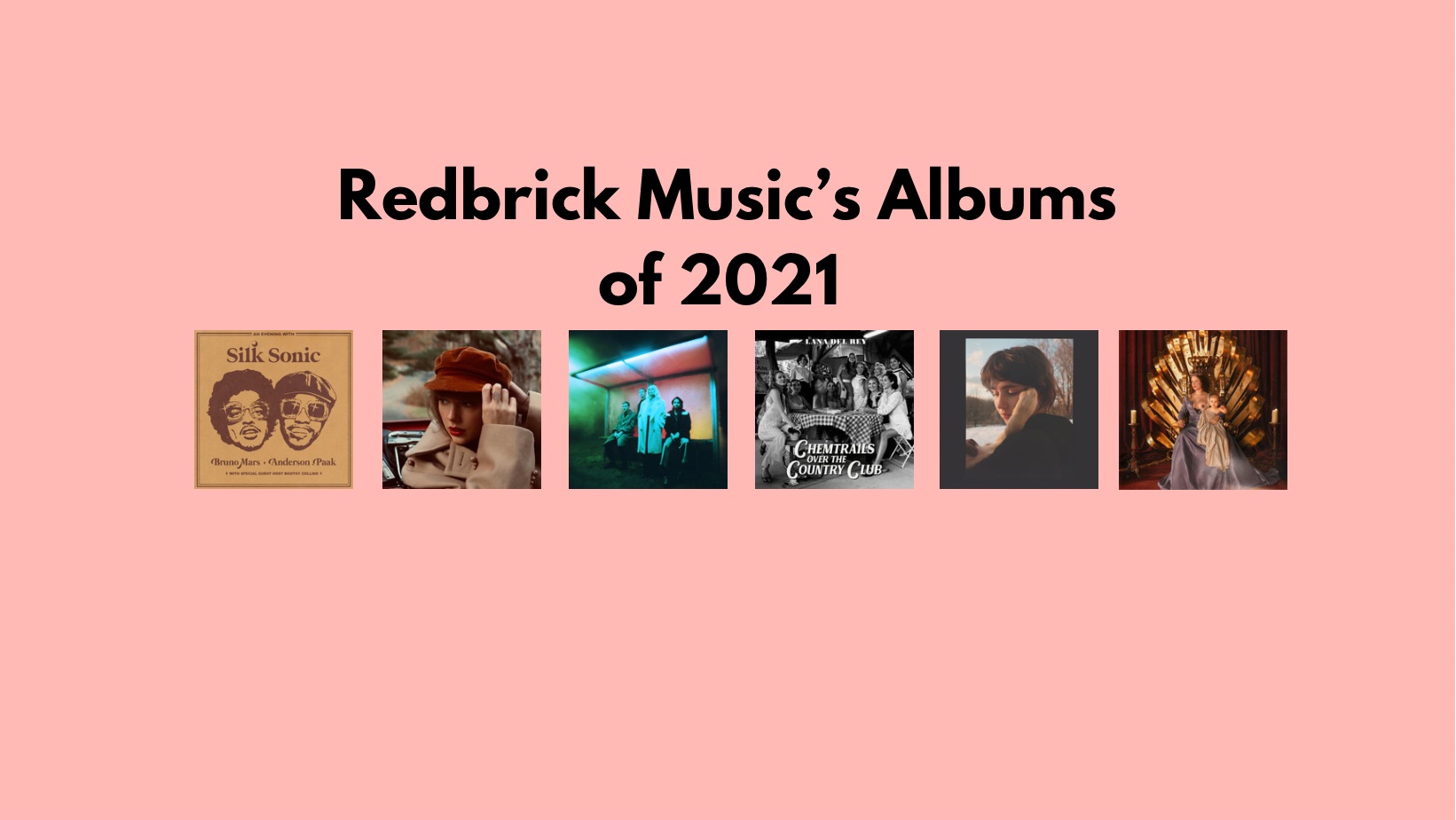 Redbrick's Music Writers come together to discuss their top albums of 2021
Redbrick Music's Album of 2021:
Taylor Swift – Red (Taylor's Version)
Darcy Benford
Red (Taylor's Version) is the second album in Taylor Swift's project to re-record and reclaim her albums originally released under the Big Machine label. This remake of her 2012 pop classic shows her breath-taking ability to take what is already stunning and make it better still. Making a jump from the original 16 songs to 30, this album plunges the listener even further into the depths of heartbreak and coming to terms with it.
From the raw vulnerability of tracks such as 'Nothing New' and 'Sad Beautiful Tragic,' to the new-relationship excitement that virtually overflows out of 'Message In A Bottle,' this album hits every emotion on the spectrum. Swift even throws in 'I Bet You Think About Me' for good measure, an I am over it country diss track that harks back to her roots in the catchiest way possible.
The highly-anticipated 'All Too Well (10 Minute Version)' epitomises the emotional depth this album provides. Nearly doubling the length of the original song, Swift takes her already intensely moving ballad and makes it heart-wrenching, adding new personal specificities which feel like Swift baring her soul to the listener.
This album feels intimately personal, a step inside Swift's heart and mind in her early twenties. The new extended length of the album weaves an even more sophisticated narrative of a turbulent relationship, from its innocent beginnings to the scars it left behind. Emotionally raw and complex, this honest articulation of heartbreak is not to be missed.
The Shortlist: 
Silk Sonic – An Evening With Silk Sonic
Aimee Sargeant 
When I first heard that Bruno Mars and Anderson .Paak were getting together to create Silk Sonic, I definitely had high expectations because both artists are individually great. I come back to them all the time. So when they released An Evening With Silk Sonic I have had it on repeat ever since. They certainly did not fail to create a smooth, creamy and balanced album. The RnB album is infused with jazz tones, making it sound like something that would be produced in the 70s. The album is perfectly balanced and makes you feel like dancing.
It is boldly retro-obsessed – the duo seeked particular drum skins to replicate sounds of the studio from the era. From the easy listening 'Smokin Out The Window' to '777' – a more upbeat and experimental sound with the bass and addictive drum beat – the album is progressive and enchanting. It makes me want to turn up the volume every time, and 'not to be dramatic but I wanna die' every time I listen to the album (in Silk Sonic's own words.) Even the intro 'Silk Sonic Intro' is oddly mesmerising and makes you feel like you are about to watch a Las Vegas show. Hyped up on TikTok, 'Leave The Door Open' was the first release from the album, and you can see why it got the hype. Bruno Mars' vocals and Anderson .Paak's vocals are addictive and compliment each other greatly. It is an album that can transport the audience to another time, where maybe the world was less chaotic. I will continue to listen to this album where it encapsulates an incredible time period for music, but with the stamp of Silk Sonic.
Wolf Alice – Blue Weekend
Anna Drysdale
Wolf Alice never fail to impress at the release of new music and their breathtakingly confident third studio album, Blue Weekend, is no exception to this. Throughout a loose inspection of the highs and lows of relationships, the album finds a perfect balance between alternative rock and fanciful pop that captures an existence of emotive melodrama. From an exploration of the remote love found in 'Delicious Things,' to the simple melodic strumming of 'No Hard Feelings,' each track is uniquely definable against the album as a collective and cinematic backdrop. A track worthy of particular notice is 'The Last Man on Earth.' The song is vivid, dramatic, and beautiful, what anyone acquainted with the literary work of Stephen Chboksy may label a 'tunnel song.' Its gradual wistful beginning is quickly tangled up with the band's incredible instrumental work, before collapsing into a bridge laced with the same emotional extravagance that defines Blue Weekend as an album.
A soundtrack to the romanticised city dweller, the band stay close to the conventions of alternative rock with the dynamic sounds of 'Smile' and 'Play the Greatest Hits,' while the enchanting interlude within 'Feeling Myself' will have you slamming the volume up button. Wolf Alice's continuous ability to transport their audience through exciting and unpredictable territories sets Blue Weekend apart from other albums this year.
Lana Del Rey – Chemtrails Over the Country Club
Hannah Vernon
Perhaps the Paradise Edition of Born to Die will remain my steadfast favourite Lana Del Rey album, however Chemtrails Over the Country Club has secured its vision in 2021. The first of two extended plays released this calendar year, Chemtrails evokes and reignites the stripped-back glamorous melancholia first described in 2019's Norman Fucking Rockwell! This album remains quintessentially Lana, a poetic study of lyrical Americana, a familiar chapter of disillusioned escapism that renders you heartbreakingly nostalgic as ever. Such a summary sounds rather like accustomed territory, and yet Chemtrails feels very much raw and fresh.
Coinciding with the prominent thread of love disenchanted is a sense of stepping away from the Hollywood glamour, a retreat to the 'Country Club' so to speak. Both 'Tulsa Jesus Freak' and 'Wanderlust' feature less typically sensual and romantic places, the latter explicitly referring to new Nebraska 'haze' distinct from the faded gleam of Californian ashes. 'Tulsa Jesus Freak' depicts a longing for a windswept ranch in Oklahoma and the 'little piece of heaven' one might seek in Arkansas. Such is juxtaposed to the underlying wildness of stardom, the sense of growing into fame and the anonymity felt beforehand, perhaps most detailed in opening song 'White Dress.'
Of all these tangled poetic threads explored, the sense of a cohesive wild heart and a beautiful normality is most potent. The titular ballad expresses this most of all, toying with the mundanity of 'doing the laundry,' watching 'late night TV' against the backdrop of the 'jewels in the swimming pool.' The flickering between normality and the longing to escape from the colourful glamour to a fresh breeze far from Calabasas, however jarring, is a poignant ode to the enchanted world Lana Del Rey has encapsulated and poetically explored across her prior six albums, and no doubt shall continue to detail in brand new jewels to come.
The tribute present in the 'Chemtrails' song edition to her own sister is a precious rendering of the sisterhood not always so strongly developed as the heartbreak that permeates her discography. This, perhaps, makes the titular track my favourite, for it grants a new perspective escaping to – rather than from – a disheartened love. An eclectic collection of ballads at its core, often tuned to few instruments and vocal prominence, Chemtrails Over the Country Club captures a brand-new sound for Lana Del Rey in 2021. First and foremost, it signifies a move towards embracing new and spirited loves whilst paying homage to the gaudy snares of heartbreak that have made her portfolio so compelling thus far. Her seventh album sits perfectly in harmony with all that has gone before, and sparks a promise of a different spirit yet to be explored.
Clairo – Sling
Isabelle Porter
Released in July, Clairo's sophomore album, Sling, is a tender contemplation of parenthood, fame, and mental health. Clairo (aka American singer-songwriter Claire Cottrill) co-produced the album with Jack Antonoff, grounding the work in the nostalgic sounds of 70's folk. The songs are rich in acoustic instrumentation, with the vintage twangs of the Moog synthesizer and Wurlitzer electric piano.
'It's a glimpse into a world where I found that domesticity is what I was missing,' Cottrill wrote of Sling in the caption of her Instagram post announcing the album. Several tracks explore the nuances of comfort, uncovering the feelings of loneliness that can come about from falling into patterns of repetition. Cottrill reflects on the distance that results from the neglect of personal relationships, which she criticises herself for in 'Amoeba,' as well as from devoting oneself to an unrequited love, which she gauges in 'Harbor.'
However, one of the most poignant moments of self-reflection occurs in the eighth track, 'Just For Today.' 'Honestly, I didn't think I'd end up here this time,' Cottrill sings, candidly recounting her struggles with her mental health, whilst also echoing the sense of isolation and burnout felt by many people nearly two years into a global pandemic.
Recently, the album's opening track, 'Bambi,' was listed as one of Rolling Stone's '50 Best Songs of 2021,' while the disco-tinged 'Amoeba' became a trending sound on TikTok this autumn. As an album, Clairo's Sling resonates with warmth and familiarity as much as remoteness and uncertainty.
Halsey – If I Can't Have Love, I Want Power
Meg Devine
Aided by Trent Reznor and Atticus Ross of Nine Inch Nails in what could be called one of music's most unexpected collaborations this year, Halsey's If I Can't Have Love, I Want Power is a dramatic and hypnotic exploration of new motherhood, rebirth, and rebellion. Written throughout Halsey's first pregnancy, the album is a swift but welcome departure from their previous material, both sonically and thematically.
Halsey's lyricism and storytelling ability is what drew the duo to the project, and this is evident in tracks such as 'You Asked for This': 'I want my cake on a silver platter / I want a fistful in my hands / I want a beautiful boy's despondent laughter / I want to ruin all my plans.' 'Honey,' which ended up being my top-played Spotify song of the year, is Halsey's contribution to the pop-punk-like sound that's been seemingly bleeding over into mainstream pop this year with a characteristic sapphic hook: 'She stings like she means it / She's mean and she's mine.' 
The album's centrepiece is its only single, 'I am not a woman, I'm a god,' in which Reznor and Ross' combine their characteristic synths and thumping bass-lines with Halsey's soaring vocals to capture the album's theme: 'I am not a martyr, I'm a problem / I am not a legend, I'm a fraud / So keep your heart, 'cause I already got one.'
If their debut BADLANDS defined 2015 – and it did, for anyone frequenting Tumblr at the time, with its strong aesthetics and depiction of teenage angst and rebellion – then If I Can't Have Love brilliantly sums up the inevitable rage and self-doubt of life post-2020: 'Don't wait for me / It's not a happy ending.'
The Best of the Rest:
Adele – 30
Leah Renz
30 is so monumental that I feel unworthy of writing about it. Adele's openness about her struggles over the past few years – 'the most turbulent period of my [her] life' – combined with the awesome power of her voice humbled me before I had even begun listening.
The first line – 'I'll be taking flowers to the cemetery of my heart' – encapsulates the tone of the album: a mingling of melancholy, love, grief, and self-healing, but also, in the whimsically smooth slipping of voice over notes, an undeniable playfulness. Deliciously spooky harmonies enter at just the right time like a musical shiver of anticipation for the Gospel-style vocals which, happily, recur throughout the album. The undertones of Gospel and Soul, exemplified in 'I Drink Wine' for example, is a perfect match not only for Adele's voice but for the self-aware candour of this album and the intensity of emotions which are heart-wrenchingly moving as well as bravely signalling a new beginning.
The personal nature of her grief – for a father lost, a marriage she ended – is evident in the lyrics and in the recordings of herself and her conversations with her son. These spoken moments are particularly powerful because they are so intimate, and so clearly speaking to her personal lived experience. Different lines will resonate with different listeners, but when truly listening to some of the songs of this album, your body cannot help but react – with tears and with literal goose bumps. I am simply in awe of a woman who, in barring her soul, created such a masterpiece.
Doja Cat – Planet Her
Sophie Handler
In a year full of an overwhelming amount of music being released, it would be easy to miss new albums even from the biggest rising pop-stars. Doja Cat however managed to grab the attention of everyone with the release of her new album Planet Her.
After a successful few years following the release of Hot Pink which dominated the internet, no less was expected of Doja Cat than to release a new set of unique and catchy songs. The album was already given a promising start after the lead single 'Kiss Me More' proved to be extremely popular amongst both radio listeners and TikTok users.
Multiple singles off the album managed to turn into some sort of TikTok trend, which came as no surprise due to the catchy nature of Doja's songs. At many points I found myself unable to stop listening to due to the addictive nature of the beat and lyric combination, such as 'Need to Know' which is personally my favourite track off of the album. Other underrated tracks such as 'Love to Dream' added a new dimension to the album with a pulled back Lo-fi esc sound, and 'Alone' being much more mellow compared to other pop-heavy tracks.
With the success of so many singles off the album combined with features from the likes of SZA and The Weeknd, it is no surprise that Planet Her ended up being such a successful and memorable pieces of work, as well as my top album of the year.
John Mayer – Sob Rock
James West
John Mayer's Sob Rock is the artists first major release in four years and is a great example of the adult orientated pop that he has become widely known for. Some of the songs like New Light had been released as early as 2018, while others had been especially written for this record.
From the opening track 'Last Train Home' where he channels his inner 1980's Eric Clapton to 'New Light,' a track which incorporates elements of synth pop and disco, Mayer impresses with a range of genres across the ten songs.  Mayer's song writing over the last few years has become more reflective as shown in songs like 'I Guess I Just Feel Like' or 'Shot in the Dark,' both of which focus inwards on him and outwards to a long departed lover. All of this is underpinned by his exquisite guitar work, which adds a greater depth of emotion to each song. Mayer does a great job of balancing out his ballads with more upbeat songs, and the result is a very well rounded record which is greater than the sum of its parts.
With a stellar cast of backing musicians ranging from Pino Palladino to Maren Morris, Mayer has released another record which shows why he is so popular 20 years after he started making music, with a universally appealing set of songs.
Greta Van Fleet – The Battle at Garden's Gate
Emma Gardner
With the release of their seminal album back in May, Greta Van Fleet have shown how rock is back and is here to stay. The rock warriors from Michigan are here to carry the torches for us with their long-awaited rock revival. The album is innovative, original, and captivating, highlighting the band's exciting ethereal splendour. It is a faultless mix of exhilarating, hair raising guitar crunch and stripped back, dreamy numbers.
'Built By Nations' summarises what the rock revival is about, a quintessential rock riff that channels those written by greats like Jimmy Page, being reincarnated in guitarist Jake Kizka's skilful delivery of some truly great face-melting guitar. The opening track 'Heat Above' also presents a cacophony of vocalist's Josh Kizka's distinctive screech and drummer Danny Wagner's energy.
The album is undoubtedly a love letter that is reminiscent of the band's classic rock influences, but that is not necessarily a bad thing. They have been criticised on multiple occasions as being Led Zeppelin rip offs. However, I fail to see how that is a criticism. I personally salute any band that wants to keep their legendary, historic sound alive in a changing modern world.
The album is a flawless demonstration of the band's innate talent and ability to craft an exciting rock album in an updated, modern, and histrionic fashion.
Billie Eilish – Happier than Ever
Deyna Grimshaw
After being released at the end of July, Billie Eilish's Happier Than Ever finished the year in eighth position on the Billboard '50 Best Albums of 2021.' The album also reclaimed Eilish the title for most pre-saved album in Apple Music history.
This latest album from Eilish portrays the true beauty of Billie's music – her sound stands out from that of other stars, and she does not shy away from highlighting societal issues through songs such as 'Not My Responsibility' and 'Your Power.' Billie Eilish gets a reputation for writing overly sad and dramatic songs, but I think this is why her music works so well, as these are essential to create a balanced sound. Her album as a whole has a sense of beauty, and she cited the pandemic as part of the influence behind the sound.
Like the immediate success of Olivia Rodrigo, the talent that Eilish has shown previously, and continued with her album this year, shows the way in which the music industry is being passed onto the next generation. Combining the incredible song writing abilities of both Billie and Finneas with her delicate and unique vocals means it is almost impossible that she will not go onto to create a legacy and impressive discography akin to that of Taylor Swift. I am sure that many fans are highly anticipating the next release from Eilish, as well as her upcoming tour in 2022.
Taylor Swift – Fearless (Taylor's Version)
Tamzin Meyer
Fearless was always my favourite album of Taylor Swift's but Taylor's Version hit on a whole other level – being the star of the show when it came to my Spotify Wrapped this year. Swifties across the world had been waiting for the release ever since Taylor first hinted it and it was sure not to disappoint. This album just has to be the best album of the year – if you are looking for an album of sweet love, heartbreak and revenge then look no further.
The maturity in Taylor's voice on the re-recorded album was to be expected yet this did not stop it from being surprising. Taylor truly reclaimed her rights back and made the tracks her own once more, in true Fearless style – with my new wrist tattoo paying tribute to just that. My personal favourite tracks from the album are 'Fearless,' 'You Belong With Me,' 'Superstar,' and 'Mr. Perfectly Fine.' This being said, every track is worthy of a listen and deserves its place on one of the greatest albums of the year… no… of all time.
The Maine – XOXO From Love and Anxiety in Real Time
Sammy Andrews
Perhaps a more personal and sentimental choice, The Maine's XOXO, From Love and Anxiety in Real Time was the album that I think I held the closest this year. The Maine's deep dive into the workings of the mind, literally spanning from love to anxiety, is a testament to The Maine's ability to offer immense comfort and joy through their music. Their tour for this album was also my first gig back after a year and a half, and so when I think back on the year for music that 2021 has been, no other album (no matter how brilliant) could really be my album of the year.
The opening track 'Sticky' is infectiously catchy, and ended up being my most played song this year. It bursts the album open with upbeat guitar riffs and light-hearted lyrics that will get stuck in your head. Other stand out tracks like 'Lips' and 'Dirty, Pretty, Beautiful' maintain the same catchy punchiness and overall inject a lot of fun into the album.
But The Maine also deal with both sides of the coin in XOXO, From Love and Anxiety in Real Time. The album is split between the songs 'Love in Real Time' and 'Anxiety in Real Time,' with the latter being an especially personal and relatable expression of the workings of the mind. Further tracks like 'April 7th' deal with memory and nostalgia, and closing track 'Face Towards The Sun' is the perfect close to the album, with the bridge repeating that 'everything is exactly as it should be.' Unflinchingly honest, from upbeat fun to emotional  vulnerability, XOXO, From Love and Anxiety in Real Time stood for me as an album full of hope, and was played repeatedly through 2021.
Lana Del Rey – Blue Bannisters
Lorcan Drury
This year has been a real treat for Lana fans like myself as she has released two albums, both making their way into my Top Ten Albums of the Year. Blue Banisters is without a doubt my favourite of the two: here's why.
What I love about the album is that it is a testament to how she has evolved as an artist. The tracks 'Wildfire Wildflower' and 'Black Bathing Suit' are two of the most personal tracks Lana has written. Her lyricism is just as poetic as before, but the subject matter is more tangible. There is a humanity to Blue Banisters that has not been as present in her previous records. After over ten years in the industry, Lana Del Rey is more real than ever, compared to the more fictional personas of the past. 
Lana also delivers something that so many Lana fans crave: the inclusion of unreleased songs. For instance, 'Dealer,' a fan favourite, was from a scrapped project with The Last Shadow Puppets from 2017. The inclusion of Miles Kanes' dreamy voice as the forefront serves as a much needed departure from the previous ballads. The track is an addictive masterpiece: from the heart wrenching screech of Lana singing 'I don't wanna live' to the sultriness of her whispering 'All circuits are busy, goodbye.' The integration of these older tracks, such as 'Nectar of the Gods' and 'Cherry Blossom,' both written in 2013 for Ultraviolence, with new tracks creates a patchwork effect. All the tracks thread together to create an image of how past and present-day Lana can co-exist: neither version is better than the other. The variation of sounds from different eras to create a piece of work so fresh, raw and beautiful, yet also nostalgic, is why Blue Banisters is my album of the year.
Waterparks – Greatest Hits
Ellie Harris
When asked what their album of the year was, I imagine most people's first thought, or even tenth, would not be Greatest Hits by Waterparks, but for me it was a standout album. Released on the 21st May, it was massively overshadowed by Olivia Rodrigo's Sour, as well as by Twenty One Pilots' Scaled and Icy within the alternative scene, but I am determined to keep shouting about how great it is. Perhaps I may be biased, since Waterparks were my number one artist this year (according to Spotify Wrapped,) but Greatest Hits is seriously underrated.
The album is simultaneously experimental and classic, playing around with the conceptual whilst also unafraid to lean into its pop-punk roots. Awsten Knight's lyrics remain witty but tackle some deep issues, such as the fear of failure and a sense of existentialism, that comes across as a natural progression from their previous album, Fandom. Moving from a run in with a stalker in 'Violet!' to the open-ended insecurity in 'See You In The Future,' every song has something new to offer and I found myself listening to it over and over again.
Combining a mix of upbeat and catchy bops, such as 'Numb' and 'The Secret Life of Me,' with slower, introspective songs like 'Just Kidding,' Greatest Hits effectively tackles a range of genres and comes out on top, providing an excellent listening experience. When three of your top five songs are from one album, you cannot avoid calling it album of the year.
---
You Might Also Like: