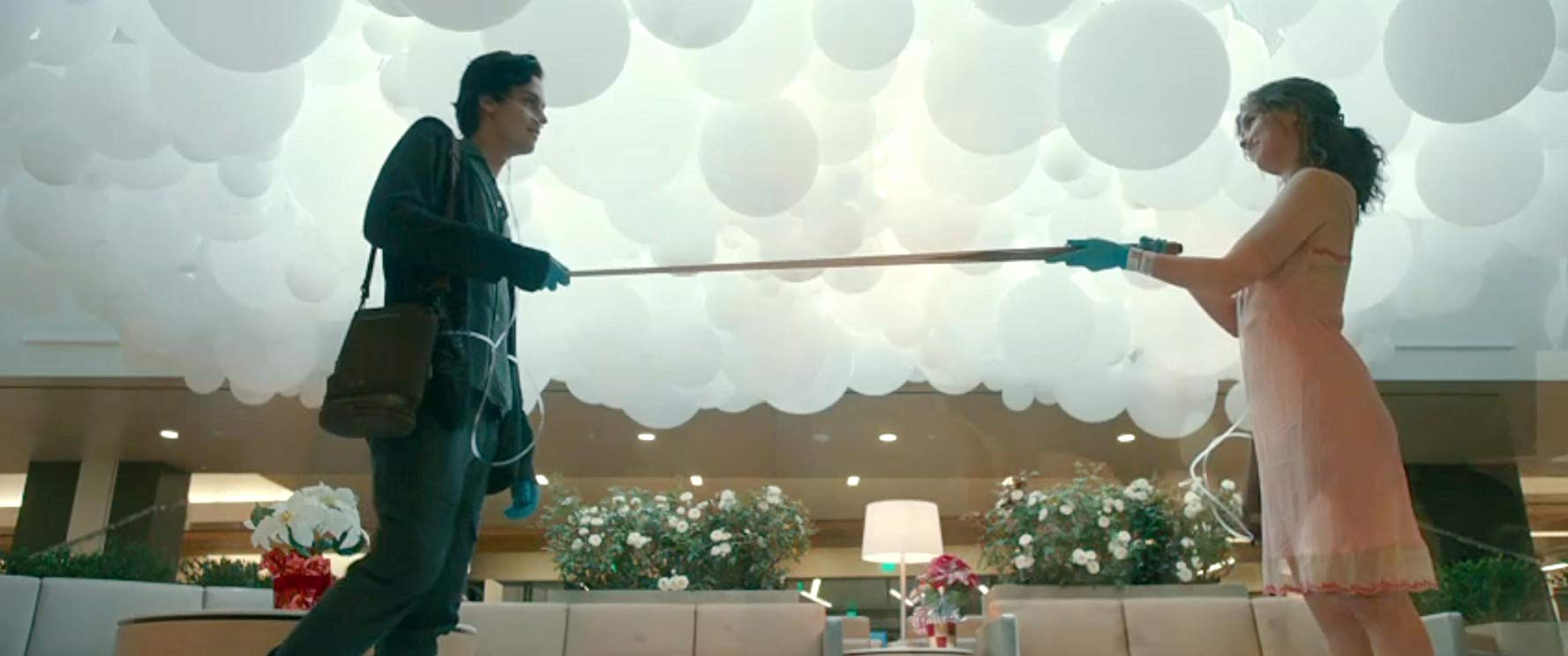 Film Critic Alex Green is not impressed with first-time director Justin Baldoni's film Five Feet Apart which depicts two CF patients as they fall in love
Here we go again. It seems like 2014's The Fault in Our Stars really has had quite a key impact on films in the last few years. Its success was the start of growing careers for its central pairing of Shailene Woodley and Ansel Elgort, and since, so many filmmakers gave all tried their hand at crafting these films with the simplistic desire to pull at our heartstrings and turn us into blubbering messes. These young adult adaptations are at the heart of Hollywood right now, a understandable direction given the need to grab the teen demographic. Some of the latest examples include films like Paper Towns and Love, Simon regardless of their placement on the success scale.
Now we have Five Feet Apart, a film clearly inspired by these successes, in which two cystic fibrosis patients, Stella Grant (Haley Lu Richardson) and Will Newman (Cole Sprouse), meet at the care unit they stay in. One is an OCD suffer who feels the need to adhere to the rules of staying six feet apart from other patients. The other, Will, of course, is a rebel who likes to take the risks and break said rules. Audiences are then left begging the question 'How will they fall in love with all these barriers?'
Writing this synopsis should really tell you everything about this film. Praise can be given to Haley Lu Richardson who does put in a good lead performance as Stella, exemplifying her trepidation of the world around her with great subtlety. So, there's that. Cole Sprouse goes from side piece in Riverdale to a leading role here, where he is fine with what he is given, but is better in the last ten minutes of the film when the film really goes for it.
In that lies the problem overarching Five Feet Apart. Even though the dreaded 'b' word is a hard one to bring up critiquing film, it feels especially useful here. Five Feet Apart is a boring, ponderous mess that tries to reclaim itself in the last 10 minutes. As we know, a good last 10 minutes doesn't make up for an uneven, plodding 90 minutes. Everything feels so uninspired and steeped in melodrama. The characters feel too much like stereotypes as opposed to people worth caring about when the film clearly wants you to root for them. It says something that the film's most heartbreaking scene comes from Stella's best friend, Poe (Moisés Arias), discussing a relationship with an off-screen character. That's because the central romance comes across as creepy early on, with Will feeling less rebellious and more creepy. The film's dialogue and plot feels like it's more inspired by Vertigo than When Harry Met Sally.
That brings us to a script and screenplay that just feels messy. The pacing and screenplay are where the film really fails, almost like it had the ending established first and then tried to write backwards to fill in the gaps. The dialogue in Five Feet Apart feels too cliché at times and the screenplay shamelessly seems too thorough in elements, like Stella's OCD. This is the issue that really kills the film – it treats illnesses as plot devices more than thematic character trait. When this fails, Five Feet Apart is always going to struggle to be anything more than average.
Speaking of average, the direction. This is to be expected given Justin Baldoni is a first-time director here, so it's not too much of a surprise that the film looks fine. However, the aforementioned pacing problems are what Baldoni clearly struggles with. So many scenes are lit and shot the same way, and bash the audience with the same wide shots and same montage sequences set to sappy acoustic guitars. There's so much pandering slow-motion I thought I was back in The Matrix. Screens dominate the film, undercutting the physical distance between the characters the film is trying to thematically show. However, I feel Baldoni isn't entirely at fault here given the weakness of the screenplay . I hope he can learn from this and give us something new in the future. But here, it feels like a first-time director struggling with some awful resources.
Prevailing throughout Five Feet Apart is a sense of everything we've seen before. The film has an original screenplay but just feels like a lazy retread of every young-adult adaptation we have ever seen. That's the key. There are no surprises for the audience, nothing that peaks the interest, nothing to subvert expectations. We are just left with a tiresome story, a repetitive tread of the genre with no real spark and an exploitative use of illnesses just to try and get characters from A to B. With the saturation this market is currently experiencing, Five Feet Apart will be left six feet under, to be forgotten without a eulogy. What a sad state of affairs.
Verdict:
A good central performance by Richardson cannot redeem a shoddy screenplay, average direction, bland characters and a lack of invention or originality, making it feel more and more like the most forgettable film of 2019. A shame for those involved.
Rating:
3/10