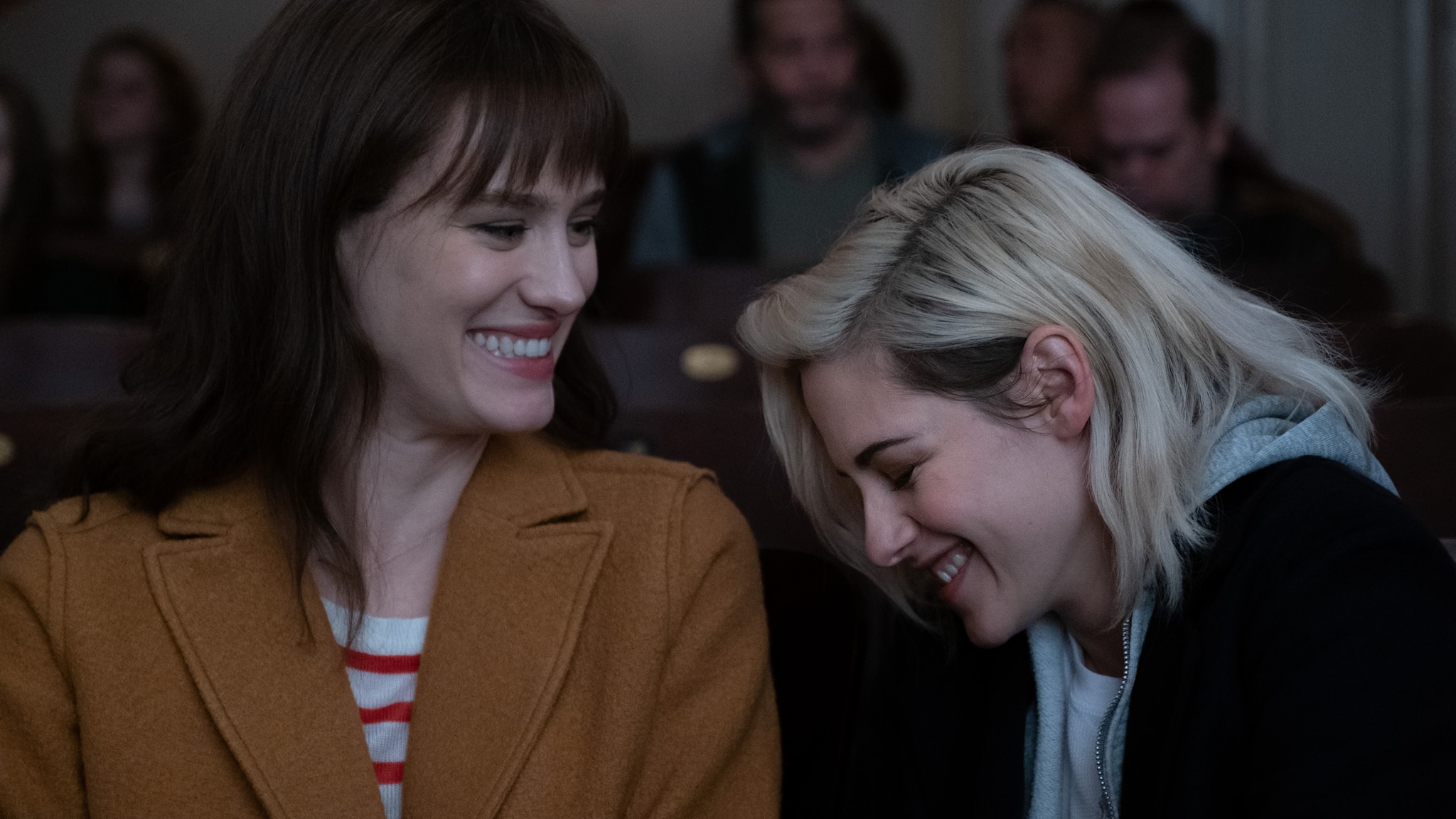 Film Critic Samantha Hicks raves about the new queer Christmas romcom, Happiest Season
Happiest Season is pure Christmas joy. Its sapphic storyline and star-studded cast have made it one of the most anticipated holiday releases of the year. After thoroughly enjoying Clea DuVall's directorial debut The Intervention, my hopes were very high for her sophomore film. Even with these expectations, Happiest Season is everything you could want from a holiday rom-com and more. The film is best described as a warm blanket on a cold winter's night – for a moment, you can forget the stresses of 2020 and live vicariously through Christmas at the Caldwells.' Hilarious, emotional, and at moments poignant – it is no wonder that this film has broken the record for most Hulu original movie streams on its opening weekend. 
Spending the holiday season with your partner's family can be hard enough but for Abby and Harper (Kristen Stewart and Mackenzie Davis) the holiday season puts an unforeseen strain on their relationship: Harper's family do not know that she's gay, nor that Abby is her girlfriend. Happiest Season follows Harper's journey of self-acceptance in her conservative family, as Abby has to simultaneously try to support her girlfriend and come to terms with the fact that Harper has hidden her for so long. With this believable and satisfying plot, the film manages to be entertaining whilst also representing real struggles.
The fast pace of the film perfectly captures the hectic last-minute organisation of the days running up to Christmas but also ensures that there is not a dull moment for the audience. Happiest Season strikes the perfect balance between comedy, drama, and romance. Scenes with tension are immediately followed by some light comedic relief – mostly from Dan Levy's hilarious character John, who has been tasked with animal-sitting and is failing miserably. Despite serious moments between Abby and Harper, this balanced approach guarantees that the film remains a feel-good holiday film. 
The casting is faultless. A script as hilarious and natural as Happiest Season's can only go so far if the cast is not up to the mark. But every character is portrayed with dimension and depth, creating a well fleshed-out set of characters. None of them are reduced to stereotypes, nor are they exaggerated to the point of becoming caricatures. It's fantastic to finally see Kristen Stewart in a mainstream role where her talents can truly be shown. Her performance as Abby feels like a perfect fit and her chemistry with Mackenzie Davis as Harper is undeniable. Even during the tensions and strains on their relationship, the audience can tell (and hopes) that they will make it through in the end.
Even supporting characters have depth. Harper's older sisters Jane and Sloane (Mary Holland and Alison Brie) create a realistic family dynamic in collaboration with Davis as Harper. Holland is a real gem: you cannot help but root for her character's quest for family unity and the creation of her fantasy novel, The Shadow Dreamers. She embodies the skittish, kind, and overlooked nature of the middle sister. Brie's performance as eldest sister Sloane is also entertaining. She plays her honestly dislikeable character with such ease – a surprising, but welcome, break from her usual goody-two-shoes characters (as seen best in Community). Outside the Caldwell family, Aubrey Plaza as Harper's ex-girlfriend Riley has already proven to be a favourite among viewers and rightly so. Her classic deadpan delivery suits her wise and intelligent character. All this being said, it would have been great to have seen a more racially diverse cast (with only one non-white supporting actor, Burl Moseley) – I hope to see this in DuVall's future projects.
The colour palette successfully reflects the holiday season and winter in general. Cool tones in the outside shots embody the chill of winter, effectively juxtaposed by the warm golden glows and rich reds and greens which epitomise the Christmas spirit inside the Caldwells' home. Despite being (unintentionally) set in a strange alternative COVID-free 2020 winter, the colour palette gives the film that timeless festive feel. The same applies to the score, which is full of original songs from the likes of Tegan and Sara and Shea Diamond that exude as much nostalgia as the classic Christmas hits. Happiest Season has been expertly crafted to be a joyful festive experience for years to come.
It is also a vital and refreshing addition to queer cinema, being a holiday rom-com from a major Hollywood studio with four LGBT characters, not to mention being centred around a same-sex couple. Whilst it would be great to have a sapphic film where the main plot is not about coming out, this does not negate from the fact that so many people can relate to this story, particularly when it has been executed so well. Indeed, director Clea DuVall made sure to embed her own experiences as a lesbian into the film and this shines through in the authenticity of the story. 
DuVall has been at the forefront of lesbian representation throughout her career: from her acting role in But I'm A Cheerleader to her directorial debut The Intervention. She excels at creating believable lesbian characters. The coming-out storyline did not feel forced, and completely made sense within the wider context of the film; despite being a common trope in sapphic films, it feels like a fresh and much-needed addition to the existing repertoire. Being the first major release of an LGBT-centred holiday film, Happiest Season is a huge, successful step in the right direction.
Verdict:
Happiest Season reminds us that relationships can be messy, and sometimes downright frustrating, but above all, you can always rely on your loved ones in the end. With a queer storyline seldom seen in holiday films and a talented cast, it is an essential watch for anyone wanting a warm rom-com for the holiday season.
9/10 
---
Looking for similar movies? Try these picks from Redbrick Film:
Sapphic Sensibilities: Lesbian Representation in Cinema