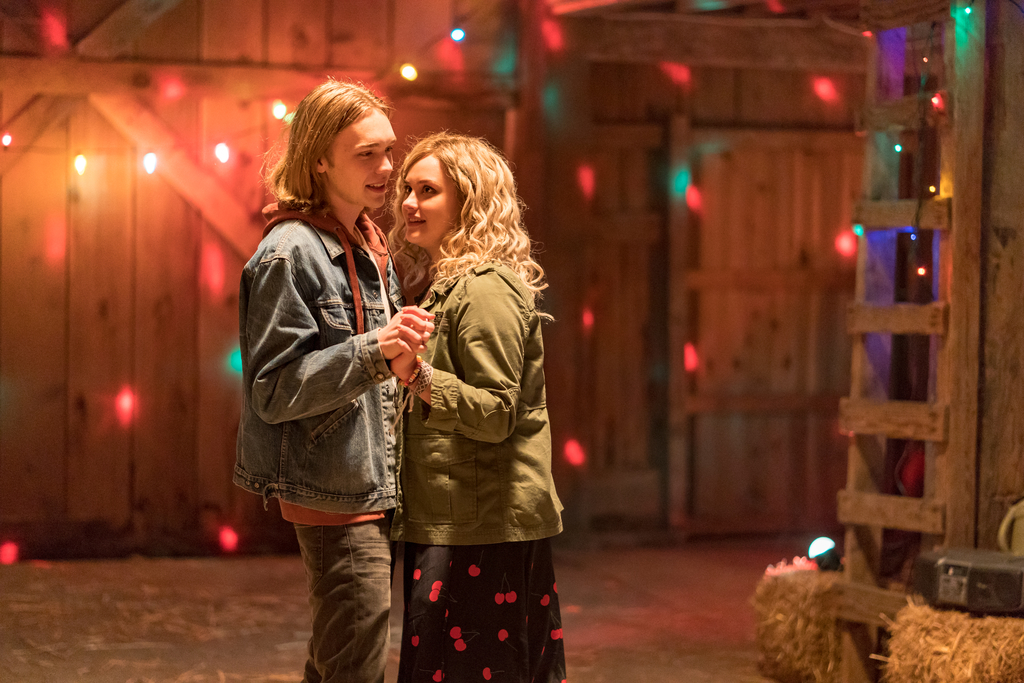 Film Editor Sam Denyer is charmed by Spontaneous' sweet depiction of young adulthood in the middle of an epidemic
Lots of movies have predicated their story on the idea of one fateful moment that changed everything. Not so many make that day the time when your classmate spontaneously exploded in the middle of English class. That's what happens to Mara Carlyle (Katherine Langford) in Spontaneous, a sweet and surprisingly timely story about a terrifying and mysterious pandemic. (You won't spend the whole film thinking about COVID-19, I promise!)  
It helps that Katherine Langford (13 Reasons Why, Knives Out) is distractingly charming in the lead role. Mara seems to swagger through the initial shock with gusto, avoiding the same open terror which plagues her peers while maintaining a fatalistic outlook: this is going to happen again, isn't it? Life just sucks like that. 
Fortunately, there's a silver lining for Mara. A boy texts her that night and confesses that he fancies her. She teases him in her arch style but is won over by his dorky charm. It's a good thing too because the boy himself, Dylan (Charlie Plummer), is a real sweetie. He decided to throw caution to the wind and act on his feelings after seeing his classmate explode into a thousand tiny pieces. I guess carpe diem would be an inherently appealing mantra if there was a chance you could spontaneously combust. 
Mara meets him that night, the only hitch being that she has taken a boatload of psychedelic mushrooms to cope with the sudden trauma of her day. It turns into quite the meet-cute. Mara giggles at the multiple versions of Dylan which suddenly appear; he holds her hair back once the high is over and the vomit starts coming. He is won over by her anyway; most people seem to be. She's cool. Director Brian Duffield's point-of-view shots are the perfect demonstration of their burgeoning affection: Dylan is a fuzzy cherub through Mara's eyes, instantly winning to the audience. 
His reckless abandon in confessing his feelings turns out to be the right call as more and more classmates start exploding. The film walks a fine tightrope, rarely swaying over into flippant on one side or grim on the other. Mara, Dylan and the other seniors enter quarantine as officials try to get to the bottom of this mysterious phenomenon and Spontaneous' sharp eye grows clearer. Duffield abandons any judgement of his Gen Z subjects, affectionately portraying the way that they sling sarcastic barbs at one another to cope and appreciating their compassion for one another, even in trying circumstances. Its depiction of how to handle collective trauma is both smart and all too familiar. Little did they know how much harder the film would hit in this year of all years.
The whole story is underpinned rather wonderfully by the warm relationships at its centre. Mara never loses her sardonic wit, but Dylan is exceedingly sweet and allows her to show her well-guarded affectionate side. The film manages to depict them as a pair of exceedingly normal Gen Z teenagers in a way that Hollywood often struggles to do, making them even more compelling as a result. Perhaps it helps that, like us, the pair are just trying to get by as the world appears to collapse around them. Portraying how they genuinely rely on each other, instead of just highlighting the most exciting parts of courtship, makes the emotional appeal of their relationship much stronger. Elsewhere, Hayley Law is equally terrific as Maya's best friend, with the pair's bond showing how much the film values how we use our loved ones to get along in life, mundane circumstances or not.
Maya realises that her life has quickly moved beyond mundane. The epidemic grows worse and worse, culminating in a genuinely horrifying stampede to escape the school's increasingly claustrophobic – and bloody – halls. The consequences grow ever more personal for Maya and trigger a destructive spiral which alienates her nearest and dearest. 
The film's ending is a great rally to the everyman tenacity and sharp wit of its protagonist. Duffield's script gives Mara a Heathers-esque edge but the story leads her to self-acceptance and a realisation of identity which is more akin to Spontaneous' similarly wonderful and more recent peers: Blockers and The Edge of Seventeen. Teen movies like these are often wonderfully effective in evoking a halcyon period of people's lives but Spontaneous draws directly on what is happening to young people right now and is exceedingly canny and warm while doing so. Its faith in young people's humour and compassion, even as the world falls apart around them, is refreshingly sincere- and well-placed! Its embrace of their hopes and struggles is a reinvigorating way to end a film which sounds unhinged but ends up being genuinely profound when it wants to be – just like its subjects. 
Verdict:
Anchored by a powerhouse performance from Katherine Langford, Brian Duffield's Spontaneous is a sweet and fitting addition to the canon of great teen movies.
8/10
Spontaneous is available on VOD now. 
---
Looking for more of the latest releases? Try these from Redbrick Film:
Review: Disclosure: Trans Lives on Screen