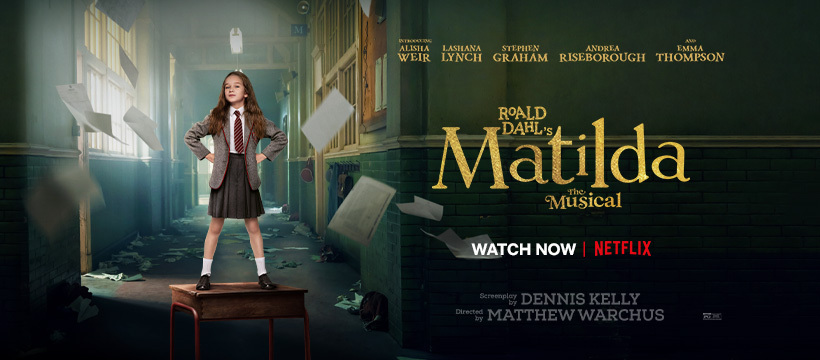 Film writer Milly Haire finds that Matilda the Musical is a must-watch that will delight your inner child with its dazzling performances and choreography
Adapted from the award-winning and much beloved West-End musical of Roald Dahl's book, the film version of Matilda the Musical is an absolute showstopper. With dazzling choreography alongside heart-wrenching and hilarious acting performances from big names and new stars alike, it is a celebration of imagination. Matilda is spellbinding, and Emma Thompson is transformed into a foreboding Miss Trunchbull. Lashana Lynch's voice is captivating, bringing a beautifully emotive and joyous Miss Honey to life on screen.
If you are not familiar with the storyline – which has reached an almost-fairytale status for those of us who grew up reading Dahl – Matilda, a genius little girl born to parents who have no regard for her or her education, resorts to finding her own ways of broadening her mind, spending every day with the maternal figure of Mrs Phelps and her travelling library. When it comes time for Matilda to go to school, a dark and terrifying place with the slogan "Children are Maggots", she refuses to let her spirit be crushed by the Trunchbull, and her alliance with Miss Honey and her classmates proves to be more powerful than anyone expects.
We are treated to a visual spectacle in almost every scene; from the gaudy, sickeningly bright décor of the Wormwood's house and the imposing gates of Crunchem Hall, to breath-taking sunsets over rolling meadows and the sub-plot of the daring acrobat and escapologist in the circus, the cinematography is fantastical and extraordinary.
The soundtrack, composed by Tim Minchin, alternates between more rebellious and upbeat songs like 'Revolting Children', to moments of anguish and sadness, in 'Quiet'. At times, the musical numbers divert into the bright lights and sparkly outfits of a pop concert, taking us far away from the dreary, crumbling classrooms of the school and into a world of childlike wonder. We ride on a hot air balloon with Matilda, haunt the headmistress with her powers of telekinesis, and fly planes with her classmates.
The cruelty and neglect of Matilda's parents and Miss Trunchbull is horrifying, but the gentle kindness of Miss Honey provides a much-needed contrast. Matilda's resilience – as well as her mischievous pranks against her father – will have you quietly cheering her on. Miss Honey's classroom has a warmth to it that the rest of the school does not, and her floral dresses and pastel shades set her even further apart from the world of Crunchem Hall. It has moments of being rather revolting (as the children brag about); when Bruce Bogtrotter dares to eat some of the Trunchbull's coveted chocolate cake, he pays the price and is forced to eat the entire thing in one sitting, surrounded by blazing spotlights and his classmates in glittering blazers as they form a chorus in solidarity.
Just as the lighter elements of the film are beyond our wildest dreams, so are the darkest. We watch alongside her pupils in horror when Miss Trunchbull sends a student hurtling through the air after launching her by her pigtails, clinging to her hammer-throwing glory days. Every aspect of the story is blown out of proportion, but rare moments of childhood innocence remain, like Lavender and Matilda's friendship, for example.
Not only that, but we can all remember being intimidated by the older kids on our first day of school, and Crunchem Hall is no exception, with the prefects taking their jobs very seriously when they strike fear into the hearts of the younger kids. Unfortunately, in their case, the rumours of a bullying headteacher and the Chokey – a uniquely chilling punishment invented by the Trunchbull herself – are true.
Whilst it is first and foremost a children's story, Matilda the Musical is far more than that. It highlights the importance of found family, of community and letting children dream big. Matilda's determination and relentless commitment to fighting injustice is an inspiration to us all. It is a tale that has stood the test of time, and this latest adaptation is proof of that.
Verdict:
Some of the scenes are ridiculous and over-the-top – borderline cheesy – but it's riotously fun. The ensemble numbers are incredibly impressive, with parkour stunts and a level of synchronicity that's truly spectacular. If you're looking for something that will delight your inner child and give your worst high school teacher a run for their money, Matilda the Musical is a must-watch. If you don't manage to catch it in cinemas, it's coming to Netflix this summer.
Rating: 9/10
Matilda the Musical is coming to Netflix in Summer 2023. 
---
Enjoyed this? Check out these other articles from Redbrick Film:
Top 5: Horror Films of 2022 | Redbrick Film
Review: Guillermo del Toro's Pinocchio: Handcarved Cinema | Redbrick Film