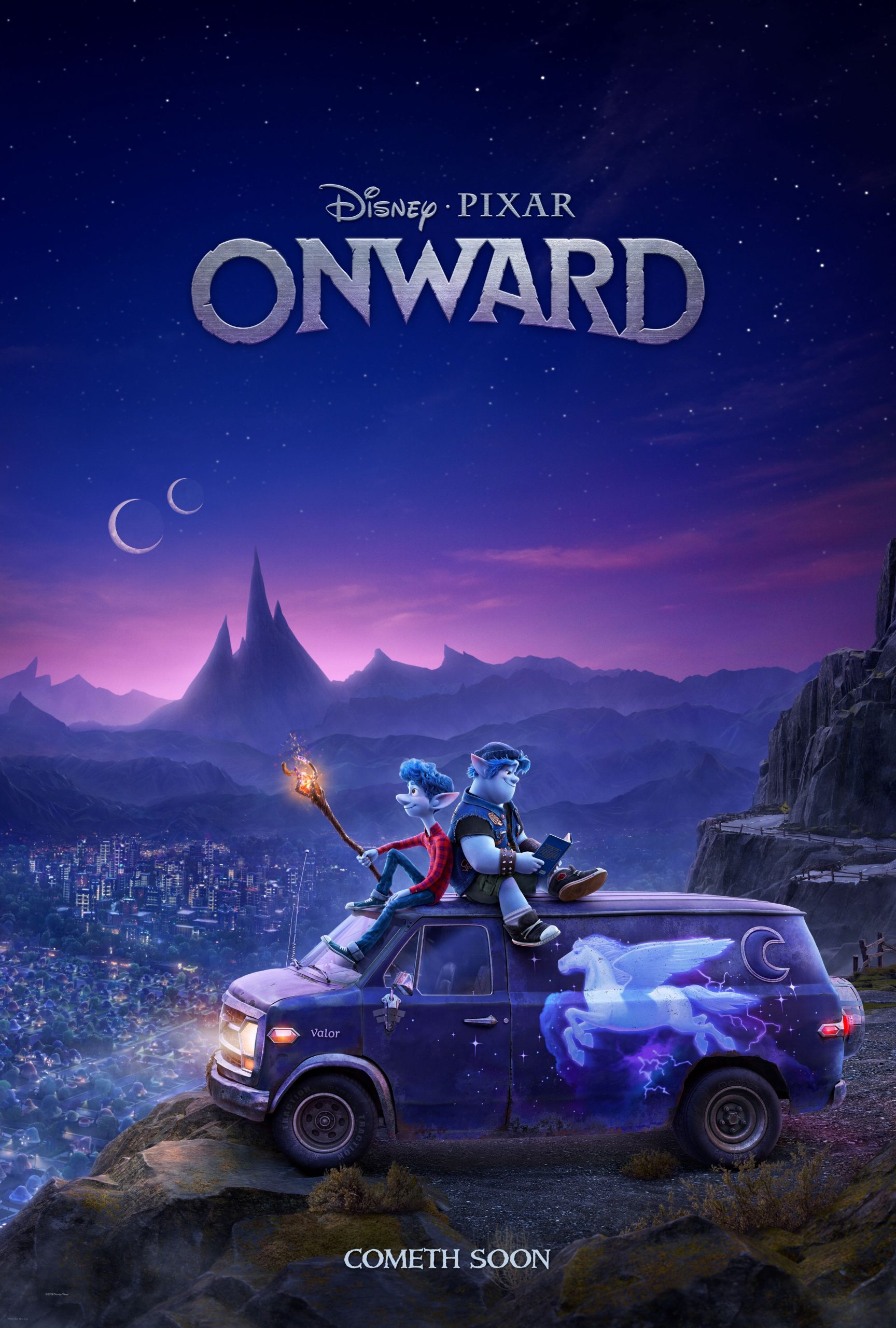 Film Editor Todd Waugh Ambridge is enamoured with Pixar's Onward, an enchanting tale of dealing with loss and grief
Onward is a film that uses Pixar's flawless formula perfectly. It combines a fun fantasy setting with a universal story in a way that delivers laughs and heart in equal measure. Coco combined a creative afterlife setting based on the Day of the Dead with a story of transgressing familial expectations, whereas Monsters, Inc. had ideas of stereotyping in a world of corporate bedroom-haunting monsters. This time around, the setting is a somewhat-generic sword-and-sorcery fantasy world, but with a twist: people got bored of magic ages ago, and the world developed towards electricity and industry in the same way as ours. The magic of this world is used to explore the timeless, tragic tale of the grief over losing a parent at a young age.
Tom Holland and Chris Pratt play Ian and Barley Lightfoot – two elf high-schoolers whose father died before Ian was born. While Barley has a handful of memories of his dad, Ian never got to meet him, and therefore it is clear there is an apparent hole in his life. A parental absence has manifested itself as awkward anxiety and a resounding feeling of emptiness. The film treads the line here; it doesn't show Ian as desperately upset, but that there is something missing, and this is done perfectly – I can personally attest that this is exactly the long-term effect of losing a father. The film's director, Dan Scanlon, understands this feeling too: Onward is based on his own relationship with his brother after his father died at a young age. The twist – provided by the magical world of the film – is that a magic spell brings their father back for one day; but it goes wrong, bringing back only his bottom half. Thus, Ian, Barley and their father's legs must go on an adventure to find a magical gemstone to allow them to see their dad one last time.
All of this sets this film up as a real tear-jerker, perhaps in-line with Inside Out or Up, but the clever fantasy-stroke-industrial setting helps to bring some light-hearted fun to Onward. The film is structured as a single journey taking place over a single day, split up into various scenarios dealing with a particular element of the world. For example, the brothers come up against a bottomless pit (that they must drive across) and a manticore's lair (that has since become a family restaurant). The replication of a Dungeons & Dragons style quest with modern twists is infinitely charming and entertaining, but at times strays slightly too far from the emotional core of the film. Furthermore, this definitely isn't one of Pixar's funniest films, but has enough visual gags and witty dialogue to keep the pace going without ever descending into cynical pop-culture references designed to get you laughing at just how meta the film is (I'm thinking specifically of the new Scoob!).
The animation is beautiful throughout (an obvious statement about a Pixar film), and the atmospheric, sometimes-metal-inspired soundtrack compliments the more epic fantasy segments well – though the emotional moments are delivered with more generic motifs and lilts intended to get the waterworks going. Tom Holland and Chris Pratt may be uninspired choices to lead another Disney blockbuster, but they both colour their characters with their voices expertly well. Holland is adept at delivering the quivering awkwardness and emotion of Ian, while Pratt is great casting as someone to sell Barley's clever mix of 'jockish death metal fan' and 'roleplaying game nerd.' The cast is rounded out by Julia Louis-Dreyfus as their widowed mother, a difficult role given that the film is not strictly about her character, but rightly must give enough space to highlight the strength of a mother raising two children single-handedly. The film falters slightly here, and a little more screen-time for Louis-Dreyfus to work with her character would have been welcome.
Onward allows itself enough time to be an epic quest about dungeons and dragons in the suburbs, but its true magic lies in its heart-warming message to kids, which is expertly painted in the final third of the movie. It is a shame this review can't explore the best part of the film, as this is best experienced first-hand, but it suffices to say that Ian and Barley's quest to reunite with their father has an emotional, unexpected and satisfying conclusion. I am not one that usually cries at films, but the ending of Onward absolutely destroyed me – and I cannot recommend it enough.
Verdict:
A few years ago, Pixar slumped into uninspired sequels unbecoming of their initial exploits. Recently – with Inside Out, Coco and now Onward – the magic of Pixar is well and truly back. While these films are often predictable and manufactured to make a killing at the box office, they have a heart like no others in the industry.
9/10
Onward is in cinemas now.
Images courtesy of Walt Disney Studios. All rights reserved.
---
After some more animated goodness? Check out these other reviews on Redbrick Film: